This is Mark. Mark never has his travelcard ready.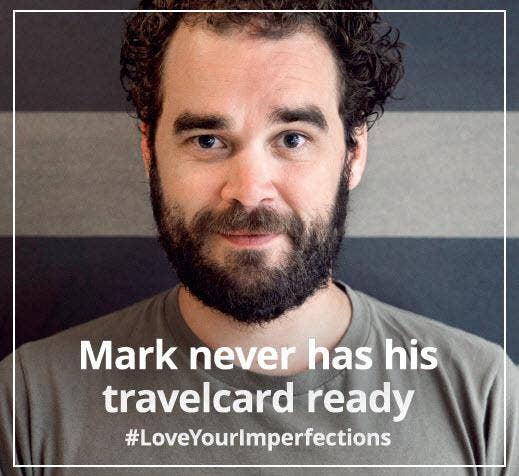 As a result, a lot of people seem to think Mark is a prick.
No wonder he's single, with bonafide prick behaviour like holding up the ticket barriers on the busy London Underground.
Mark is part of dating website Match.com's "Love Your Imperfections" campaign.
Posters on the London Underground aim to encourage single people to embrace their quirks that have so far kept love at bay.
Another of the campaign's stars, Hannah, for example, can't help but titter at the word "cockfosters", the silly soul.
But nobody wants to embrace the kind of imperfection that is also known as being a selfish arsehole.
You can't win love by holding people back, Mark.
A Match.com spokesperson posing as Mark, tried to defend this travel dick-move.
"I admit it. I never have my travelcard ready on the tube. That is my confession. I estimate that it takes me no more than 20 seconds to find my card," they wrote.
What an absolute monster.
Deeper they dug, asking "20 seconds! Is that really such a life changing amount of time?"
Yes, Mark. 20 seconds is a really fucking long time. Far longer than anyone would spend looking at the dating profile of the kind of selfish twat who probably stands on the left hand side of the escalator too.
Mark deserves to die alone.
"I daydream a little every now and then," he claimed.
"Does my occasional failure to pay attention at the barrier really make me a bad person?"
Yes, yes it does.
What else don't you pay attention to? Birthdays? The emotional needs of others?
Why ARE you single, Mark?
One man had a shred of sympathy for Mark's abominable moves.
But most people just think he needs to get his shit together.
Or that he's an annoying twat.
Or a cunt.
What a fucking nightmare.