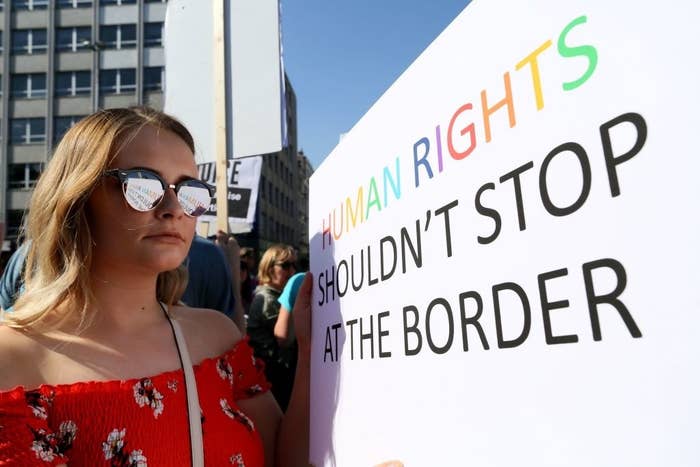 The LGBT and abortion rights movements in Northern Ireland have vowed to fight in solidarity to win the same rights as people in the rest of the UK and in the Republic of Ireland.

While women's rights campaigners celebrated the Republic overturning its longstanding ban on abortion in a historic referendum last month, their attention has now turned to Northern Ireland, where the practice remains outlawed despite being legal in the rest of the UK.
Similarly, same-sex marriage, which is legal in England, Scotland and Wales, remains prohibited in Northern Ireland.
"Just like abortion rights, marriage equality is another issue that Northern Ireland is behind on and there's an accumulation of impatience," Eleanor Crossey Malone from feminist campaign group Rosa told BuzzFeed News at the LGBT rights Love Equality rally in Belfast on Saturday.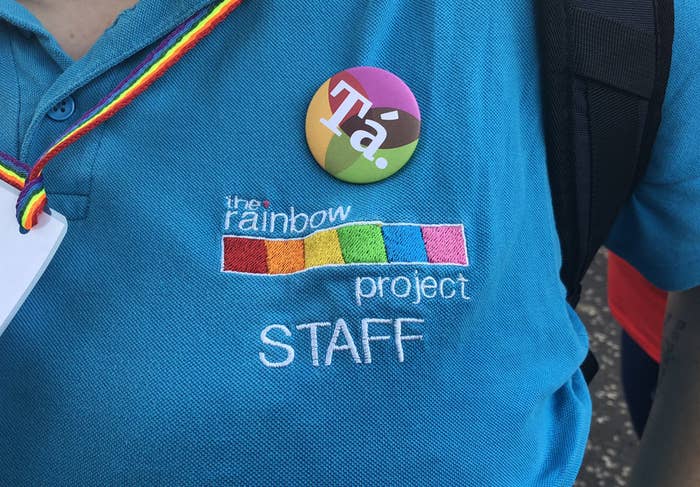 "It's increasingly ludicrous that we find ourselves in a situation where we're surrounded on all sides by states where you can access abortion or marry someone of the same gender and we're not willing to wait any more," she continued. "Something has to be done now."

Last week, abortion was legalised south of the border after a landslide vote in a referendum to repeal Ireland's strict abortion law, mirroring 2015's referendum which saw same sex marriage legalised in the country. The Isle of Man, a self-governing British Crown dependancy in the Irish sea, is also in the final legislative stages of overturning a ban on abortion.
Some 5,000 people were estimated to have joined Saturday's march, and abortion rights and LGBT rights were unmistakably intertwined.
"Our basic right to control our body, our sexuality and our basic right to human freedom is so profoundly lodged in both of those issues," Ailbhe Smyth, the leader of the campaign to legalise abortion in the Republic of Ireland, told the crowd.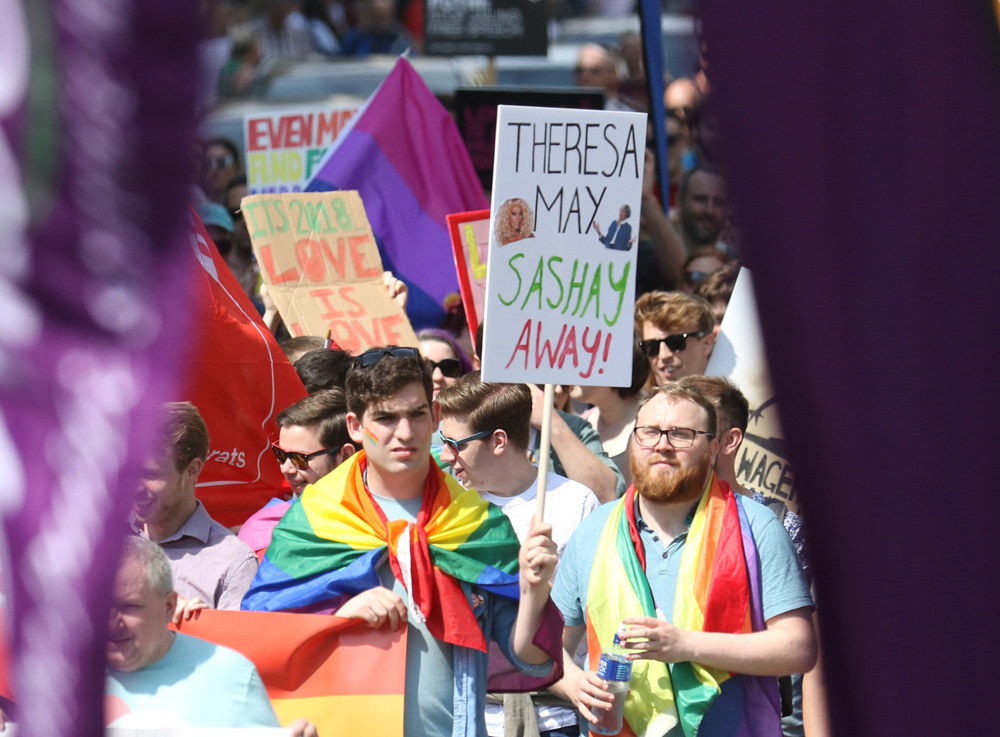 Several people on the march wore badges with abortion rights badges from the south's referendum campaign with Love Equality T-shirts, or LGBT rights slogans pinned to the black Repeal jumper that is now so closely associated with the abortion rights movement across Ireland.
"I think there's a huge amount of solidarity between grassroots feminist campaigns and grassroots LGBT campaigns," said Aoife Kelly, who wore a Love Equality badge on one of the black jumpers.
"It was brilliant to hear almost every speaker draw parallels between the struggle for abortion law reform and the fight for marriage equality," Danielle Roberts, a campaigner with Northern Ireland's leading abortion rights group Alliance for Choice said after the event. "The statements of support for abortion law reform made today were so much more than words – there is real solidarity between our movements."
Alliance for Choice has for many years worked alongside Northern Irish LGBT group The Rainbow Project, who led Saturday's march for marriage equality.
John O'Doherty, director of The Rainbow Project, told BuzzFeed News that campaigners for equality in Northern Ireland were not willing to settle for one or the other when it came to abortion rights and same sex marriage.
"We are really seeing a grassroots human rights movement right across the island of Ireland," he said.
"Northern Ireland can't stand alone. Rights that exist for UK citizens must exist for all UK citizens. The only way to achieve that is for all of us to stand together."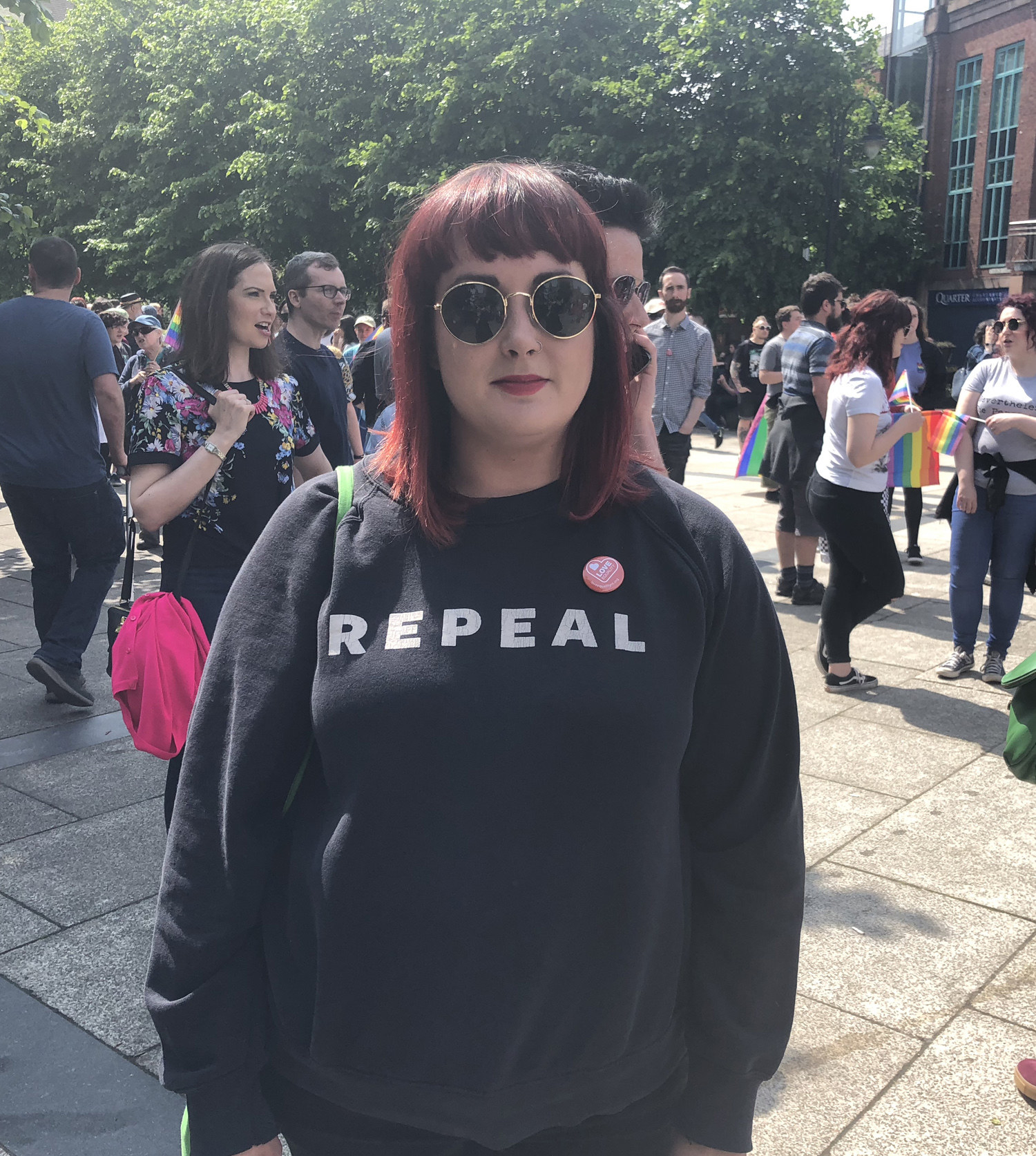 While both issues are devolved in Northern Ireland, the country has been without a government for over a year, and there are loud calls for Westminster to intervene on both issues. Labour MP Conor McGinn recently tabled a ten-minute rule bill in the House of Commons to bring same sex marriage to Northern Ireland – although it was blocked from moving to its next stage. On Saturday night Labour MP Stella Creasy orgainsed a cross-party letter to prime minister Theresa May urging her to extend abortion rights to Northern Ireland.
Theresa May faces a growing rebellion by several MPs in her own party who support Creasy's intervention, including chair of the health select committee Sarah Wollaston, while women and equalities minster Penny Mordaunt, alongside Conservatives Justine Greening and Maria Miller, have mounted their own separate call for reform of abortion laws.
An open letter by Alliance for Choice signed by several equality advocates in Northern Ireland, including The Rainbow Trust, also calls on May to legislate for abortion rights from Westminster.
If May were to act on either of those issues, however, she risks losing support of the DUP, the vehemently anti-abortion Northern Irish party whose support she needs in parliament after losing her party's majority in last year's general election.
O'Doherty was one of a chorus of campaigners who was keen to put pressure on Westminster to bypass Northern Ireland's currently defunct legislature and take responsibility for abortion and same sex marriage in the country.
"Human rights are not a devolved issue," he said. "It's mad that we haven't had a government for 18 months, it's unthinkable, but it's the reality for people in Northern Ireland. Why are we not seeing intervention by the British government?"
Jane Robinson, also from The Rainbow Project, agreed that Westminster should intervene, particularly on rights that are afforded to people in the rest of the UK.
"We don't have equal marriage rights, we don't have equal abortion rights and there's so many other things that we don't have equal access to," she said. "Just treat Northern Ireland the same way you're treating England, Scotland and Wales."
Almost immediately after the Republic of Ireland's vote to relax abortion laws was declared in Dublin last week, attention turned to Northern Ireland, with the hashtag #TheNorthIsNext quickly spreading across social media.
In Belfast, the abortion rights movement seems newly galvanised, with a flurry of new activists, young and old, signing up at an Alliance for Choice drop-in session in the city on Saturday morning.

"One of the things we've been surprised about is how quickly people turned to look at us," Emma Gallen, a campaigner with Alliance for Choice told us. "Public support is on our side – the Yes badges have made it up here!"
Among Alliance for Choice's new recruits were activists who were already involved in the LGBT rights movement in Belfast who had found a common cause in the fight for abortion rights.
Stephen Donnan, who wore a Love Equality T-shirt and a "Repeal" badge said he was recently drawn to the abortion rights movement because he wanted to "stand in solidarity with the women who need this change to happen".
"I don't want to live in a country that has equal marriage but not access to free, safe and legal abortive health care, or vice versa," he told us. "Health care and abortion is an LGBT issue as much as LGBT issues are women's issues. I think they go hand in hand."
Donnan also believed Westminster should intervene on both issues. "Theresa May calls herself a feminist – well, this is a litmus test," he said.
"I'm in no position to tell a woman what being a feminist is or isn't, but for me this isn't a feminist issue, it's a human rights issue and regardless of parliamentary arithmetic, she needs to stand up and say, no this is what's going to happen."
Helen Gomez, an LGBT campaigner who had come along to Alliance for Choice's recruitment session also believed abortion rights and LGBT rights went hand-in-hand.
"They're two groups of people who are considered minorities when they're not, and don't have legal rights that are essential," she said.

"Feminists and LGBT rights activists both have to struggle together," Gomez added.
"Let's fight it together, let's win it together."