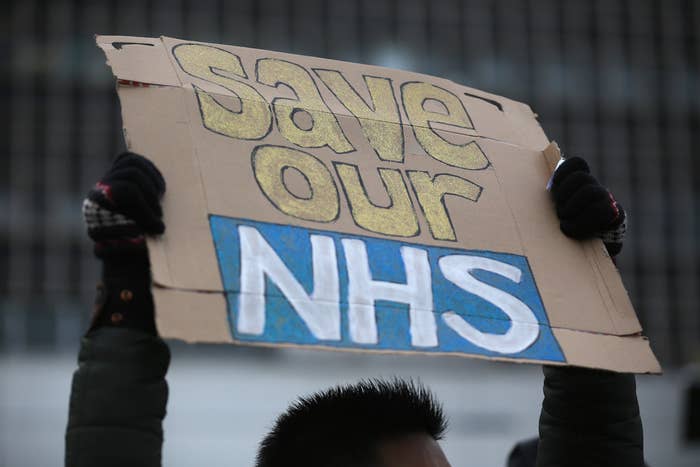 There was a crucial difference between the 48-hour junior doctors strike this week and the industrial action doctors staged in January and February.
Junior doctors, who last went on strike in 1975, are no longer asking the government to listen to their plea for a contract they consider to be safer for patients and fairer to them – they are telling the government that they will not agree to the working terms that health secretary Jeremy Hunt has now forcibly laid down.
Just hours after February's strike ended, Hunt announced that he would impose a new contract against their wishes, a presumed conclusion to a fierce dispute that had been raging since 2012.
Many junior doctors – doctors in the first 10 years of their practice – have been turned into activists by the dispute, which ramped up a notch last July when Hunt inflamed tensions with claims that a lower number of junior doctors working weekends was killing patients. Following the imposition in February, many doctors are more fired up than ever.
"I think there is definitely a greater sense of urgency and resilience," Dr Dominic Pimenta, a junior doctor at University College London Hospital told BuzzFeed News at the end of the first day of the most recent strike. "And we are people who deal with adversity on a daily basis as our job. We are tough people by trade."
Dr Jeeves Wijesuriya, a GP and public heath trainee at Homerton Hospital in London, and member of the British Medical Association's negotiating team, agreed. When we met him at a demonstration outside the Department of Health on Tuesday, he said doctors now had a "huge obligation to fight something that we know could be so catastrophic to the sustainability of our health service".
He worried that the government didn't know how dangerous their plans to enforce the contract could be, with many doctors threatening to leave the country or medicine altogether when it comes into effect. "What we've got to hope is that they'll listen to all the people on the boat telling them that they're steering us into an iceberg," he said.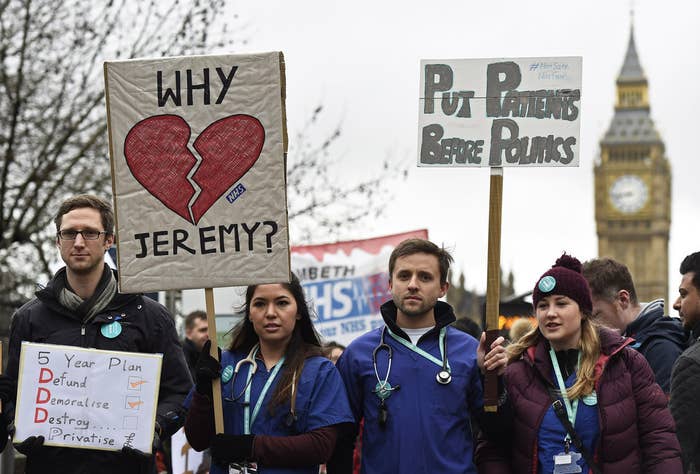 However, it doesn't appear the government is listening to them.
As Tuesday's strike began, the Department of Health repeated the assertion that the strikes were "wholly unnecessary" and published figures on the number of operations that had been cancelled as a result: 19,000, if you add together stats from all three strikes so far, as the DoH did, or 4,000 if you're only counting this week.
Members of the public, however, seem fairly unperturbed by these numbers, as support for doctors seems to grow with every strike. Ahead of Tuesday's industrial action, an Ipsos MORI poll showed that the number of people backing junior doctors had risen since January, while 64% of people said Hunt was responsible for strikes, compared to 13% blaming doctors.
David Cameron has remained fairly quiet throughout the dispute, mainly reiterating the DoH's disappointment and repeating the Conservative manifesto line that moving towards a "7 day NHS" is essential for improving patient safety.
When Jeremy Corbyn challenged David Cameron on the doctors crisis during Prime Minister's Questions recently, the debate descended into a near-farcical "your mum" row that concluded with the prime minister making jibes about Corbyn's appearance.
Hunt himself has maintained a low profile since the imposition was announced, save for repeating a remark that the BMA included "politically poisoned people" while speaking in parliament during the strike on Tuesday.
"Poisoned" didn't seem to be the most appropriate word to describe Dr Johann Malawana, the BMA's chief negotiator for junior doctors, as he bounced around London's hospital picket lines during the strike, cheerily attempting to keep spirits up.
Outside University College London Hospital, we watched him pose for selfies and make jokes with the junior doctors who have come to know him well. Later on, when we met him outside St Thomas' Hospital in Westminster, he was showing an iPhone video of his 2-and-half-year-old son to a cooing group of doctors before they concluded the day with a march to Downing Street.
When we asked Malawana about Hunt's comment, he shrugged it off. "It's disappointing that it's come to this," he said. He said that junior doctors were actually telling him that the BMA wasn't being militant enough, with many of them calling for bigger and longer walkouts.
But he remained mindful that too much disruption could prove counterintuitive. "We just hope that Cameron and Hunt come to their senses and return to talks with us," Malawana told us. "Because frankly this isn't how you run the health service."
As August's imposition draws ever nearer, many doctors are concerned that the momentum of fighting the contract could be waning.
On the Junior Doctors' Contract Forum, a 65,000-strong Facebook group where junior doctors and their supporters have debated the ongoing battle, the mood has shifted notably. The fighting talk that previously accounted for almost all of the posts is now punctuated with questions over how effective the strikes are actually proving, or how much impact public support has on the government this far from a general election.
"The last strike was admirable, yet completely ineffective in terms of influencing government policy. Something has to change," one member of the group wrote following this week's strike. "I don't know what the next step is, but if we carry on with occasional partial 48-hr walkouts then we will lose".
But Malawana, an active member of the forum, remained strong in his debrief to junior doctors following the strike. Reminding the government that doctors "are glad to dedicate our lives to the NHS," as he called upon them once again to return to talks, he added, "but we don't want to be bullied. We don't want to be attacked. We don't want to be undermined."
He was surprised when we asked him if doctors might be starting to give up, having encountered the same fighting spirit during this strike that he'd said he witnessed all along. But he did concede that the imposition of the contract had been a huge blow to doctors' morale, and admitted there was a chance many were putting on a brave face for him.
When a crowd of junior doctors huddled around Malawana at one point on Tuesday, thanking him for the work he has done to try and secure a better deal for doctors, another BMA member jokingly termed them "Johann's groupies".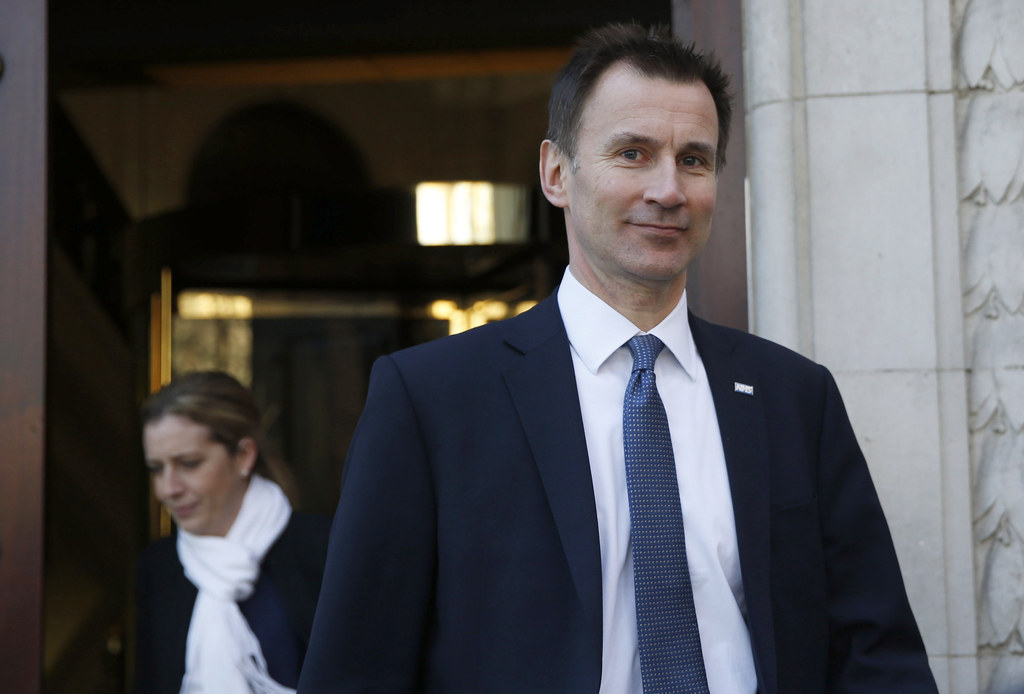 Dr Annabel Sowemimo, a junior doctor currently on a paediatrics A&E rotation at the Royal London hospital, told us the imposition had been hugely demoralising, but that it was the responsibility of doctors who still were still prepared to fight to help boost the morale of those who were losing faith in finding meaningful resolution.
"Some people are throwing in the towel a little bit," she said. "It's up to those of us who do still have it in us to get out there and support the ones who feel like they've had enough."
As an emergency doctor, Sowemimo was exempt from industrial action, but she was able to join colleagues on the picket line on Tuesday as the strike fell on her day off.
One group of junior doctors has even instructed solicitors to investigate whether the contract could be brought before the high court, after a public accounts committee hearing revealed that the government had not fully costed the plans it laid out.
"Taking the government to court is the last resort and our last chance," Dr Nadia Masood, one of the London-based junior doctors pressing for legal action, said.
"We've tried protesting, our union called for strikes, we have reached out to the media and the public but the government still haven't engaged with us directly and they haven't really answered the public."
Tears seemed to well up in the eyes of one doctor, who preferred not to be named, when we asked him if he thought Hunt could be moved to change his mind at this stage.
But he was certain that doctors were not ready to back down. Two more 48-hour stints of emergency-only care are planned for April, and junior doctors have vowed they will keep going until their voices are heard. "Even if they do force this contract on us in August," he said, "it's better to know that we at least fought this until the very end."