A group of junior doctors have hit their target to raise funds to begin a legal investigation into how safe the government's proposed new contract would be for patients.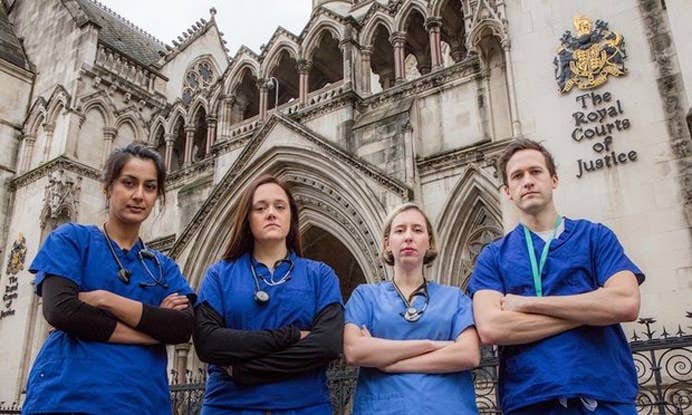 Launched at midnight on Saturday night, the Just Health fundraising page on CrowdJustice, the UK's only legal fundraising page, set an initial target of £25,000 that would pay for solicitors to investigate judicial review proceedings on the detrimental effect the new contract could have on patients.
But on Sunday morning, doctors quickly surpassed their target thanks to a flurry of donations from members of the public, with funds reaching almost £37,000 at time of writing.
This represented the greatest amount of money raised in the first day of a CrowdJustice campaign, Julia Salasky, a spokesperson for the website told BuzzFeed News.
The previous record for the most money raised in a day was £20,000 and Salasky believed that the Just Health campaign was on track to receive more donations in its first day than other cases have had in total.
"And we've had some high-profile cases!" she remarked. "We're blown away by the support this case has received."
Junior doctors behind Just Health decided to look into legal proceedings against the contract after a recent public accounts committee hearing revealed the government may not have clearly costed plans.
Doctors have continually insisted that plans to change the structuring of their pay, working hours, and training could harm patient safety. The government has said that the new contract is integral to creating a "seven-day NHS" and reducing patient mortality rates.
Following health secretary Jeremy Hunt's announcement that he would forcibly impose the contract against doctors' wishes in August, many are looking for new ways to oppose the contract.
The British Medical Association has also launched plans to bring the contract before the high court on the basis of its belief that the government failed to carry out an Equality Impact Assessment for the contract, but doctors behind Just Health say their investigation would be broader in scope.
"A judicial review would consider all relevant factors and hold the government accountable for decisions it has made. Ultimately, this is about public safety," Dr Ben White, one of the campaign's organisers, said.
"It is clear the government has not considered the implications of their plans – financially, practically, or in terms of impact on patient safety," Dr Francesca Silman, also behind the campaign, said.
"In a recent parliamentary public accounts committee review, it was suggested that the senior department of health chief, Charlie Massey, was 'flying blind' on this issue," she added. "We cannot tolerate politics placed before patient welfare."
Dr Nadia Masood, another junior doctor leading Just Health, confirmed the group would be meeting with lawyers to begin investigations this week. She told us the level of public support had been overwhelming.
"We thought it would take at least a week to come close to the target," she said.
On Sunday the group posted a message on the fundraising page to thank the public for the support that had allowed them to reach their first milestone.
"We have a long road ahead and our next target is to raise further funds so that we can cover the majority of the expected ongoing costs," they added.