All across cities and towns around Ireland, there's a provocative invitation on posters swinging from lamp posts and plastered across buildings. It asks people to "join the rebellion".
The slogan refers to the referendum on 25 May, which could allow legal access to abortion for women in Ireland.
"Rebellion" has been a particularly powerful force in recent political battles, most notably when voters in the UK and the US stuck two fingers up at what they saw as the establishment by opting to pull Britain out of the European Union and put political newcomer Donald Trump in the White House.
But this particular rebellion is somewhat different. While the Trump and Brexit campaigns attracted disenfranchised voters with a genuine promise of change, abortion is already illegal in Ireland, which recognises the equal right to life of the mother and the unborn.
The "rebels" of this referendum are appealing to the public to vote for things to stay exactly as they already are.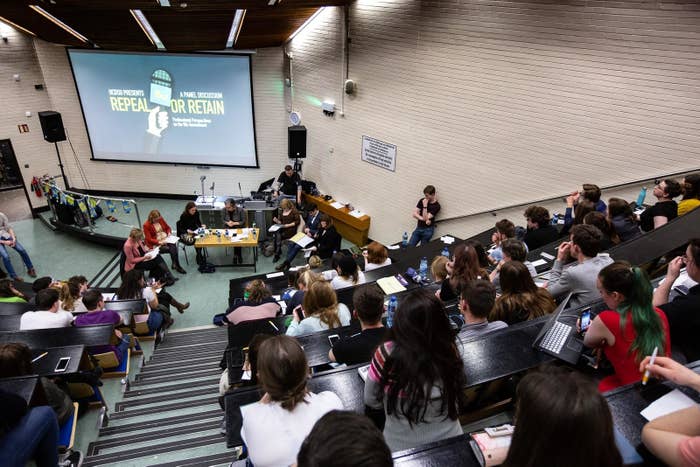 "We have the Eighth Amendment and there is no choice, therefore they are the status quo," Carol Hunter, founder of abortion rights campaign group Grandparents for Repeal, told BuzzFeed News over coffee in Dublin, with a note of incredulity.
"It's very much the status quo of the church, of the constitution, and I really can't see how that's the marginalised position," she said.
It is true, however, that the anti-abortionists are the underdogs. While recent polling for the Irish Times by Ipsos MRBI shows a recent decline in support for repealing the Eighth, the number of Yes voters still stands at 63% compared with 37% who intend to vote no when undecided voters are excluded. In 1997, when the Times and Ipsos MRBI began polling on the issue, only 23% of people believed abortion law should be reformed, rising to 71% by 2013.
Furthermore, Ireland's taoiseach Leo Varadkar and his party, Fine Gael, are in favour of repealing the Eighth. Young No campaigners told us that – as with the Brexit vote – this might be among the motivations for politically disgruntled voters outside of urban centres to get out and vote in their favour.
All of this has allowed Save the 8th, a campaign run by one of Ireland's most prolific anti-abortion groups, the Life Institute, to claim it stands against the establishment.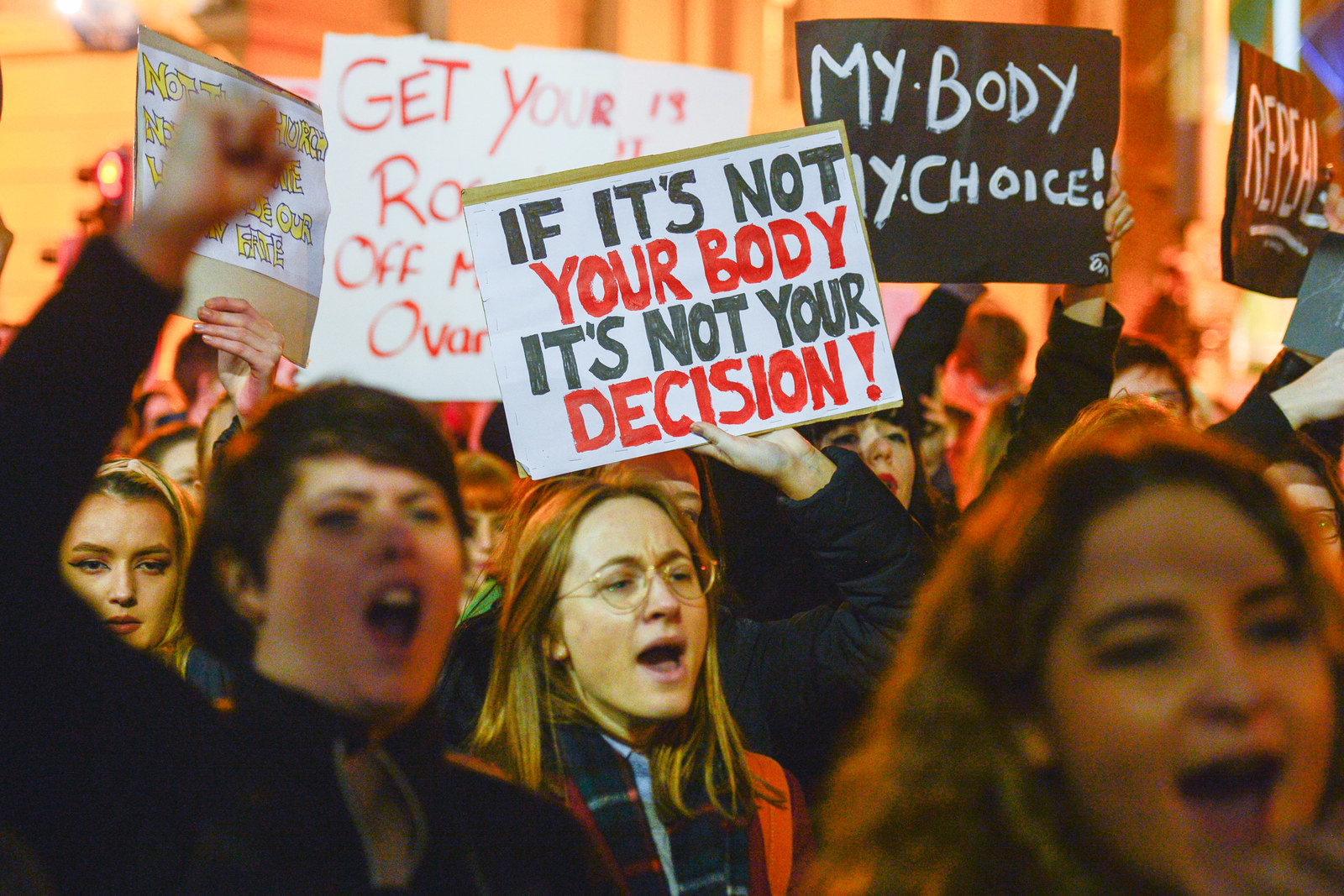 "This is a rising of the people against the media and political elites because Irish people know nothing was ever made better by the killing of a child," reads a post on Save the 8th's Facebook page, accompanied by an image emblazoned with the "rebellion" slogan.
It's not just the promise of rebellion that recalls Trump and Brexit. Dismissal of the mainstream media is rife, with John McGuirk, Save the 8th's communications director and agitator of the abortion rights movement, regularly accusing journalists and broadcasters of an abortion rights bias.
"There are over 1,400 @Savethe8thInfo volunteers out knocking on doors, and about another hundred erecting posters. I have never seen anything like this," McGuirk tweeted recently, adding, "#repealthe8th cannot compete with it. But then they have 200 volunteers in newsrooms."
Familiar concerns have also been raised over the tactics being deployed online during the referendum.
The question of who is contributing to the anti-abortion campaign has been raised ever since the revelation earlier this year that Save the 8th had enlisted British digital agency Kanto, whose founder Thomas Borwick had worked on the Vote Leave campaign.
While Facebook will pilot a new ad-transparency tool in Ireland ahead of the referendum, enabling users to see who's paid to put content in their feed, there's already evidence that foreign anti-abortion activists have paid to target specific Irish groups with posts encouraging a No vote. The Times recently found an alt-right British vlogger had been purchasing anti-abortion ads.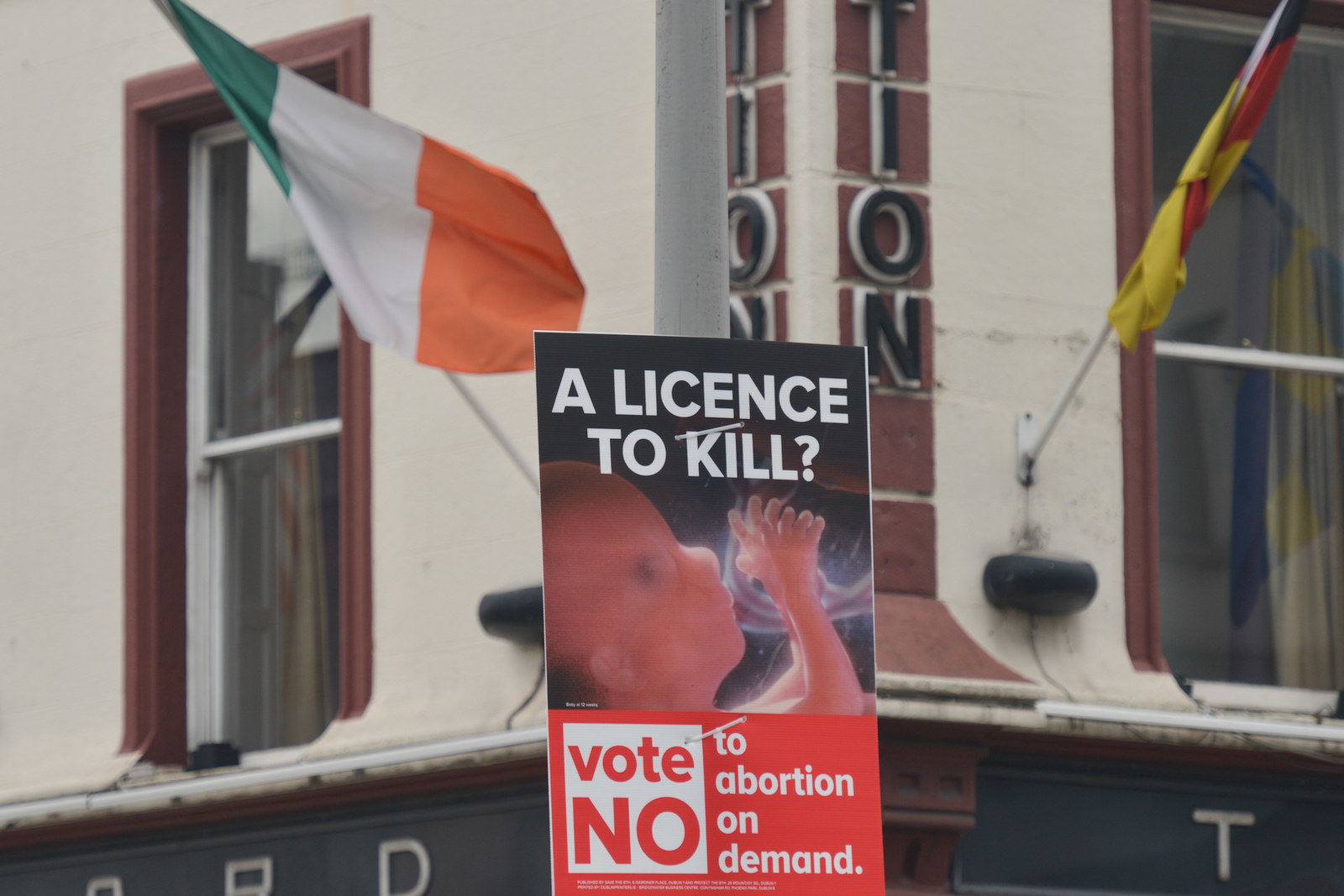 The social network admitted early on that there would be little it could do to police foreign interference in the referendum, not least because Irish laws that prohibit non-Irish citizens from contributing financially to a campaign do not apply to social media spend.
Meanwhile, the Pro Life Campaign, whose Love Both project is one of the most prolific anti-abortion referendum campaigns, was found by the Times to have registered domain names associated with the abortion rights campaign that direct to anti-abortion content. This tactic appears to have continued since within the anti-abortion movement.
Love Both is reportedly running data-hungry apps developed by those behind similar ones for the US National Rifle Association, Trump, and Vote Leave, as well as major anti-abortion group the Susan B Anthony List and a handful of Conservative politicians.
And stories have swirled about campaign finances, particularly in the cash-rich anti-abortion movement, but also on the abortion rights side, after electoral rules on foreign donations meant that Amnesty International's Repeal campaign had to reject a 137,000-euro donation from US billionaire George Soros.
With just under a month to go until the referendum, support for Repeal continues to lead in the polls, but 1 in 5 voters are still undecided – an increase since the vote was called, and for both campaigns there could still be all to play for.
It all adds up to a simple question: Could another electoral upset be on the cards?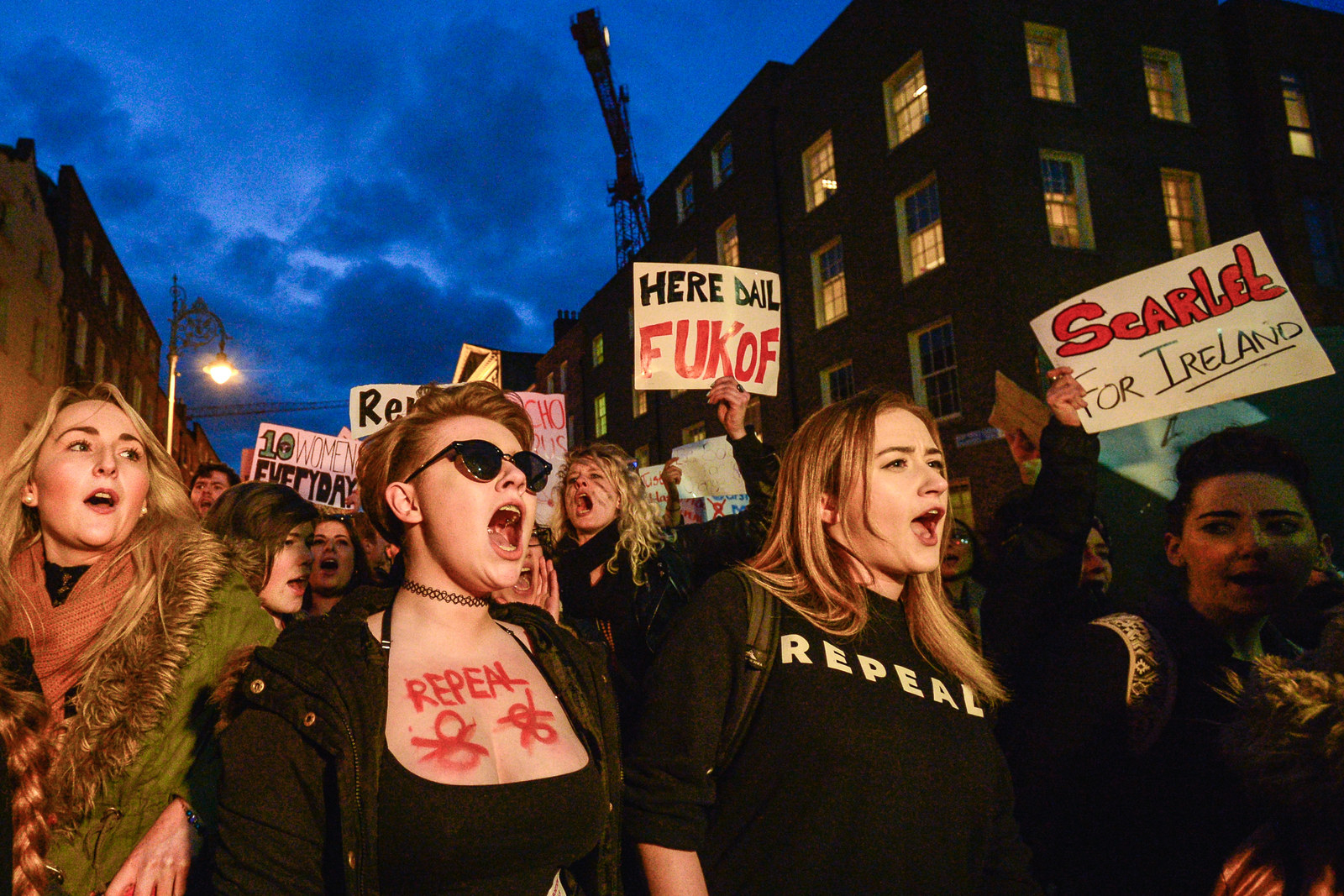 The Eighth Amendment of the Irish constitution, inserted following a referendum in 1983, gives the unborn and the person carrying it an equal right to life. In 2012, 31-year-old dentist Savita Halappanavar died of sepsis suffered as a result of a prolonged miscarriage, during which doctors were unable to intervene while the foetus still had a detectable heartbeat.
The following year, a provision was added to the law that allows abortion when the mother's life is in "substantial" danger, although it is unclear what constitutes an acceptable level of risk. Seventy-seven women have met this criteria for abortion in Ireland since 2013.
During the same period an estimated 3,500 have travelled to England to access the procedure. Many more have illegally bought abortion pills online and carried out a termination at home, and if an increasing number of abortion drugs seized at customs is anything to go by, the self-induced "bedroom abortion" is on the rise in Ireland.
But social attitudes have evolved in Ireland, which three years ago became the first country in the world to legalise same-sex marriage by way of a referendum, and a shift towards acceptance of legalised abortion, at least in some form, appears to be underway.
"There is a large feeling that the status quo should not be the status quo," Hunter told us. "Everybody does know someone who's had an abortion, whether they know it or not, and everybody has had to make those decisions."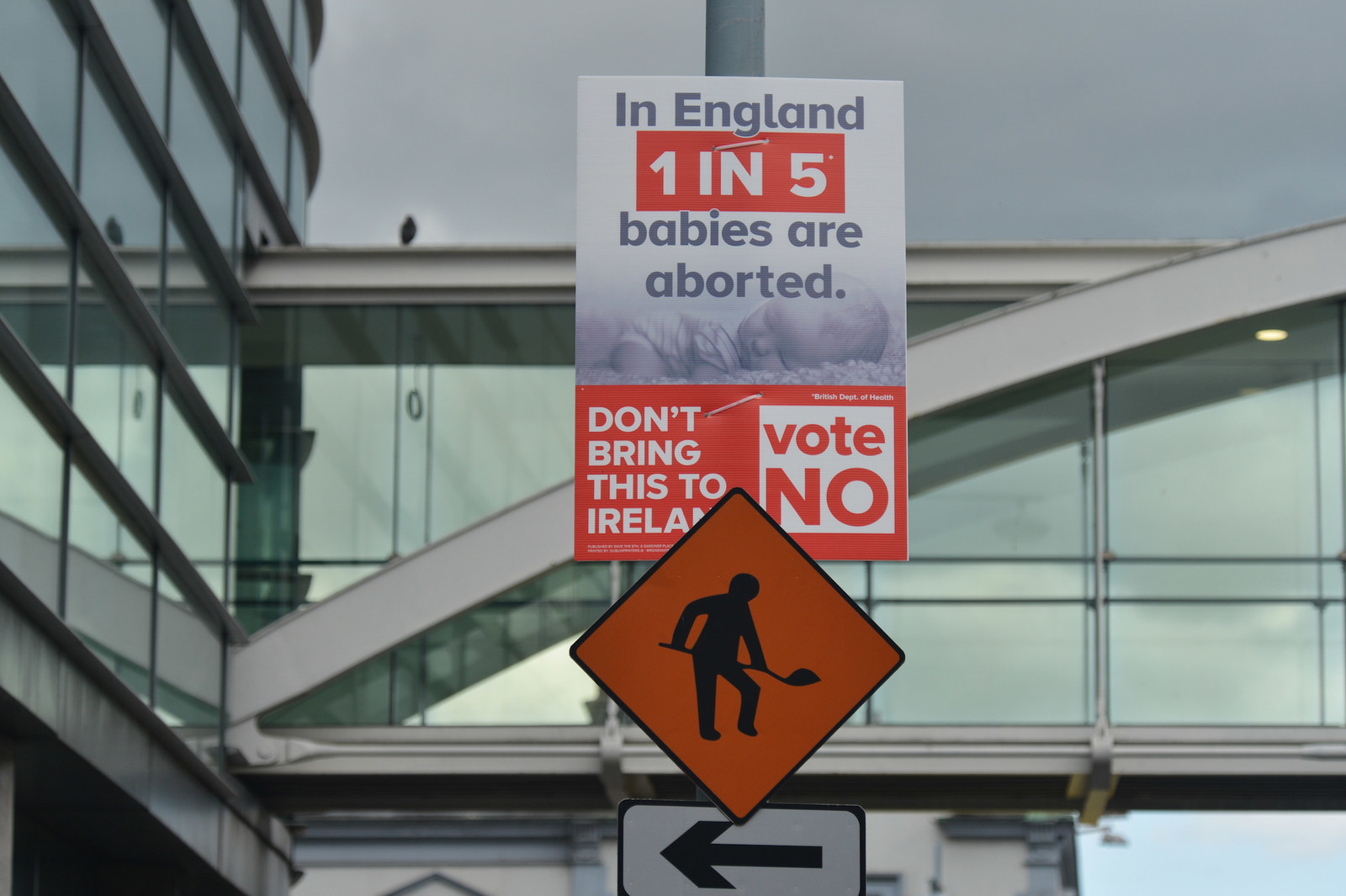 Late last year, a "Citizens' Assembly" – a group of 99 members of the Irish public assembled by the government to gauge people's opinions on abortion – made surprisingly liberal recommendations for reformed legislation that included allowing abortion on request up to 12 weeks' gestation, and for a variety of medical reasons thereafter.
High-profile cases like Halappanavar's, as well as the emergence of countless stories of the often-tragic circumstances in which women have travelled to terminate a pregnancy, are likely to have contributed to the consistent support for Repeal in the polls.
"We have absolutely unregulated abortion in Ireland, whether it's through abortion pills or people going to the UK," Hunter said.
"It always has happened. We've moved on a bit from backstreet abortions and coat hangers, but we can't think abortion will go away.
"After 1983 nothing changed. We just stuck it somewhere else. It's a completely untenable view."
But the power of real-life stories hasn't gone unnoticed by anti-abortion activists either. Earlier this month the popular Facebook page In Her Shoes, where women share anonymous accounts of travelling for an abortion, was hijacked in a coordinated attack by anti-abortion activists, who left one-star ratings and negative reviews on posts in an attempt to push the page down Facebook's rankings.
Many of the anti-abortion activists are unexpectedly young. Students who BuzzFeed News met from University College Dublin's anti-abortion UCD Life group echoed Save the 8th's outsider sentiment.
"It can be very hard to speak out against [the dominant] narrative," Robert Lee, a fourth-year law and economics student and member of UCD Life, said.
"I honestly know a lot of people my own age who have objections to abortion but aren't necessarily vocal," he continued.
"There are a few people who have come up to me and asked what it's like being 'out' on the pro-life side. They said they think they'd back me on it, but they wouldn't go public."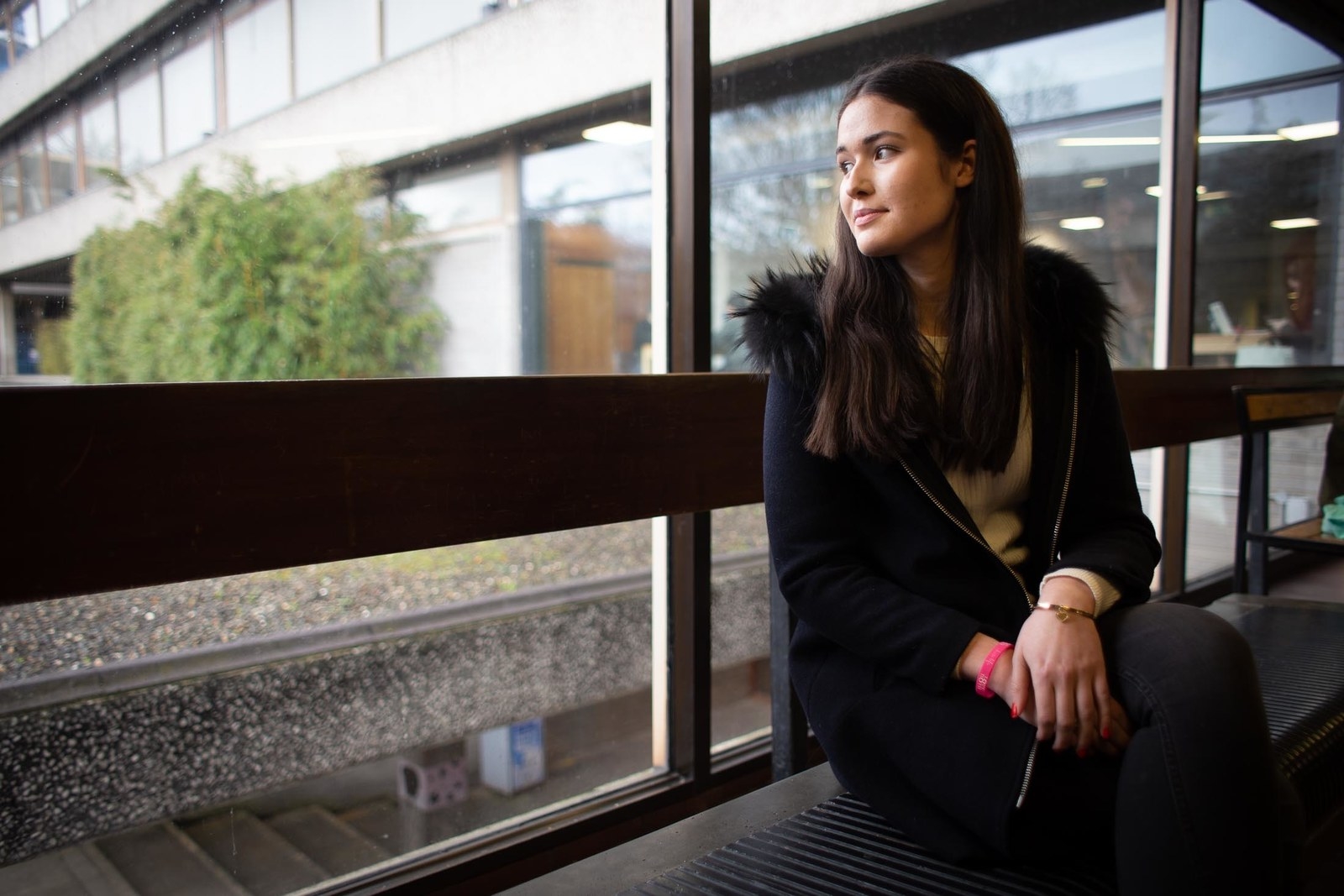 Alexandra Brazil, a third-year business and law student and founding member of UCD Life, told BuzzFeed News she felt the "expected status quo" was that their peers would support abortion rights, but she believed many students on the other side were simply following the crowd.

"A lot of people would think students were pro-choice but it's just following what everyone else is doing," she said.
Fine Gael recently launched its own Yes vote campaign, led by Varadkar and health minister Simon Harris.
"The government being on the other side is a disadvantage but we think there's still a lot to be done," Lee said. "Pro-life is definitely much more of a grassroots movement."
While Lee and Brazil felt that Ireland doesn't have the same kind of anti-establishment undercurrent that fuelled Brexit or Trump, they did believe the government's vocal support of Repeal could be a catalyst for Irish voters who don't agree with this – especially outside of urban centres like Dublin – to get out and vote.
"General opinions up and down the country aren't necessarily represented in Leinster House," Brazil said.
Lee agreed this may have an impact when it comes to polling day: "Oh, for sure they're not represented at a proportional level – that will play out."
Out on the campaign trail, some of the more sensational tropes familiar within the anti-abortion movement are present, such as Bernadette Goulding's claim at a Love Both rally in Galway that the birth of a baby conceived via rape can "heal" the psychological effects of the crime. Many of the anti-abortion campaign's main messages, though, are rooted in medical statistics.
Posters for Love Both focus on gestational milestones, such as when the heart starts
beating, and Save the 8th's most frequently cited statistic is that "1 in 5 babies in
England are aborted," a number derived from the British Office of National
Statistics' annual abortion figures.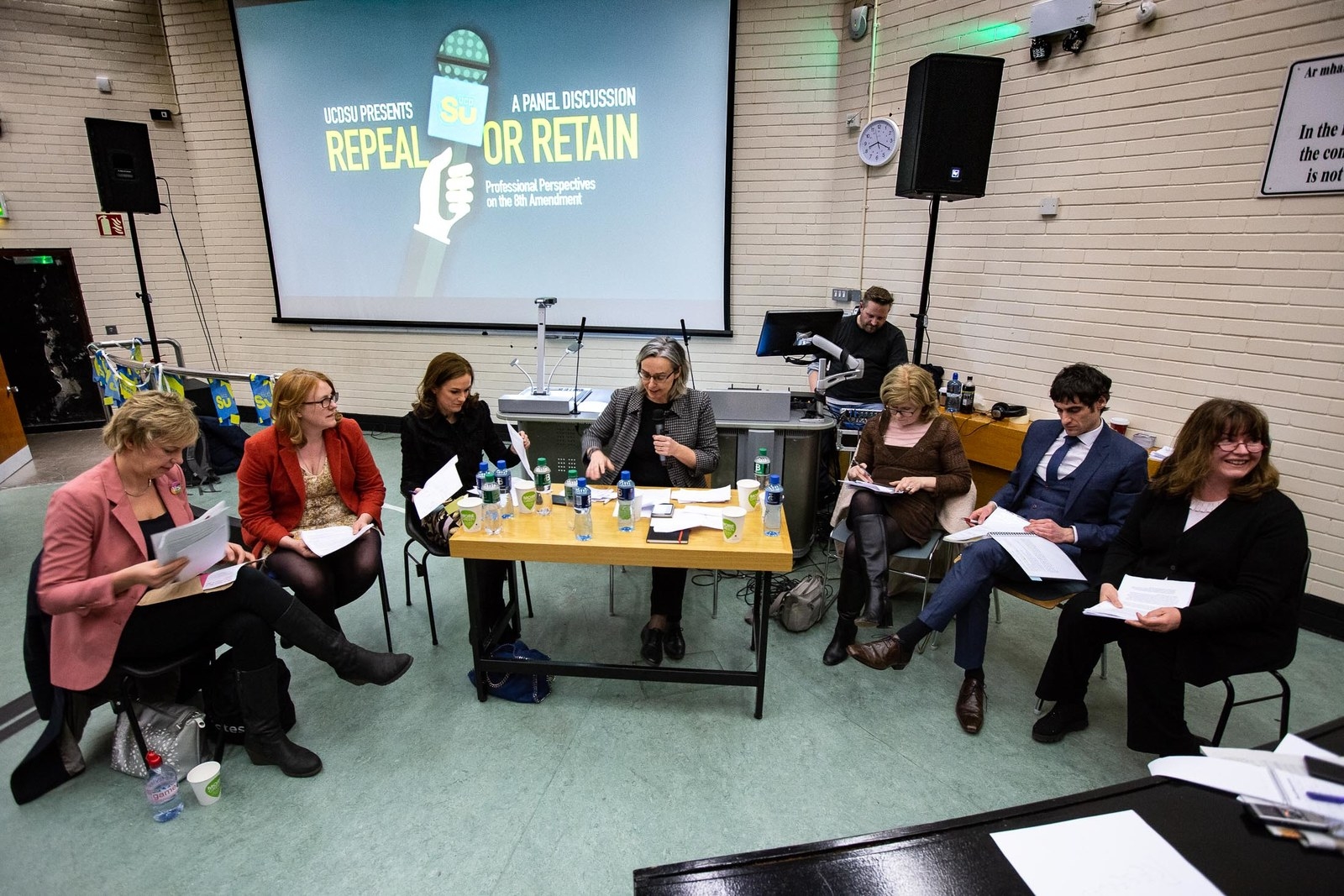 While annual abortion rates are considered to be lower when the number of pregnancies
that end in miscarriage is taken into account – and researchers have found that a country's abortion rate does not correlate with how liberal its abortion law is – it is at least partially true, and for the 1 in 5 voters who are undecided, the stat may prove powerful.
For the Yes campaigners, the best way to combat the slew of information from the anti-abortionists that is pouring out in various adverts, on- and offline, is rather traditional.
Conversations with people on the doorstep are key to how the abortion rights side aims to help paint a fuller picture of the ambiguities that already lead many women in Ireland to decide to have abortions. The Together for Yes campaign has asked supporters to pledge to talk to five new people about the referendum every day.
"We are a small country and we're a country that talks," Hunter said, explaining how important sparking up debate on the subject has been for her work with Grandparents for Repeal.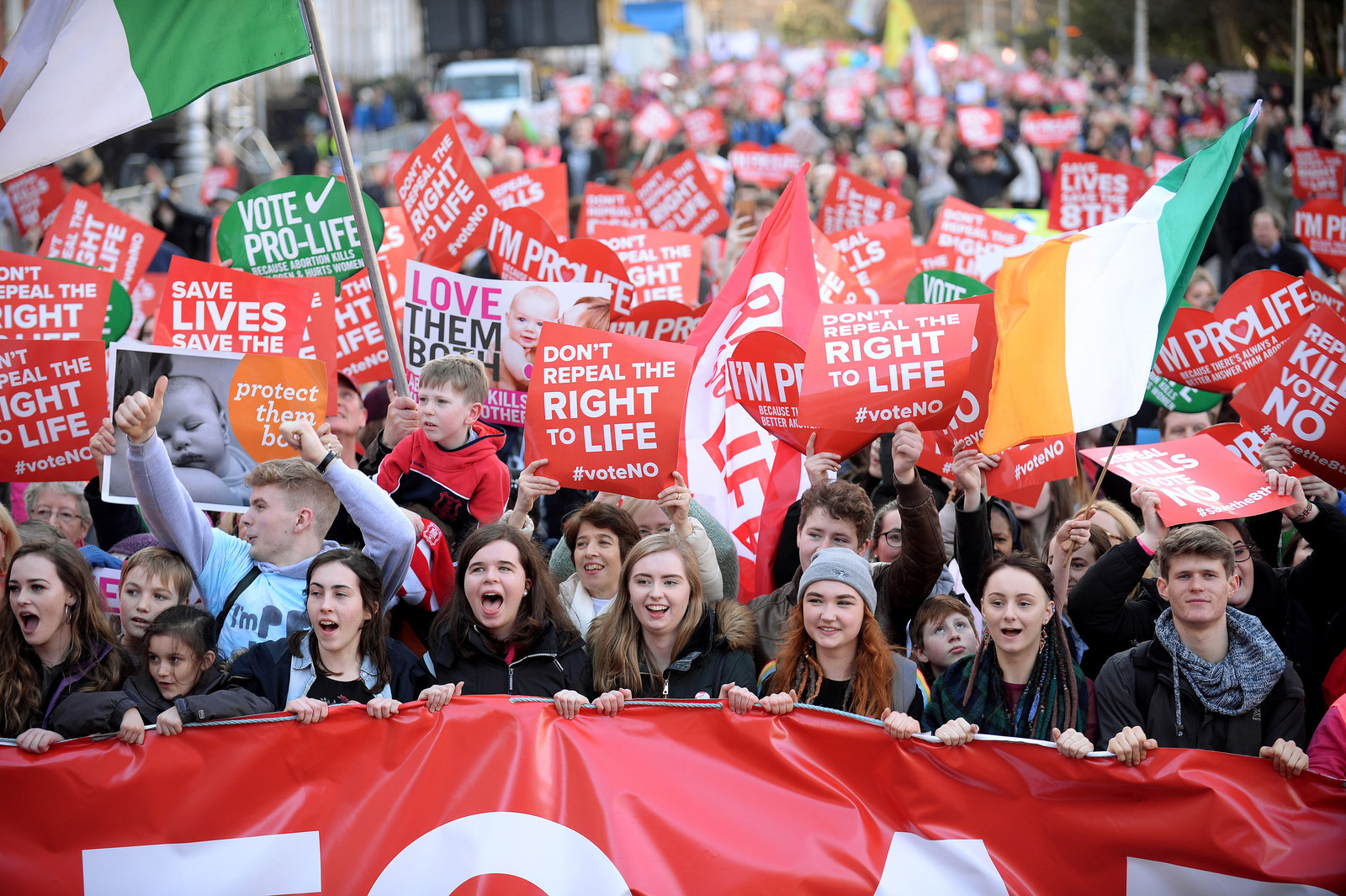 She worried that if those in favour of abortion rights don't engage with the undecided,
inertia could reduce the chance a win for Repeal. "When faced just with the literature that's coming through their doors, if there's something that makes people a bit wobbly, they'll retreat to the safe position, which is a No because that's the status quo," Hunter said.
"There is no getting away from the fact that it's the over-65s are the group that we need
to be talking to, and the only way of doing that is going to be face-to-face," she continued. "I'm constantly encouraging people to talk, talk, talk, talk."
Hunter admitted that it's not always easy: "I know as someone who started that conversation at my bridge club."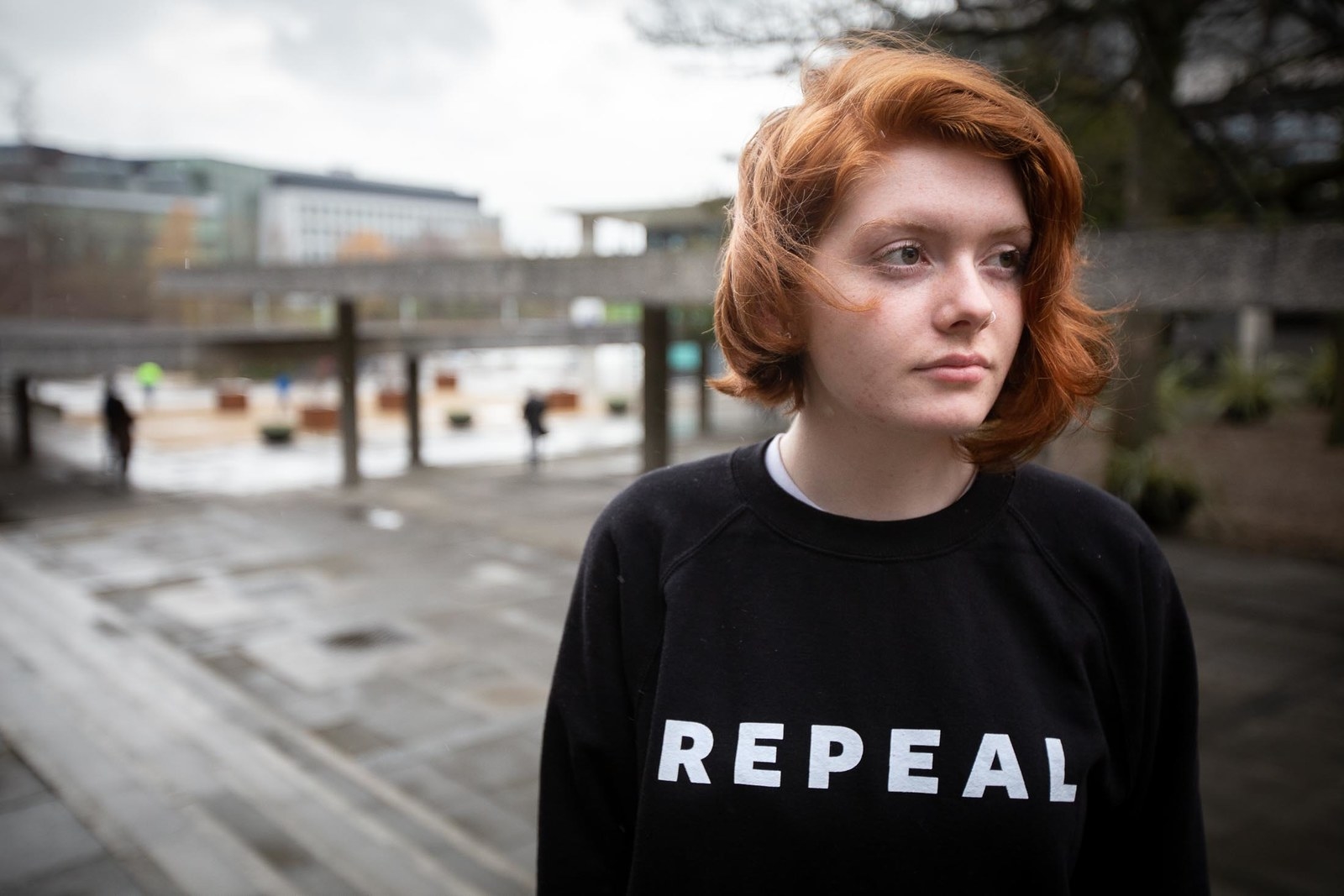 Students from University College Dublin's UCD Choice group also believe that their generation is especially eager for change, and that it can be brought about by talking to people on the doorstep.
One group member, Aoife Gray, a second-year English and sociology student, said that she had grown up believing that abortion was always wrong but changed her mind when she began to understand the multitude of reasons why women have abortions and realised it was "not a black and white situation".
"A lot of students would agree that being pro-choice is being on the right side of history," Katie Cundelan, a second-year law and social justice student and member of UCD Choice, told us.
"We don't want want to grow up in a society where we're still stigmatised like our parents
were."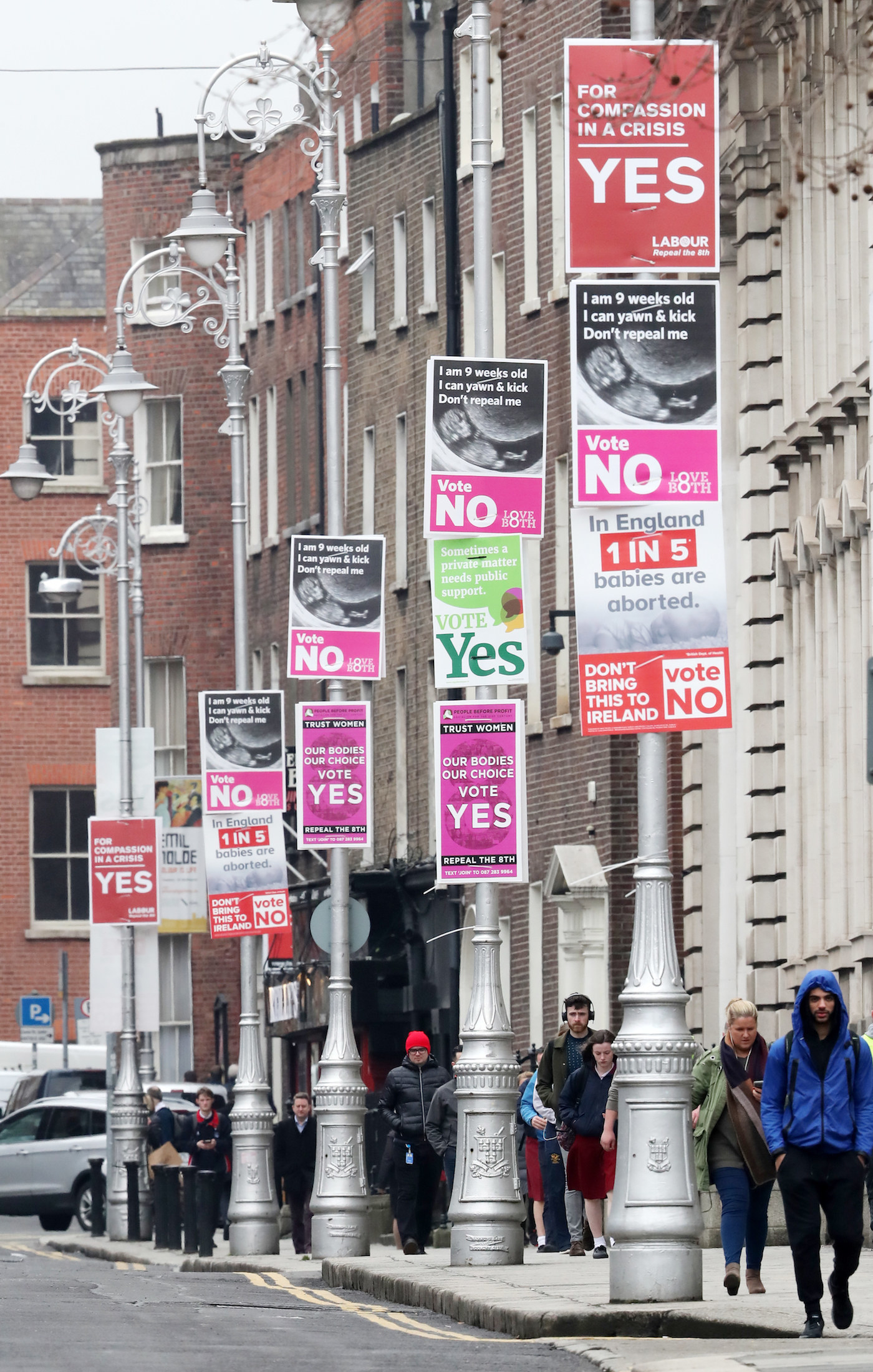 With stark facts being wielded on either side of the debate, both students hope that it will be in the grey area between that many will come to understand why Irish women might opt to have an abortion.
"Basing your argument on science totally decontextualises the situation that the person who is pregnant finds themselves in," Cundelan said.
"You can say all you want life begins before birth, and these are the five studies I have that support our side, but it's not about that.
"I don't think it gives the full picture of the emotional damage that [an unwanted pregnancy] can do to someone."
Hunter remained positive that if campaigners help those on the fence understand the complex choices so many Irish women are already making
when seeking abortion elsewhere – 12 of them per day – they will be more likely to vote Yes on 25 May, even if they don't openly support abortion rights.
"Outward confirmation here is really important, and always has been, but there's a whole
different life going on beneath that," Hunter said. "In the privacy of the ballot box it is a rather different thing."