How The Kindness Of Strangers Is Helping Hundreds Of Families Through Christmas
For people in crisis, buying Christmas presents is often hard to manage. These are the charities that are stepping in to help them.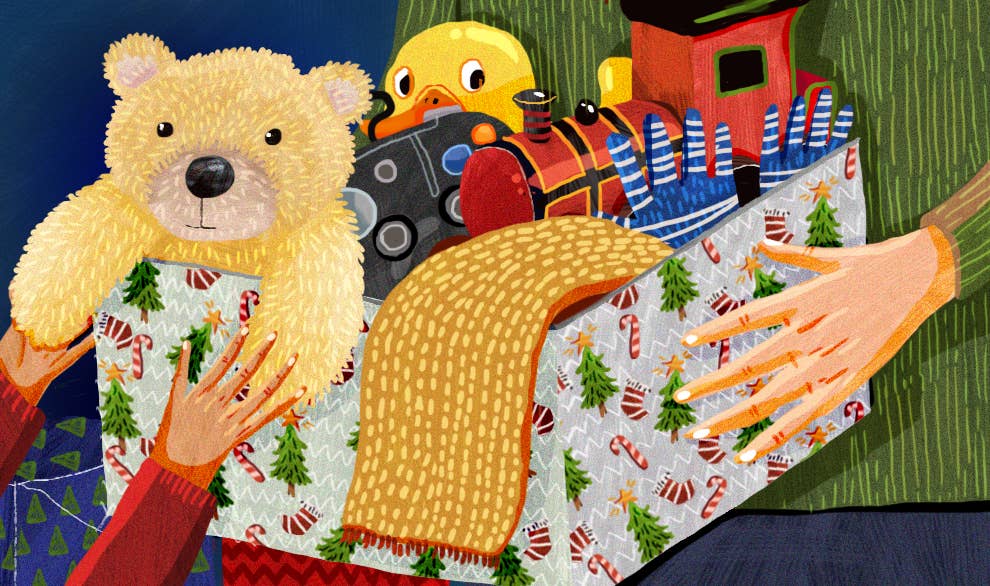 Nobody needs a Christmas present.
A chocolate selection box won't fill you up when you're hungry; it's just a fleeting sugar rush while you work out where your next meal is coming from. Perfume won't stop your clothes from smelling mildewed after taking too long to dry in a damp flat; it's just a quick spritz of luxury that might carry you somewhere else for a minute or two.
A Christmas present isn't about necessity or survival; it's a token reminder that someone's thinking of you and wants you to feel loved – that there is hope beyond the hardship of simply getting by.
Everybody needs a Christmas present.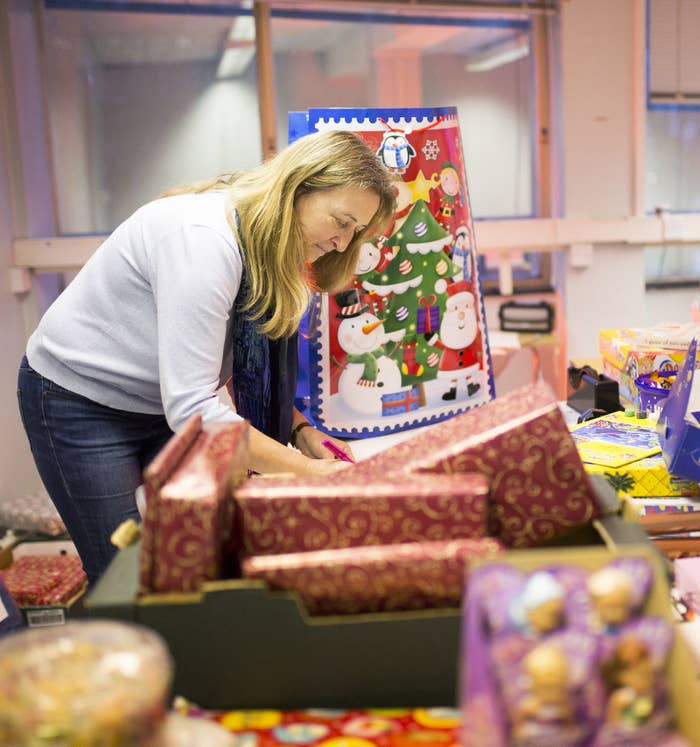 Susan Lloyd-Selby, who manages The Trussell Trust's Vale food bank in South Wales, meets plenty of families who could do with a gift or two, but aren't always in a position to buy them.
Almost 10 years ago, she set up The Big Wrap, to provide struggling families in her community with Christmas presents for their children.
She had the idea to set it up when she discovered her social worker husband buying extra presents for a teenage boy he was working with. He and his colleagues had clubbed together £50 when they realised the boy was due to get nothing for Christmas.
"This lad had asked for boxers and socks and something to eat on Christmas Day in case his mum couldn't cook for him," Lloyd-Selby remembered. "My son at the time was 15, and I went home and looked at this huge pile of presents sat under the tree for him. It broke my heart really."
This uneasy parallel was something of a wake-up call, she said. "I simply did not realise that there were children in Britain, and in my community, who faced the possibility of waking up to a sad Christmas."
Over the coming week, The Big Wrap is set to give out more than 1,000 gifts to around 240 families who are referred to Lloyd-Selby by local charities already supporting disadvantaged children and teenagers.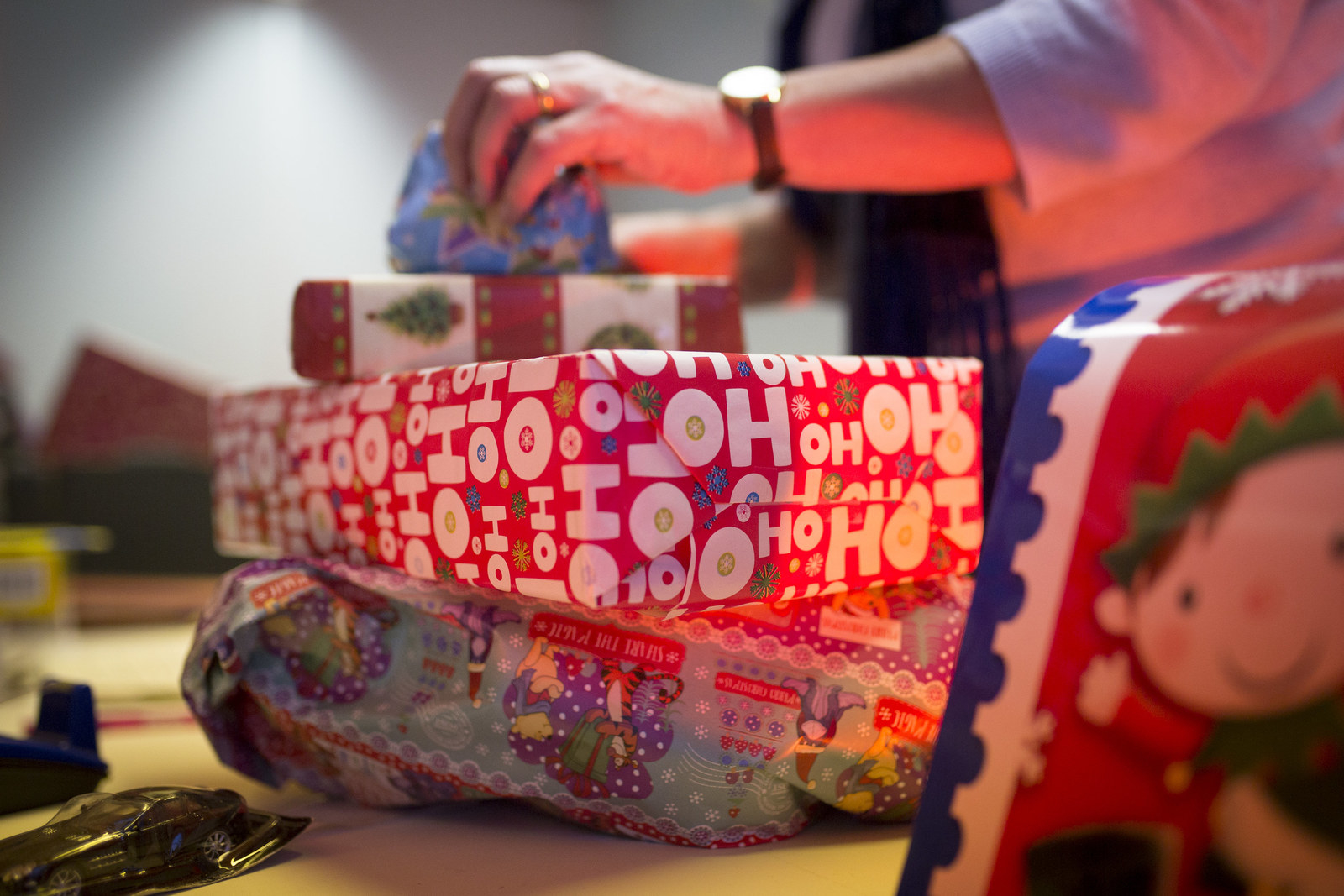 "We make sure each child has a nice big gift bag full of toys, because when there's a risk of children having nothing for Christmas, we want to give them more than one gift if we can," Lloyd-Selby said. She recalled an occasion when she delivered presents to a mother of three daughters who had been unable to buy them many herself.
"There was no carpet in the house and a little Christmas tree with three small presents under it. That was as much as she could do," Lloyd-Selby said. "When we arrived with three big bags full of presents, she was so relived that her girls were going to wake up the next morning to lots of presents and toys."
While The Big Wrap focuses on collecting gifts for children, its ability to take the additional pressure off cash-strapped parents who might struggle to fund the festive seasons is also key. "If parents haven't got the money, what are they going to do? Are they going to stop eating? Will they get into debt?" Lloyd-Selby said.
"Hopefully what we do helps prevent them from going into crisis, as people are often pushing themselves too hard at Christmas to provide toys for the kids."
In recent research on the emotional impact of the holiday, mental health charity Mind found that 28% of the general population and 44% of people with mental health problems said they felt under pressure to have the perfect Christmas.
Eleven per cent of people among the general population and 31% of people with mental health problems said they felt unable to cope with the pressure.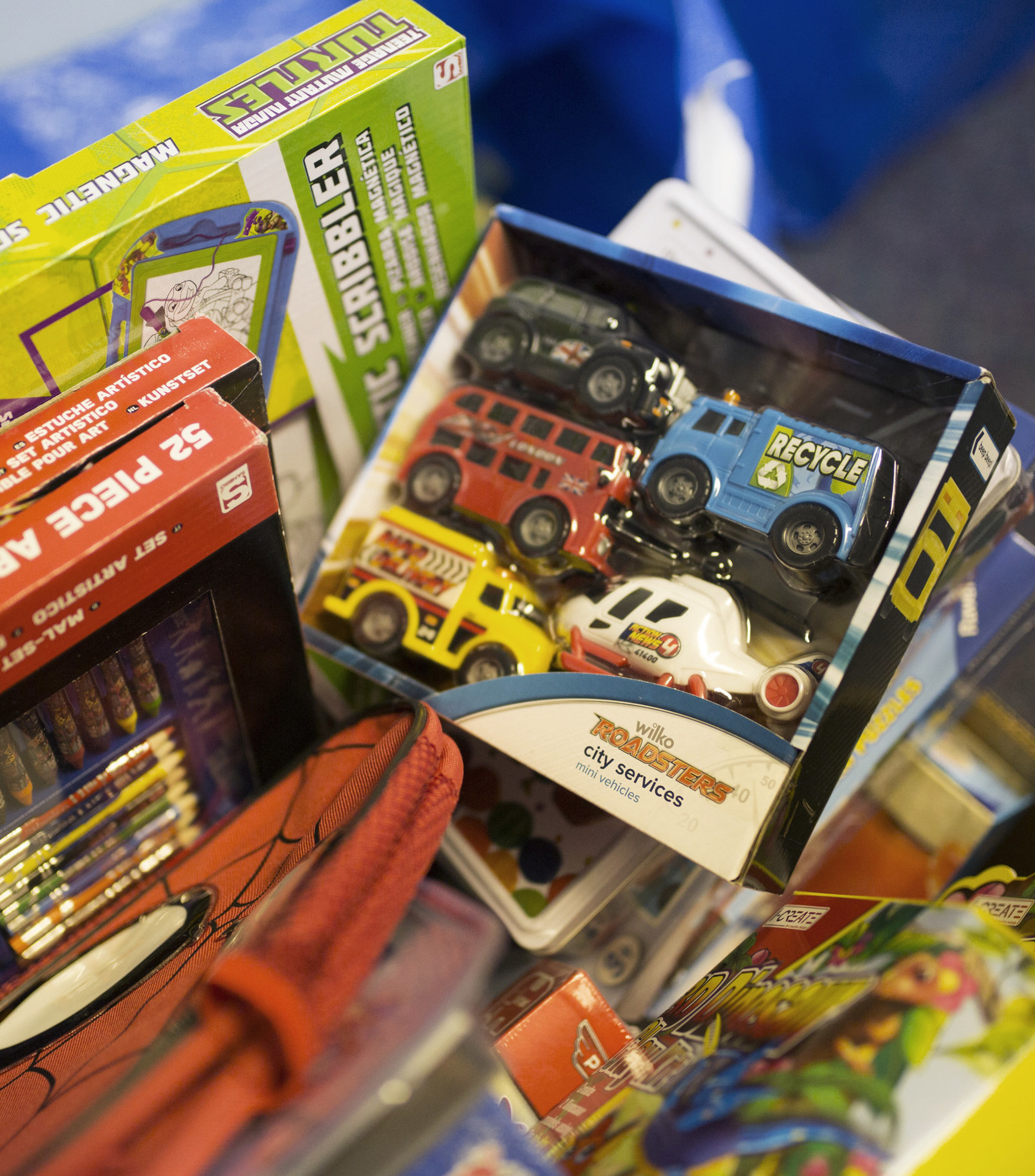 "Although for many people Christmas is something to look forward to, it can also bring with it additional pressures such as financial strains, feeling that everything has to be perfect, and loneliness," said Stephen Buckley, head of information at Mind.
Because she also runs food banks in the area, Lloyd-Selby is able to include Christmas food with the present packages to further ease the seasonal pressure on families.
"A couple of years ago it was snowing and we had real difficulty getting food to people. I was delivering a hamper and I'll never forget, a little boy ran excitedly along the road with me because he knew it was coming to his house," she said.
"He said to his mum, 'It's got ham in it, look Mum, it's got ham in it, can we eat it?' It just really struck me that something I take for granted every week, for him was a treat."
Lloyd-Selby described witnessing a mixture of immense relief and gratitude from parents who've received donations for their children. "Grown men have burst into tears when we arrive with a car full of stuff, and say, 'You just don't know what this means to us,'" she told us. "It just gives people a happy day, and we all need that."
Daphine Aikens, who runs the Trussell Trust's Hammersmith and Fulham food bank in London, has also run a Christmas present initiative for several years and believes strongly in the positive impact an unexpected gift can have on someone who's already at rock bottom.
"A lot of people at the food bank are often isolated and they're under a lot of pressure," Aikens said. "We see quite a bit of depression and a lot of that will be due to being in poverty and living on a knife-edge for so long."
She said that small gifts such as gloves or sets of toiletries, which are donated to the food bank by members of the local community, mean a lot to people. "Especially the single people who might not normally get a present," Aikens added. "They will be sitting at home anyway, potentially isolated and lonely at Christmas, so it's a present for them from somebody who cares."
Mind's research also showed spikes in the loneliness people, both with and without mental illness, felt over the festive period. Aikens said that even something as simple as a Christmas card can have an impact on someone who feels isolated, so every year she has local children make some for her to give out at the food bank.
"One year we had a man come in, and we gave him a small present and one of the cards," she told us.
"He opened the card in the food bank and he started crying. A child had written, 'Dear man, I hope you have a lovely Christmas.'
"It just means so much to people."
Refuge, the domestic violence charity that provides shelter and support to women escaping abusive relationships, also seeks to offer small tokens of solace to those in crisis at Christmas.
Via the Christmas Gift List scheme, members of the public can donate a specific cash amount that will be used to buy items such as perfume or a winter coat for women, or a games console, teddy bear, or drum kit for their children, who so often end up at the refuges with their mothers. Because the donations are made in cash, volunteers at the centres can work with the women they're supporting to choose personal gifts on an individual basis.
"Christmas time can be especially hard for abused women and children who have had to flee their homes in order to escape violence. They often leave behind everything and everyone they know – and arrive in our refuges with nothing but the clothes on their backs and little, if any, money," Sandra Horley, CEO of Refuge, told us. "Something as simple as a Christmas present can brighten up the festive period for the women and children Refuge supports."
Julie*, who received gifts via the scheme after being supported by Refuge, said the gesture "made me smile again and feel hopeful for the future". She added that knowing there were people who cared enough to donate money for gifts had made her feel like "my kids and I can start over".
While a Christmas present can't solve the problems that have led people to seek the services of charities in the first place, the kindness of strangers can hopefully remind them that they don't have to face those problems alone.
"Christmas for me is very much a time for hope and joy and fun," Lloyd-Selby said. "It is just about saying have fun, people love you and care about you."
*Name has been changed to protect her identity.