Emma Kenny and her dad, Don, have always been incredibly close. Supporting each other through periods of mental illness has made the bond between father and daughter even stronger.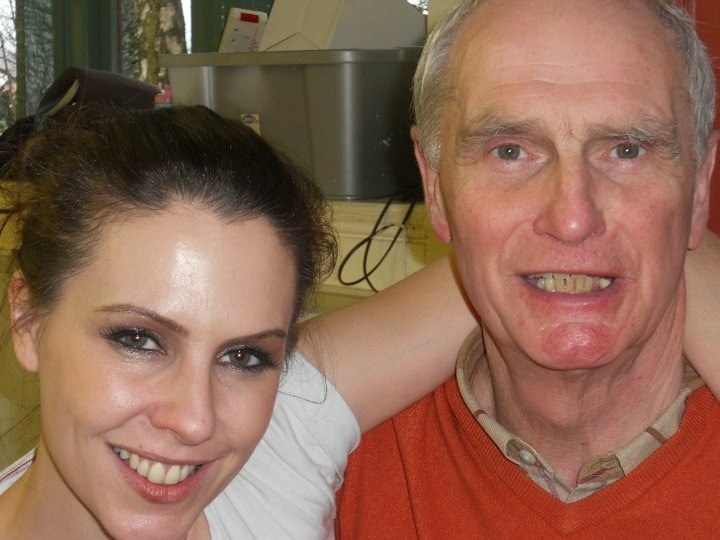 Before experiencing a psychotic breakdown as a result of depression in November 2000, Don had never had any mental health issues. "It just came out of the blue," he told BuzzFeed News.
But Don, a "high achiever" at work, said that after huge changes to his company, "it got to a stage where I thought I just couldn't do it any more". He remembers coming home one day and "waking up a different person". Don was anxious, paranoid, and overwhelmed by the way he was feeling. When his wife took him to see the family's GP, Don broke down in tears in the doctor's office and was signed off work with depression.
Emma remembers her dad "physically changing" and obsessively talking about work in the months leading up to his breakdown. "He was looking thinner and would mess around with his hands a lot," she said. "He just had this look of anxiety."
Don too remembers feeling like he transformed during that period: "I started thinking that the company was watching me. Every car that pulled up outside the house I thought was someone spying on me."
It was when Emma's mum discovered Don checking under his car for microphones that she summoned her daughter's help. "I came home and my dad was a mess," Emma said. "He looked like he was terrified."
Experiencing an increasing sense of helplessness, Don began to feel suicidal, and while his wife and daughter talked upstairs, he made an attempt to kill himself. "I happened to have a knife in my hand and pulled it towards myself," Don said.
Having sensed that her father had gone quiet, Emma rushed downstairs and managed to get the knife off him while her brother restrained him.
Don was detained under the Mental Health Act, although he only ended up spending a week as an in-patient on a psychiatric ward, which he didn't find conducive to recovery. "It was a very strange environment," he said. "I felt captive."
Instead, he was allowed to go home in the care of his family, in particular Emma, who in addition to working as a psychologist, had experienced bulimia herself and was particularly adept at tackling mental illness.
"The minute I got home I started to mend," Don said. "Every single day Emma would come and just talk to me, essentially giving me therapy, and trying to convince me of all the positive things. I was looking only at the negative things."
Seeing her dad experience such an illness was difficult for Emma, who was 29 at the time of Don's breakdown. "I remember thinking when my dad got really ill, What if he never gets better?" she said.
"When you've got a parent who gets ill, you just can't imagine that the world will ever feel safe again. I was suddenly managing this person who was my hero. It felt like I lost some security and had to accept that I was an adult all on one go that was hard."
But, she said, she is "proud" to have been able to help him through that difficult time.
"I'm proud that my dad allowed me to be involved in his recovery, and I'm proud that he overcame it," Emma told us. "I'm proud that he's still here."
Don's family managed to secure him a pension deal on the grounds of his ill health and he never returned to work, although he did make a full recovery.
But Don's breakdown wouldn't be the last time the Kenny family experienced mental illness. Eight years later Emma experienced a serious period of depression.
"I had never experienced depression, and then I woke up one day, burst into tears, and then proceeded to have the worst three months of my life," Emma told us. "I didn't want to get out of bed. I did, but I would literally get up, come home and put the kids to bed, and then cry."
Even though Don had remained well since recovering from his breakdown, Emma said she felt terrified he was going to get ill again. "I just felt like the world was going to end and that my mum and dad were going to die."
Her emotional unrest turned out to be anxiety brought on by anaemia, for which she now receives treatment, but in the period leading up to her diagnosis, Don was able to return the support Emma had given him when he was unwell.
Much like his daughter did for him, Don would visit Emma every evening to counsel her through her darkest days.
Emma remembered it as a "weird moment" when she realised the roles had been reversed. "After all those years of feeling like I'd never feel safe again after my dad was ill, I got ill and he was there," she said. "And he was really there, and he really helped me through it."
Don, who until his breakdown would never have talked about mental illness, was sure his own experience with depression allowed him to support his daughter through hers. "I definitely felt more able to help Emma because it was something I'd been through too," he told us.
Both Don and Emma felt they were lucky to have always been part of a very close and loving family, but, reflecting on their illnesses, Emma felt that "going through something like this together has definitely made us closer".
Previously, Emma felt like Don had always seen her as his child, but he placed far more trust in her now. "Being part of my dad's journey to health means there's something even more special about our relationship," she said.
Don said: "We're a very close family and we always have been. It's so important to have that."
For Emma, their experiences reminded her why it is so important for people to be able to talk about mental illness and not be frightened to speak up.
"We need to give each other permission to discuss mental illness and be able to help each other," she said.
"Mental illness is like a common cold. It's everywhere and anyone can get it. And by acknowledging that and not being afraid or ashamed of it, we can tackle it."
To anyone whose parent or loved one was going through a difficult period of mental illness she had this message: "All you can give is care and compassion and love.
"Don't ever take a step away from that. Don't ever leave them on their own.
"Don't get frustrated and be angry. Listen to them, even when they don't make sense.
"Be in it with them."
According to Time to Change, mental health charity Rethink Mental Illness's campaign to tackle stigma, 1 in 4 of us experience a mental health problem every year. It's important to talk about it: Visit the Time to Change website for tips on how to talk about mental illness and how to support a loved one who speaks out about how they're feeling.