Prince Harry Says The Queen Was More Than Happy To Get One Over The Obamas
"There was nobody else I could think of who was going to top the first lady and the president of the United States so it was an easy thing to do."
Prince Harry has said that he had no choice but to "drag the Queen" into a Twitter fight with the Obamas in order to get one over on America's first family.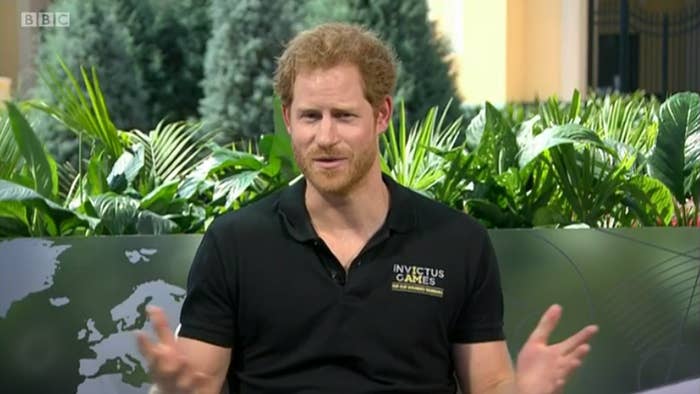 In the run up to the Invictus Games – a Paralympics-style competition for wounded or injured service members and veterans which opens in Florida on Sunday – Michelle Obama, who runs the games with Harry, enlisted her husband president Barack Obama to help with some fighting talk.
But Harry was more than able to trump America's first family by roping his nan – the Queen – into his response.
"If you've got the ability to be able to ask the Queen to up one on the Americans, then why not?" he said during an interview on the BBC's Andrew Marr Show on Sunday. "There was no way I was going to come to America 'fifteen love' down to the Americans so naturally I was going to drag the Queen into it."
"I thought 'this has to be the Queen, otherwise we lose'," Prince Harry said.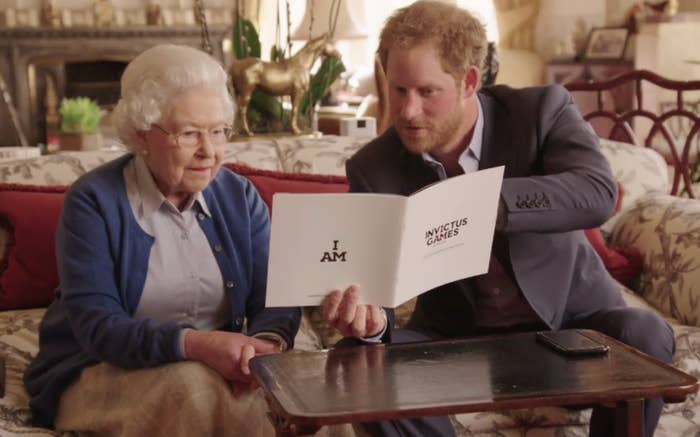 Harry said that he was worried about putting pressure on the the Queen to take part, but found she was "more than happy to oblige," and hoped that people enjoyed the video. "I know she did," he added.
Harry, an army veteran himself who served two tours of duty in Afghanistan, told Marr of his pride at being a patron of the Invictus Games, which he launched in 2014.
"These are people that put their lives on the line, their whole families sacrifice their lives essentially for service of their countries," he said.
"It's not just the individuals, it's their families as well who give so much to service, not knowing when they're going to be sent away, not knowing how they're going to come back, and not knowing who they're going to serve with.
"And whether they believe in the cause or not, you sign up, that's your job."
He said that members of the royal family were "completely aware that we are in a very privileged position," and felt that creating the Invictus Games was a way of responding to that.
"I will spend the rest of my life earning that privilege and trying to bring a spotlight on to things and causes that really matter to me, and hopefully matter to other people as well," he said.
The Invictus Games will begin in Orlando, Florida, on Sunday, with an opening ceremony attended by Prince Harry, Michelle Obama, Morgan Freeman and James Blunt.