Junior doctors were left disappointed on Thursday when it was confirmed that Jeremy Hunt was keeping his job as health secretary despite early reports that he'd been sacked in Theresa May's cabinet reshuffle.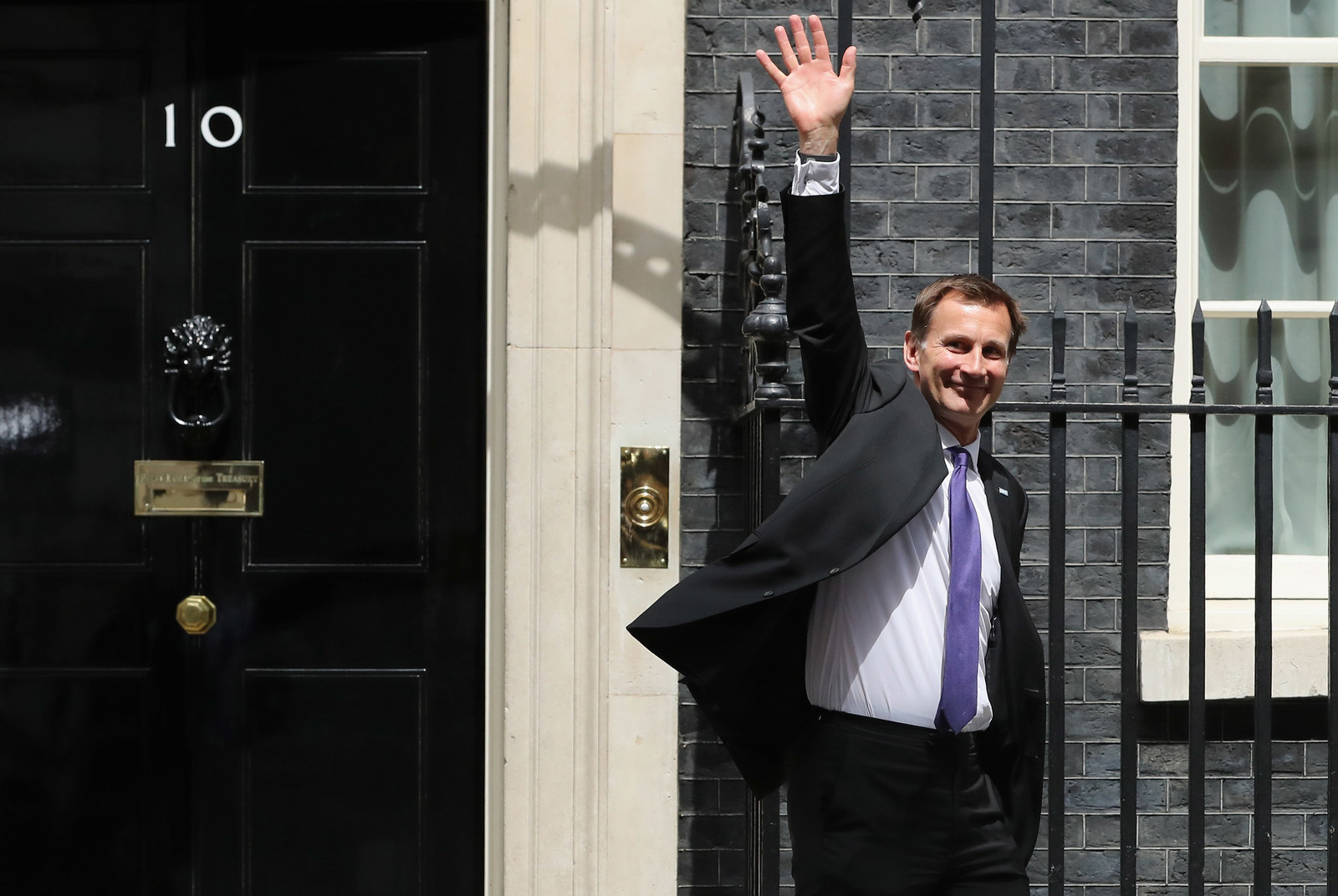 Hunt, who arrived at Number 10 without his trademark NHS lapel badge but left wearing it again, said he was "thrilled to be back in the best job in government".

Doctors had initially rejoiced at early reports on Thursday that suggested Hunt had joined Michael Gove, George Osborne, and Nicky Morgan on the casualty list of May's first reshuffle.
Even when it looked like he was staying in cabinet but being moved from the health job, they were hopeful.
Many had hoped that the job of health secretary would be handed to Sarah Wollaston, a Conservative MP and former GP.
"We need a health secretary who understands the role of evidence (not anecdote) and is respected by the professionals in the service," Wales-based junior doctor Dave Jones told BuzzFeed News. "I think Wollaston ticks those boxes."
Dr Mohsin Khan said "the hospital corridors [had] been buzzing" when it was believed that Hunt would go.

But when it was confirmed that Hunt was staying by Downing Street, the mood changed to huge disappointment.
"I'm utterly devastated. No single politician has done more to undermine, alienate and demoralise a generation of doctors," Rachel Clarke, a junior doctor from Oxford said after hearing the news. "The destruction he's wrought on the NHS workforce is catastrophic.
"By keeping him in post, May has just signalled to every one of us that she cares not a jot for the NHS frontline."
Mike McLaughlin, an emergency medicine specialist based in London, said doctors "had been excited that a new health secretary could lead to new negotiations. We want to get a deal and put this behind us."
McLaughlin said he was "utterly disappointed" when it later turned out Hunt would stay, adding: "It's such a gargantuan missed opportunity."
While he hoped that May had struck a deal with Hunt to return to negotiations and solve the dispute, he feared Hunt may be emboldened by her decision to keep him on.

David Rouse, an emergency medicine specialist and deputy chair of the junior doctors committee, also hoped that Hunt's reinstatement did not mean an end to the possibility of further negotiations.

"I hope that now Mr Hunt is to be part of a new cabinet he uses this opportunity as a spring board to open up new and meaningful dialogue with junior doctors and our colleagues in the health service who are feeling increasingly marginalised," Rouse told us.
Hunt announced as recently as last week that he would impose the latest junior doctors contract against doctors' wishes, but Rouse urged him to reconsider, saying: "Junior doctors rejected the contract offer over very real concerns which must be addressed. The BMA's [British Medical Association] door is open. Now is the time to talk."
Khan too believed there was still a chance for Hunt to redeem himself with doctors. "A new government is a chance to start afresh, work with us all," he said. "I would urge Mr Hunt to get back around the table and work closer with the doctors and nurses in ensuring a safely staffed and better funded NHS."
Dr Robin Chung, however, worried that disputes between May and police unions in 2015, did not bode well.
"Theresa May has a track record of being tough and uncompromising with the unions," he said. "I take it she will continue that stance until the contract issue is sorted."
The BMA's chief, Dr Mark Porter, said the union was committed to working with Hunt while also emphasising the important role doctors themselves have in shaping future health policy.
In a statement, Porter hinted that Hunt should return to negotiations with the BMA.
Porter said: "We still need to agree a contract for junior doctors in which they have confidence and I urge Mr Hunt to build on the progress that has been made so far to address outstanding issues and regain trust from junior doctors, who are the future of the profession."

Throughout the dispute, Hunt has been heavily criticised for not providing details of how changes to the junior doctors contract would help deliver the "7-day NHS" the Conservatives promised in their 2015 election manifesto, or indeed, how they would be paid for.
Now that he will be staying on to see through those changes, Dr Tom Oates, a junior doctor based in London, said Hunt "has to show how services can be matched or improved in the confines of the current budget and get serious about patient safety with a commitment to safer staffing levels".
A report by independent health charity The King's Fund, released in the midst of May's cabinet reshuffle, raised questions about the viability of Hunt's "7-day NHS" within current budgets.
Following the announcement that Hunt would stay, King's Fund CEO Chris Ham said: "Jeremy Hunt faces some formidable challenges. He is on record as saying the NHS will need more money and he must now lead an honest debate with the public about what the health service can deliver with its budget."
"This means reviewing current priorities and avoiding making new commitments which cannot be funded."
Nurses too were left disappointed by the news. Many have been campaigning against government-funded bursaries being replaced with student loans from 2017 and had hoped a new health secretary could halt those plans.
Danielle Tiplady, a student nurse at King's College London, told us she felt "deflated" by the news, but also hoped the new government might mark a fresh start from Hunt and nurses.
"I hope that now Jeremy Hunt will give the NHS and its staff the respect it deserves," she said. "Bursaries are our lifeline. I hope from the bottom of my heart that Jeremy Hunt will actually take the time to meet NHS students and listen to the positive impact of the bursary on their training."
Sophia Koumi, vice president for health education at King's College student union told us that the retention of Hunt showed the state politics was in right now: "highly uncertain and to be honest a bit of a mess".
Koumi plans to start work as a mental health nurse next year and felt a "fresh pair of eyes" would have helped tackle a lot of the issues that the NHS currently faces. "I'm very disappointed that he has been kept," she said.
But not everybody was dismayed that Hunt would be staying on as the government's representative for health.
James Titcombe, a leading campaigner for patient safety, tweeted that Hunt's reinstatement was "very good news for the patient safety movement".
The Patient Safety Movement is an organisation whose aim is to entirely eradicate preventable deaths in the NHS by 2020.
Hunt has claimed that his prime motive for revising the junior doctors contract is to reduce the number of excess deaths in patients admitted to hospital at weekends.
Whether or not these deaths can be attributed to the working practices of junior doctors, however, has been heavily disputed.