A mum has expressed her heartfelt gratitude to a checkout worker at Morrisons who helped calm down her daughter by letting her scan the family's shopping.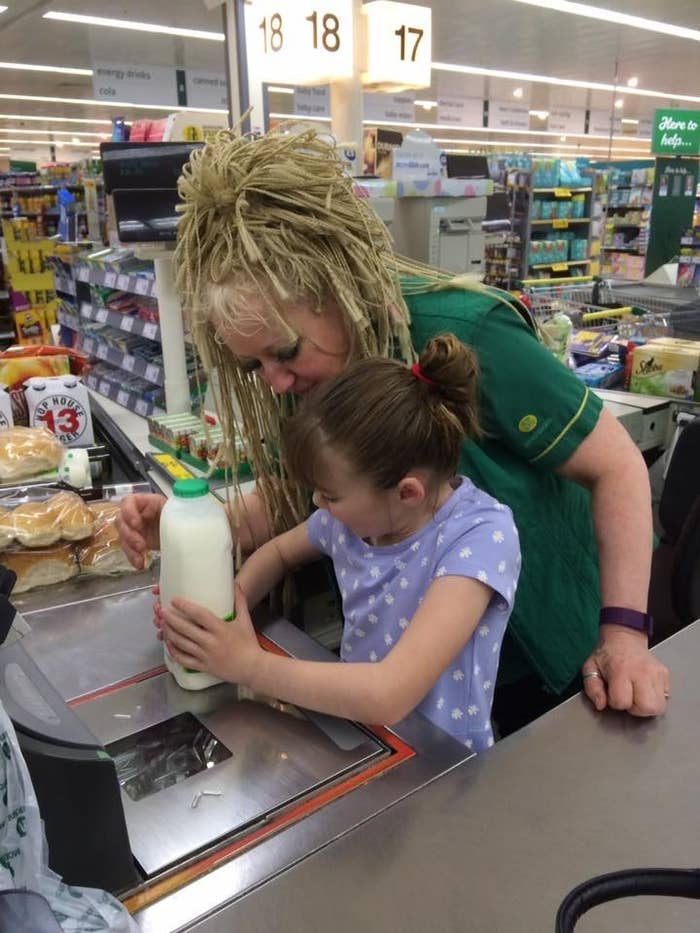 Amanda Wilkins posted a photo to the supermarket's Facebook page – which has been liked more than 370,000 times, and shared over 62,000 times – saying that she wished to thank the woman, whose name she did not catch, who worked at a Morrisons in Basingstoke, Hampshire.
Wilkins said that shopping with her two daughters "is not an easy thing for me to do", as they are both blind and autistic.
"At the checkout both girls decided to go into meltdown and this very kind lady decided to help instead of judge," she wrote.
"She distracted my daughter by letting her scan all my shopping. A dream come true for Holly who loves playing 'shops'," Wilkins continued.
"It melts my heart to come across people that are prepared to go the extra mile, and little acts of kindness makes a massive difference to my world," she said, adding that she hoped her message of thanks would reach the checkout worker.
A spokesperson for Morrisons, who said they were deeply moved by the post, identified the woman as Lin, "and what a credit she is to our company," they wrote.
The spokesperson said they were very proud that Lin worked for the supermarket and that she was a role model for all other Morrisons staff.
"It's amazing how something small can make a massive difference to others and it's lovely to hear that one of your daughters' dreams has been brought to life by this act of kindness," the spokesperson added.
"I'm sure Lin will be looking forward to seeing you and your family in the store again."
Simon Nellis, a manager at the Basingstoke store, also proudly identified Lin as a member of his team.
"I make a massive fuss of my team when they do great, natural things for our customers like this and they also go on our wall of fame. I can now do this with Lin," he wrote in a comment on Wilkins' post.
And it seemed that the Wilkins family were not the only customers who'd been touched by Lin's kindness, with several commenters sharing their experiences of being served by her.
Samantha Elliott wrote that her daughter loved Lin, who "has always made such a fuss over our little girl Bella". She added that "Morrisons are very lucky to have such a lovely lady working there".
Kim Leggett praised Lin's cheeriness and excellent people skills. "I've often been served by this lady & she is a breath of fresh air," she wrote.
Calls for recognition of Lin's wonderful service came from Michael Bobby Eeles, who said, "she has always been so friendly to my boys and helpful with everything in store".
The spokesperson for Morrisons said they could assure that "Lin has been recognised for her wonderful customer service".