Harassment Outside Abortion Clinics Is Still Happening, But Local Authorities Are Struggling To Stop It
The Home Office has rejected calls to put a national ban on abortion clinic protests, but councils are a long way off tackling the issue locally.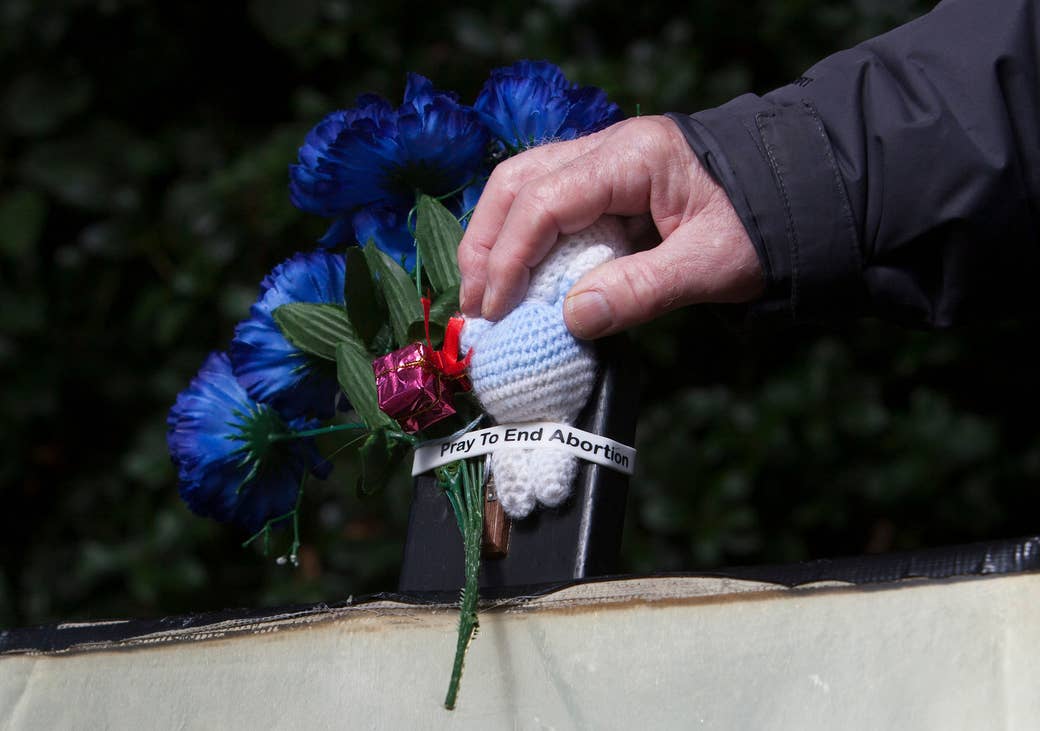 In a narrow side street outside a Marie Stopes clinic in Fallowfield, Manchester, it's business as usual for the anti-abortion protesters who have been gathering here for the past decade.
On this particular Saturday, a small group is playing hymns from a sound system pitched up next to a wooden cross and posters showing the Virgin Mary. Their mission is simple: Dissuade women from going ahead with an abortion.
"We're praying to save the babies, darling," an elderly woman with an Irish accent tells BuzzFeed News, while offering a string of plastic rosary beads, a leaflet describing the gestational stages of a foetus, and phone numbers for the anti-abortion charities Life and the Good Counsel Network.
A chorus of the "Hail Mary" rings out behind us as she says with much pride that she stands outside the clinic most days, and believes she has "saved quite a few babies" over the years, including one today.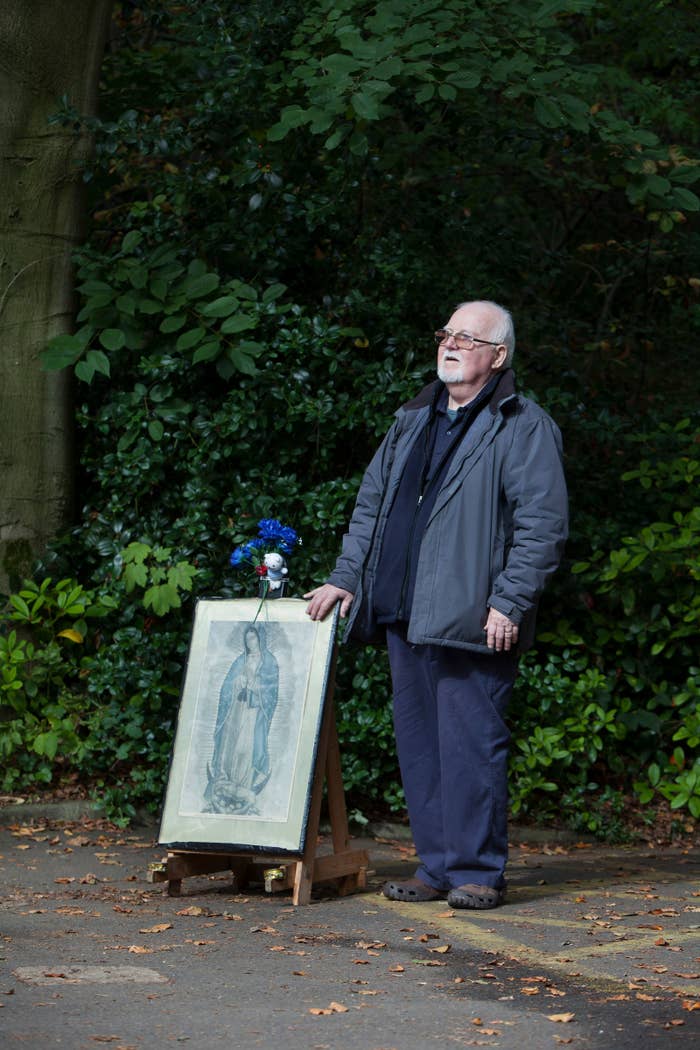 "Hail Mary, full of grace. Our Lord is with thee," her companions chant over the hum of traffic from the nearby main road. "Blessed art thou among women, and blessed is the fruit of thy womb, Jesus."
Watching them from across the street are volunteers from Sister Supporter, an abortion rights group, who gather to deter the protesters from approaching women seeking abortion at the clinic.
Sister Supporter, founded in London in 2015, has also been lobbying authorities to introduce measures such as a buffer zone that effectively bans any group from gathering immediately outside an abortion clinic, to prevent women from feeling harassed.
This year there was a major breakthrough: The campaign led to the UK's first public space protection order (PSPO) outside a Marie Stopes branch in Ealing, west London, where anti-abortion protesters have had a near-constant presence for over 20 years.
Staff at the clinic told BuzzFeed News that incidents of alleged harassment have virtually disappeared since the buffer zone was put in place.
The PSPO was achieved through the efforts of the local authority, Ealing council, but there had been optimism that a Home Office review of harassment outside abortion clinics — launched by the then home secretary, Amber Rudd — would result in national guidelines that councils could rely on.
Last week, however, Rudd's successor Sajid Javid dashed those hopes, saying it would "not be a proportionate response" and that individual councils should instead follow Ealing's lead and tackle the issue locally. The review had received more than 2,500 submissions and identified 36 sites nationwide as problem areas.
His decision has angered clinic staff and local councillors who argue that cash-strapped councils will struggle to undertake the lengthy process of passing PSPOs, leaving women who face harassment outside clinics without protection in the meantime.
"I'm really mad about it," Jackie Schofield, a clinical team lead at Marie Stopes Fallowfield, told BuzzFeed News. "Everybody has freedom of speech, fair enough, but not outside the place when there's vulnerable people. I just think it's wrong, I really do."
During the years she has worked at the Manchester clinic, Schofield said, she has often had to spend significant time calming her patients who have found it upsetting to be greeted by protesters on what can already be a distressing day.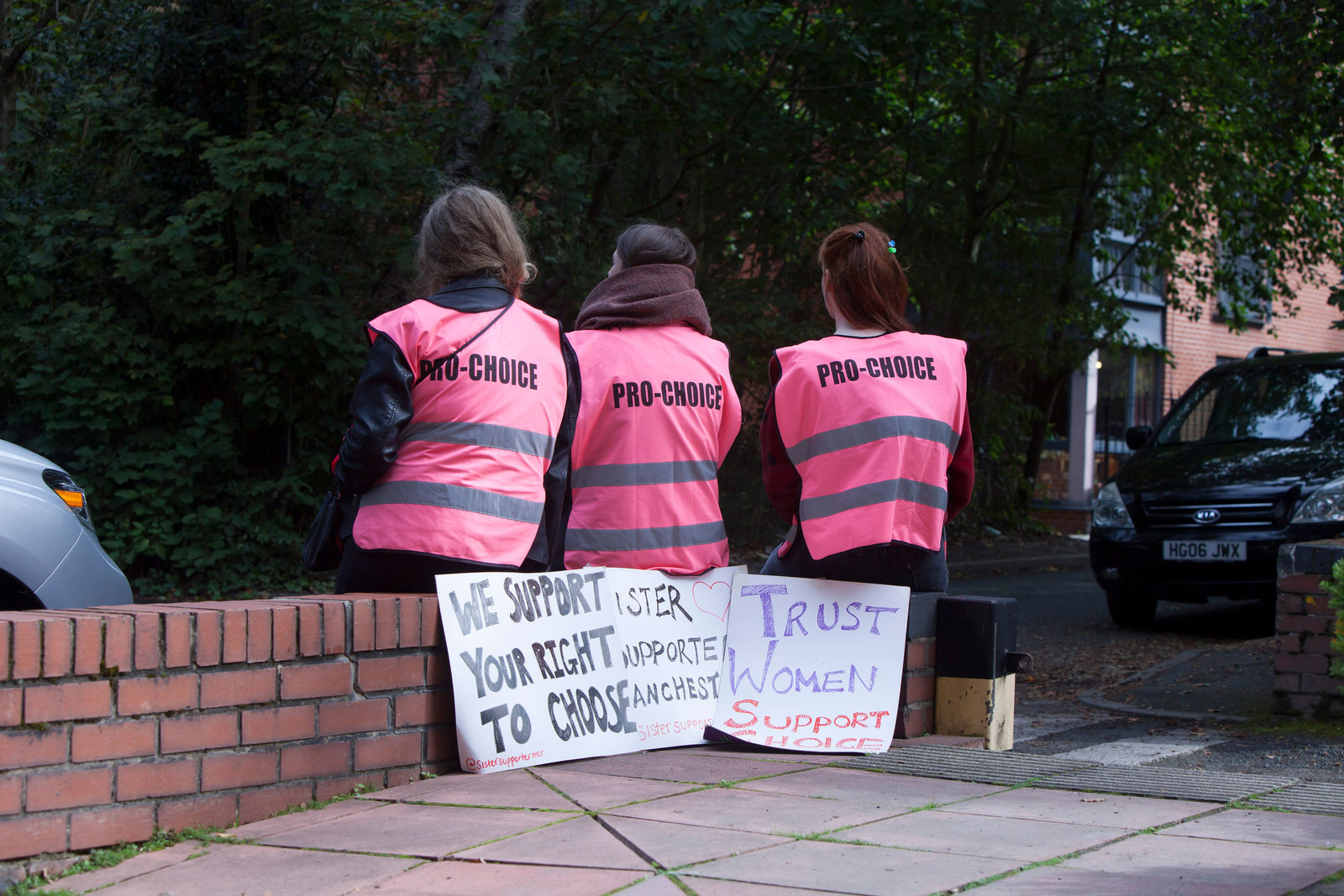 She said she has regularly witnessed the protesters calling patients and staff "murderers" or telling women they will "go to hell" if they enter the clinic, meaning they're often too distressed for their appointments. "I'm going through a consent process but I have to calm them down a lot first because of what's happened to them before they even got started ­— it really messes with them," Schofield added.
Schofield, and several other staff, told us that recently a protester had stood breastfeeding a baby outside the clinic, and that last Christmas anti-abortion groups handed out wrapped packages containing knitted baby booties, wishing them "Happy Christmas, Mummy."
She said these incidents can be especially upsetting for women who have travelled from Ireland. Although the country voted to legalise abortion earlier this year, the ongoing legislative process means that services will not be available until 2019 — and remain illegal in Northern Ireland — so Irish women will continue to travel to the UK to access abortion.
"Today is an Irish day," Schofield said. "Tuesdays and Saturdays we have lots of Irish ladies because the flights are cheaper. Can you imagine having to go through all that anyway, and then coming here and getting this?"
Lynn Bradley, a healthcare support worker who has been at the clinic for nine years, said she was physically assaulted by a protester on one occasion — an account she submitted to the Home Office review.
"She chased after me and started slapping me on the back," said Bradley, a chirpy, white-haired woman with a thick Manchester accent.
"Whenever she sees me she does this," she added, making a throat-slitting gesture and sticking out her tongue. "She's very crafty — she does it when she's on her own."
Bradley, whose job involves supporting women before and after they receive treatment, was also disappointed by Javid's response. "When we arrive in the morning [protesters] make it as awkward as possible for you when you get out the car, calling us murderers, saying you'll go to hell, and that's before you start a day's work," she said.
"We can cope with it, but at the end of the day, these ladies shouldn't be put through that."
Manchester city council has passed a motion to explore the possibility of a PSPO outside the Fallowfield clinic, but even with resounding support across the board, progress will be slow.
"It's a really long process and we still need to go through the evidence-gathering and mapping where the PSPO would cover," Rebecca Moore, councillor for the neighbouring ward of Withington, told BuzzFeed News.
Ealing council is facing an ongoing legal challenge over its PSPO, and Moore said she had sensed a nervousness within her own council about the threat of a lengthy and costly court battle if a PSPO were to be introduced in Fallowfield.
"Local government finances are in a really bad state, so if there's any big costs to implementation I think that's going to cause concern to a council that's had to go through such big austerity measures," Moore continued.
"I don't think that means that it shouldn't be done or wouldn't be done, but it is a concern."
Grace Fletcher-Hackwood, a councillor for Fallowfield, questioned whether the Home Office would have made the same decision if protesters were gathered outside a local cancer hospital like the Christie, which is situated nearby.
"If they rocked up outside the Christie, people would realise how inappropriate that is," she said. "You make medical decisions with yourself and your doctor based on what is good for your own health, not because of some ideologues who have posted themselves outside the clinic and decided they're qualified to speak about what's best for you and your body."
Disappointment over Javid's statement has been felt across the country, including in Portsmouth, where the local authority has agreed to look into ways to prevent protests at the clinic.
It, too, is in still in the early stages and is currently working out how best to proceed in light of the Home Office decision, according to a council spokesperson.
Chris Francis, a clinic manager at the Portsmouth branch of the British Pregnancy Advisory Service (BPAS), another of the UK's major abortion providers, said: "If there's national legislation in place, then as soon as women get harassed we can fall back on that.
"But getting a local decision, you have to get an agreement for a consultation process, and then you have to go through the consultation."
In the meantime, Francis continued, anti-abortion protesters remain active outside the clinic, which is based within the sexual health centre at St Mary's Hospital, where a mental health ward is situated above. "I know they caused some real upset for some vulnerable women in care there," she added.
Francis told us that the protesters were especially aggressive during the biannual 40 Days for Life campaign, due to begin on Sept. 26, where anti-abortion protesters around the world increase the frequency of their gatherings outside clinics.
"We've had singing outside the hospital so we could hear them inside," she said, referring to the previous 40 Days for Life campaign, which took place in February. "They were handing out knitted booties and rosaries in baby blue and pink, and generally harassing any woman entering the hospital who looked like she could be childbearing age."
Francis said that protesters move from clinic to clinic, so it can be difficult to gather evidence of consistent harassment at the particular sites where each individual PSPO is needed.
"With Portsmouth, by the time they were starting to consider the PSPO, the protesters moved to Bournemouth," Francis told BuzzFeed News. "I know it was the same guys because I went there and saw the same faces. They move around the country. [There] has to be some kind of national legislation."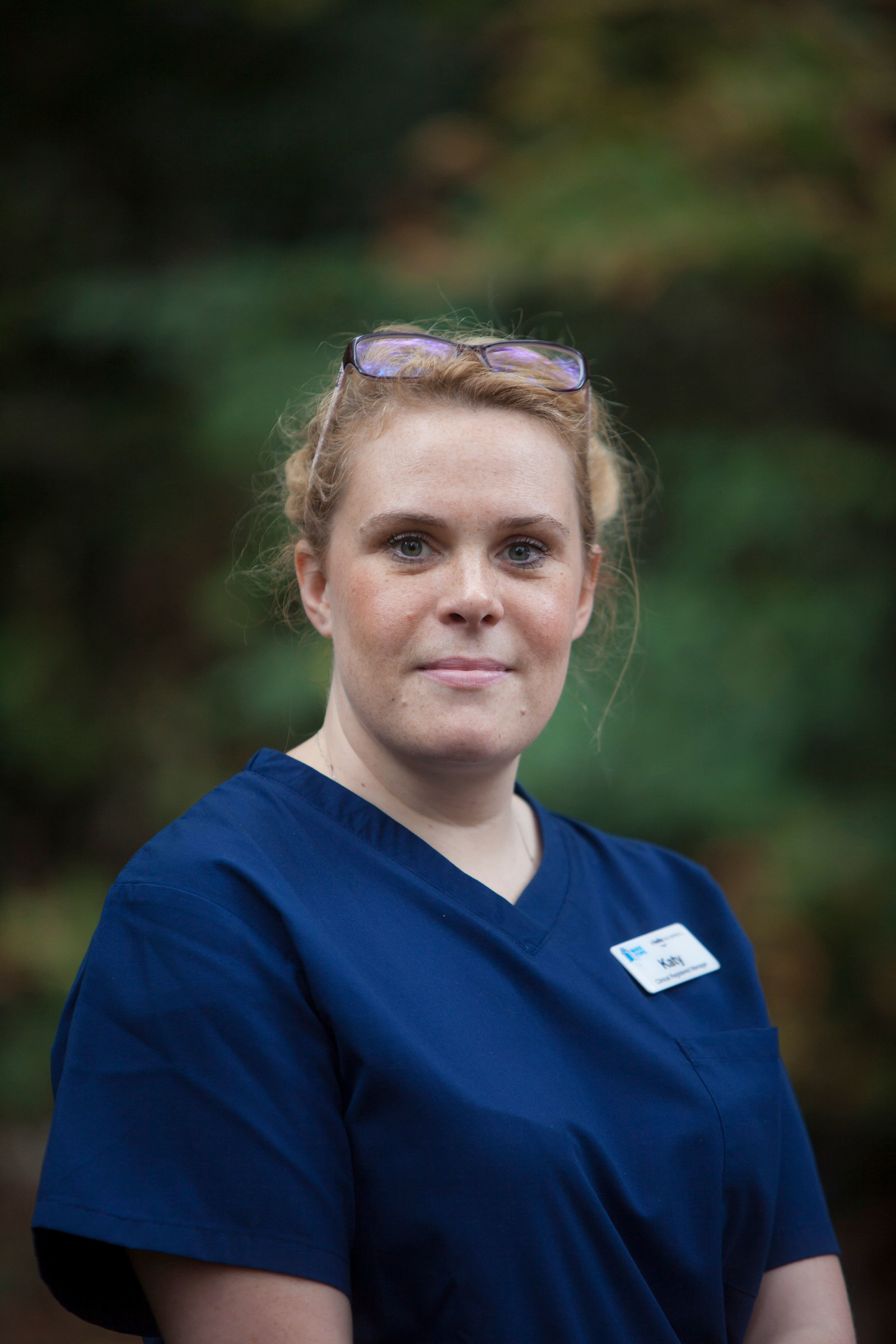 The evidence-gathering process also requires women who have been harassed to relive the experience when providing accounts to clinic staff or, in some cases, the police.
Back in Manchester, Katy Kershaw, a clinical team lead at Marie Stopes in Fallowfield, said many women just don't want to engage. "They just want to forget about it; they don't want to come back and talk about how traumatic it was to have protesters pass them things, or be told they're murdering their baby," she said. "They just want it over and done with."
For clinic staff, who have full lists of patients to work through every day, working with councils to build a compelling case for a PSPO means a significant increase to their workload.
"It's a struggle because it's time-consuming," Kershaw continued. "We're such a busy clinic that it's difficult for us to get out to the council to say how much we need them."
Manchester council, Kershaw said, has been proactive. "They've been coming to see us — we didn't have to approach them," she said, but worried that this wouldn't necessarily be the case everywhere.
Beth Redmond, who leads Manchester's Sister Supporter branch, was also sceptical that councils across the country would be as dedicated as Manchester. "The thought of having to do this for more than one council doesn't really bear thinking about," she added.
Both Birmingham and Leeds city councils have in the last year passed motions to explore measures to prevent harassment outside abortion clinics. They say the work is ongoing, but neither have begun a formal evidence-gathering or consultation period.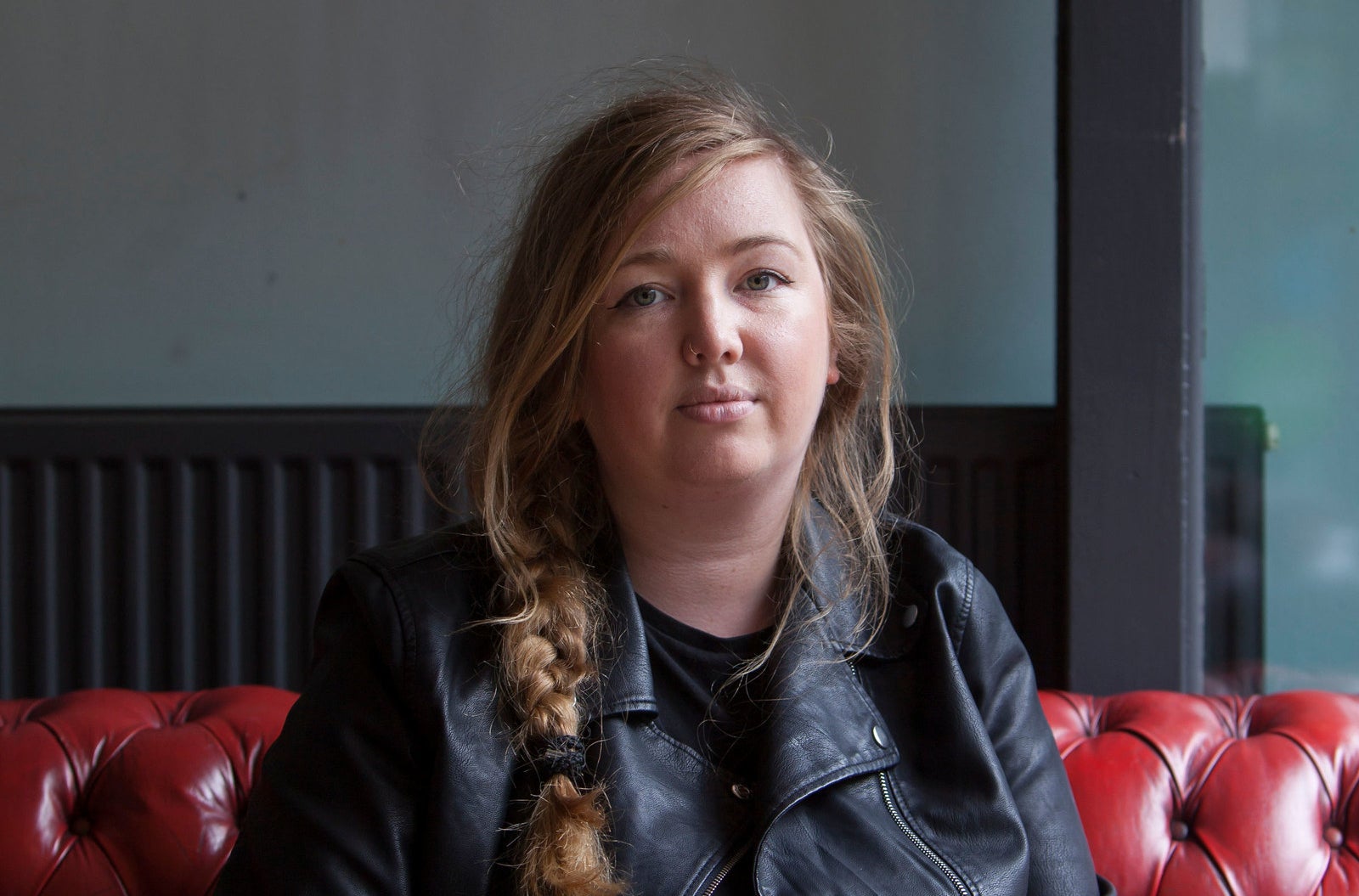 Redmond said she worried about what scale harassment outside abortion clinics would have to reach before the Home Office would deem it necessary to act nationally. "What does Sajid Javid want? Does he want someone to get hurt?" she continued. "It feels like waiting for something awful to happen when actually bad things are already going on."
Despite an ongoing legal challenge to Ealing's PSPO, protesters have adhered to its restrictions and clinic staff and local councillors consider it to be a success.
The Good Counsel Network's Clare McCullough, who had organised the vigils in Ealing, told us that as her volunteers are distanced from the clinic, she is unable to "support" as many women. She continues to protest against abortion in the designated area in Ealing, as well as outside a BPAS clinic in Richmond, southwest London, and a Marie Stopes facility in the city centre.
But even Ealing's PSPO is not without vulnerability. Alina Dulgheriu, who brought the initial legal challenge against the council, has crowdfunded more than £50,000 to launch an appeal. The order is only temporary, meaning Ealing council will have to undergo the same time-consuming process to get it renewed when it expires in three years' time.
Binda Rai, the councillor for Ealing's Walpole ward who led the council's efforts to implement the current PSPO, said it was "outrageous" for Javid to expect other councils to duplicate this effort time and again.
"The current system means that councils have to go through a lengthy and complex process to allow women access to services that they are entitled to with privacy and dignity, free from the interference that causes them distress and harassment," Rai said.
"It would appear that he has no understanding of what women go through at such a vulnerable and difficult period in their lives," Rai continued. "It is a national issue: Women up and down the country are facing harassment from protestors outside abortion clinics and this activity is on the increase. To avoid a postcode lottery for women, a national solution is a must and would take this debate away from clinic doors and ensure a consistent approach across the country."
Responding to Javid's announcement last week, Labour MP Rupa Huq, who helped bring the issue to national attention, vowed to keep on fighting for a universal ban.
"Shoving the burden on to already cash-strapped local authorities is not addressing the problem, it's just passing the buck," Huq, who represents Ealing Central and Acton, told BuzzFeed News.
"I will not give up on this and have been promised a meeting with ministers so as to ensure vulnerable women cannot be sidelined and that they can access healthcare as is the case with any other procedure."
Huq has received wide political support on the issue, including from Labour leader Jeremy Corbyn, who accused Javid of a "shocking failure to protect women from harassment and intimidation when exercising their right to choose".
In the meantime, the protests outside abortion clinics are free to continue.
When the 40 Days for Life campaign starts again on Sept. 26, a spokesperson told BuzzFeed News, it will have volunteers stationed outside clinics nationwide, seven days a week, from 8am to 8pm.
Redmond said she was concerned that the Home Office's decision could leave protesters feeling emboldened: "I do think they will be saying, 'Why are you telling us we can't be here when the most powerful people have told us that we can?'"