Doctors have said they will still face a pay cut under the proposed junior doctors contract, despite health secretary Jeremy Hunt saying they will receive an 11% pay rise.
The Department of Health has clarified that the contract would see junior doctors receive an increase in basic pay of approximately 11%, which would raise the starting salary of £22,636 in the current contract to £25,500.
This could reach a maximum of £55,000 after a doctor has moved through five stages of pay progression, compared to an approximate salary of £47,175 under the current agreement.
Doctors would also receive an on-call supplement of 2–6%.
But doctors said the pay cut they would face due to changes to standard hours and the removal of banded supplements for pay worked outside of those hours would far outweigh the pay rise.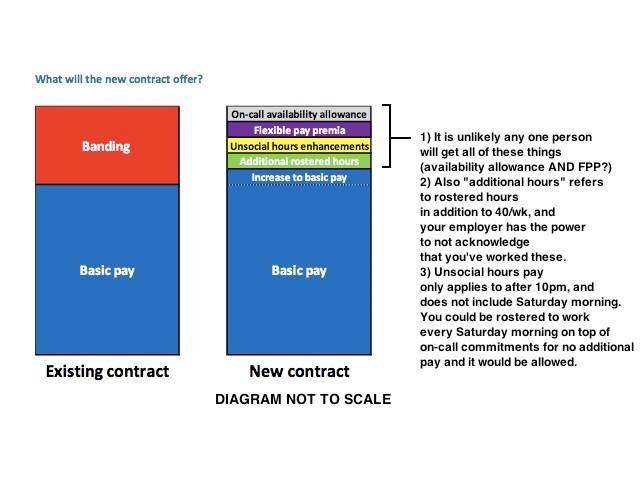 Under the original proposal, "sociable working hours", aka "plain time", for which doctors are paid the standard rate, was set to change from 7am–7pm, Monday–Friday, to 7am–10pm, Monday–Saturday.
While the proposal has now been revised so plain time is only extended to 7pm on a Saturday, instead of 10pm, it still sees a substantial increase of plain time hours overall.
Doctors will receive time and a half, or 50%, for antisocial hours, rather than a banded supplement of 20%, 40%, 50%, or 80%, as previously.
Medical negligence lawyer Peter Stefanovic told BuzzFeed News the majority of junior doctors he has spoken to today expect to see a pay cut because of the loss of anti-social hours.
"Anti social hours represent about a third of their pay, so an 11% increase in basic pay goes nowhere near compensating them for loss of pay for working less anti-social hours," he said. "They will all be worse off, much worse off."
Doctors also pointed out that the Review Body on Doctors' and Dentists' Remuneration (DDRB) recommended an increase to basic pay of 14.9% rather than the 11% now offered when it reported to the government in July.
Dr Bernadette Lomas called the proposed pay rise "very deceptive," and felt that it was "designed to pit us against other public sector workers who've not been given anywhere near 11%".
"In my case and in the case of the majority of doctors I know, pay will be reduced by 30–40%," Dr Rachel Clarke, a junior doctor in Oxford, told BuzzFeed News.
"This is far from being an 11% rise, but rather a 30% cut," she said.
Clarke accused Hunt of "spin" and said leaking news of the 11% pay rise to the press before sharing it with the British Medical Association (BMA) was a "deliberate tactic to try and present doctors to the public as caring about pay more than patients".
She said that it was "so upsetting that Hunt is spinning this to make doctors sound money-grabbing.
"My doctoring is about saving lives. Jeremy Hunt's doctoring is spin doctoring."
Dr Lulu Ritchie, an ear, nose, and throat research fellow and junior doctor, said the 11% pay rise "isn't relevant" to the contract debate as a whole, which doctors have said is about enhancing patient safety through fairer working conditions.
"The aim of his offer is to make us seem money-hungry and ungrateful," she told us. "Really our concern is that patients will be placed at risk by a contract which doesn't have safety as a key priority."
Labour's shadow health secretary, Heidi Alexander, said the government's handling of the contract negotiations had caused a lot of unnecessary anger and upset.
"It is welcome that Jeremy Hunt has woken up to the need to be clearer about his proposals," she said, "but I am worried that it may be too little, too late."
The British Medical Association has said that it will go ahead with sending out papers to ballot junior doctors on industrial action over the new contract tomorrow.