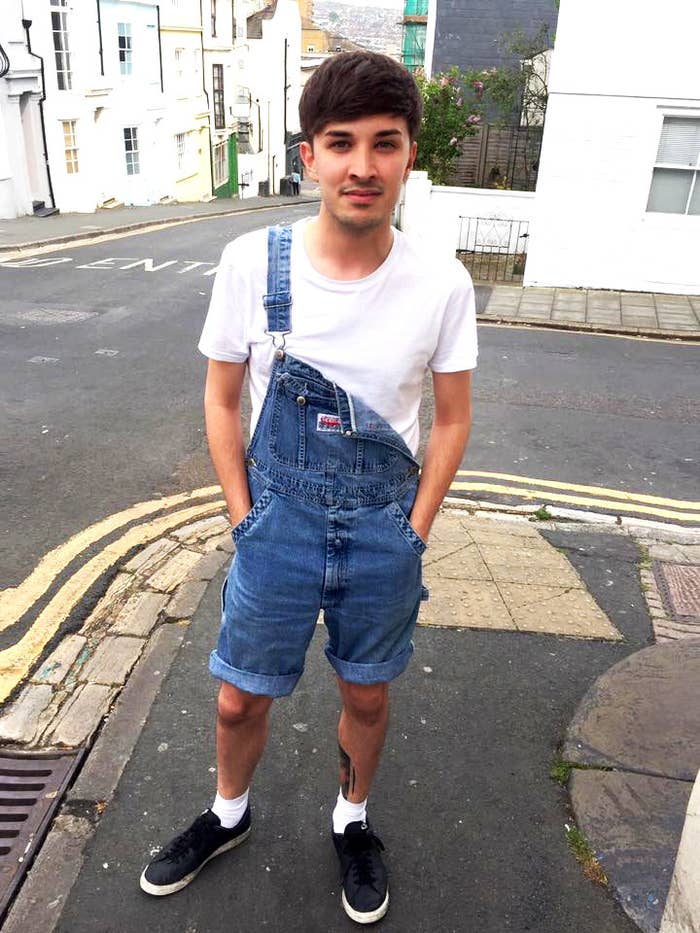 Martyn Hett, a journalist, LGBT rights advocate, and prolific figure on Twitter, "left this world exactly how he lived, centre of attention," his friend Russell Hayward, who described Hett as a soulmate, has said.
On Wednesday, Hett was the 10th person to be named as one of those killed in a bombing at an Ariana Grande concert in Manchester on Monday night.

Twenty-two people are believed to have died, and more than 50 are seriously injured. Several people who attended the concert are still missing.
"Martyn was the icon of our lives," his family said in a statement. "Whilst they have taken the life out of Martyn no one can, and ever will, take Martyn out of our lives."

Tributes from family, friends, and public figures flooded social media after Hett's death was announced.

"Everything you can read about him shows he was a really loved and special guy," journalist Owen Jones wrote.
BBC Radio One presenter Nick Grimshaw shared a tribute to Hett on Instagram, saying: "We were only talking about how funny he is the other day in the studio."
"He made a lot of people smile," Grimshaw continued. "Wanted to send lots of love and energy to his family and friends in Manchester."
"Martyn Hett you did not waste a day of your 29 years with us. You will be so sorely missed. An icon," a friend named Liam wrote.
Josh Lee, a fellow journalist, who was a follower of Hett's, noted the influence of the prolific Tweeter had social media.

"The love on here today is testament to the power of online communities, and people like Martyn who seem to touch every corner of them. R.I.P," he wrote.
Hett was well known for writing "about strong women and low culture," as he described it on his website. "I also like to make silly videos with low production values," he added.

One such popular video was a mashup of Audrey Roberts, a character from the soap Coronation Street, of which he was a self-professed superfan.
"Believe it or not, Snoop Dogg is a massive fan of Coronation Street and his favourite character is Deirdre Barlow," Hett once wrote in a blog post explaining his love for Barlow. "He's actually been quoted as saying he wants her in his next music video."

Hett famously had a tattoo of Barlow on his ankle, and appeared on the Channel 4 show Tattoo Fixers, which he wrote about for the Huffington Post.
The official Twitter account for Coronation Street tweeted "heartfelt condolences" for Hett's friends and family following the news of his death.

On Thursday, ITV, which broadcasts the soap, announced that there would be a bench dedicated to Hett and the other victims of the attack added to the Manchester-based set.

"The dedication will be planned in the coming weeks following an outpouring of affection for 29-year-old Corrie superfan Martyn and all those who lost their lives and have been injured following the Manchester Arena bombing," a spokesperson said.

Hett was also a known advocate for LGBT rights. Following a shooting at the Pulse nightclub in Orlando last June, where 49 LGBT people were killed, Hett wrote: "My heart is still breaking for the victims and their families but it's been refreshing to see so much community spirit and support in the wake of it all.

"So many people turned up that they managed to create a wall of people holding hands around the entire gay village. We've got a long way to go but I feel hopeful for the future."

Last summer, Hett sparked a heartwarming online following for his mum, Figen Murray, when he urged his large Twitter following to buy her knitted toys after nobody turned up to a craft fair she was holding.
"I've found the whole thing rather hilarious," Hett told BuzzFeed News at the time. "I popped over at the weekend to have lunch with her and she'd restocked her materials."

Following the news of his death, Hett's brother Dan wrote on Twitter that the family was "heartbroken".
Hett's sister Emma changed her Facebook profile picture to a photograph of her with her brother, with the simple caption, "love you".
Shortly after the announcement, Hett's name was trending on Twitter.
"He would, I think it's safe to say, be fucking loving this," his brother Dan said.
On Thursday, Hayward announced that a vigil will be held for Hett at Heaton Moor Park in Manchester. "Anyone welcome," he tweeted.