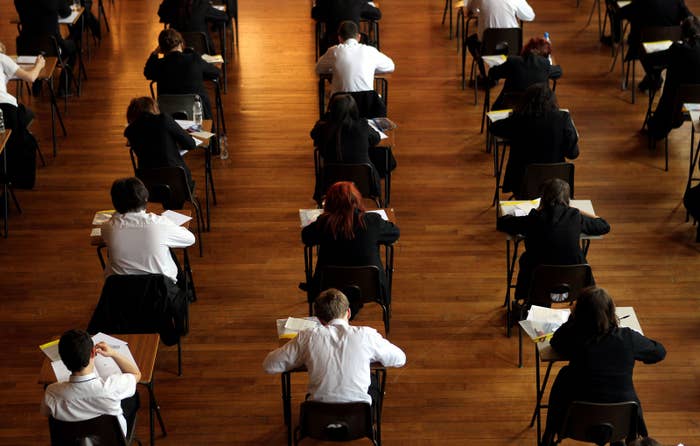 Teachers and privacy campaigners have expressed concern at government plans to collect data that includes the names of children who have moved out of mainstream schools and into alternative education as a result of teenage pregnancy.
An update to the alternative provision (AP) census requires alternative education providers to tell the Department for Education the reasons why a child has left mainstream education from January 2018 onwards.
Reasons that must be disclosed also include mental health needs, exclusion from school, and whether the child is in a young offender institute or secure training centre.
Campaigners say this data could lead to lasting discrimination against the children involved.
"These are children's most intimate details," Jen Persson, of privacy group Defend Digital Me, said. "It cannot go ahead like this, but must be safe, fair and transparent for everyone."
Named data detailing the reasons for them moving out of mainstream education will be retained by the DfE and added to the National Pupil Database, which can be accessed by third parties and will remain on government records forever, BuzzFeed News understands.
In a letter cosigned by the National Education Union, the Royal Mencap Society, and other advocates for the wellbeing of children, Persson has written to education secretary Justine Greening to object to the collection of data involving pregnancy, health, and whether the individual is a young offender.
There is particular concern that there has been a lack of clarity from the DfE on how this data will be used and what measures will be in place to protect children's identities.
"We appreciate and support the need to understand the reasons for pupil AP transfers, in particular concerns about children 'managed out' from mainstream school to boost league table results," the letter reads. "However, we do not believe that this should cost children their confidentiality."
Kevin Courtney, joint general secretary of the National Education Union, said "pupils and parents have a right to know who their sensitive personal data is disclosed to and to refuse such disclosure where appropriate. True democratic governance demands nothing less."
John Carr of the Children's Charities' Coalition on Internet Safety, whose members include the NSPPC and the Children's Society, said he was worried at the risk of sensitive, named data being misused.

"Once a mistake, even an honest one, gets into a digital record it can haunt you for life," Carr told BuzzFeed News. "So it seems to me vital not only that accurate information goes into a child's record, but also that it is based on reasonable judgments that have been properly made by appropriately qualified people.

"An individual teacher's prejudice should not be able to blight a child's career chances and life opportunities forever, and of course the basis on which any information about a child is shared with any third parties must be clearly stated and be fully justifiable."
Earlier this year the DfE caused controversy when it began collecting data on children's countries of birth and nationality as part of the schools census, which it later transpired had been shared with the Home Office.

A spokesperson for the DfE said the information would help it better address the needs of children who are removed from mainstream education and that there were no current plans to share the data.
"The reasons for a pupil being placed into alternative provision can be wide ranging," the spokesperson said. "It is important that we understand these different reasons so we can ensure that we have an education system that works for all.
"The robust approvals panel and other controls are in place to ensure that this data, like all our data, is very safely guarded and only used in legal, secure, and ethical ways."