Black Lives Matter protesters marched in central London on Sunday following a spate of shootings in America involving black men and the police.
Thousands marched down a busy Oxford Street before gathering for a rally outside the American embassy in Grosvenor Square, Mayfair.

Demonstrators chanted "hands up, don't shoot" while holding their arms aloft as they arrived at the American government's headquarters in London.
It was part of a series of marches that began on London's South Bank on Friday and came shortly after five officers were shot and killed during a protest in Dallas against the killings of black men in Louisiana and Minnesota. The suspected gunman had said he was upset by recent police shootings and wanted to kill white people, especially officers.

"Thank god our police are much nicer than American ones, but we are here to show solidarity with our brothers and sisters in America and to say we feel their pain," Susu Hussein told BuzzFeed News outside the embassy.
She condemned racism and violence "that has been going on for decades" and said that she had joined the march to promote solidarity and equality.
"Nobody should be targeted or killed because of the colour of their skin," she said. "We should all live in unity. We all bleed the same blood."
She said that while she believed that "yes, all lives do matter", it was the loss of black lives that so desperately needed highlighting at the moment.
"You can't fix something until you admit it's broken," she said, "so we're here to say: This is broken."
Another protester, Faizel, who preferred to give only his first name, said he wanted "to show people across the Atlantic that while they are far away, to us they're never far away".
"We just want police brutality to stop and we want police to stop killing our people," he said. "It's not us against them.
"We just want peace. We just want things to get better."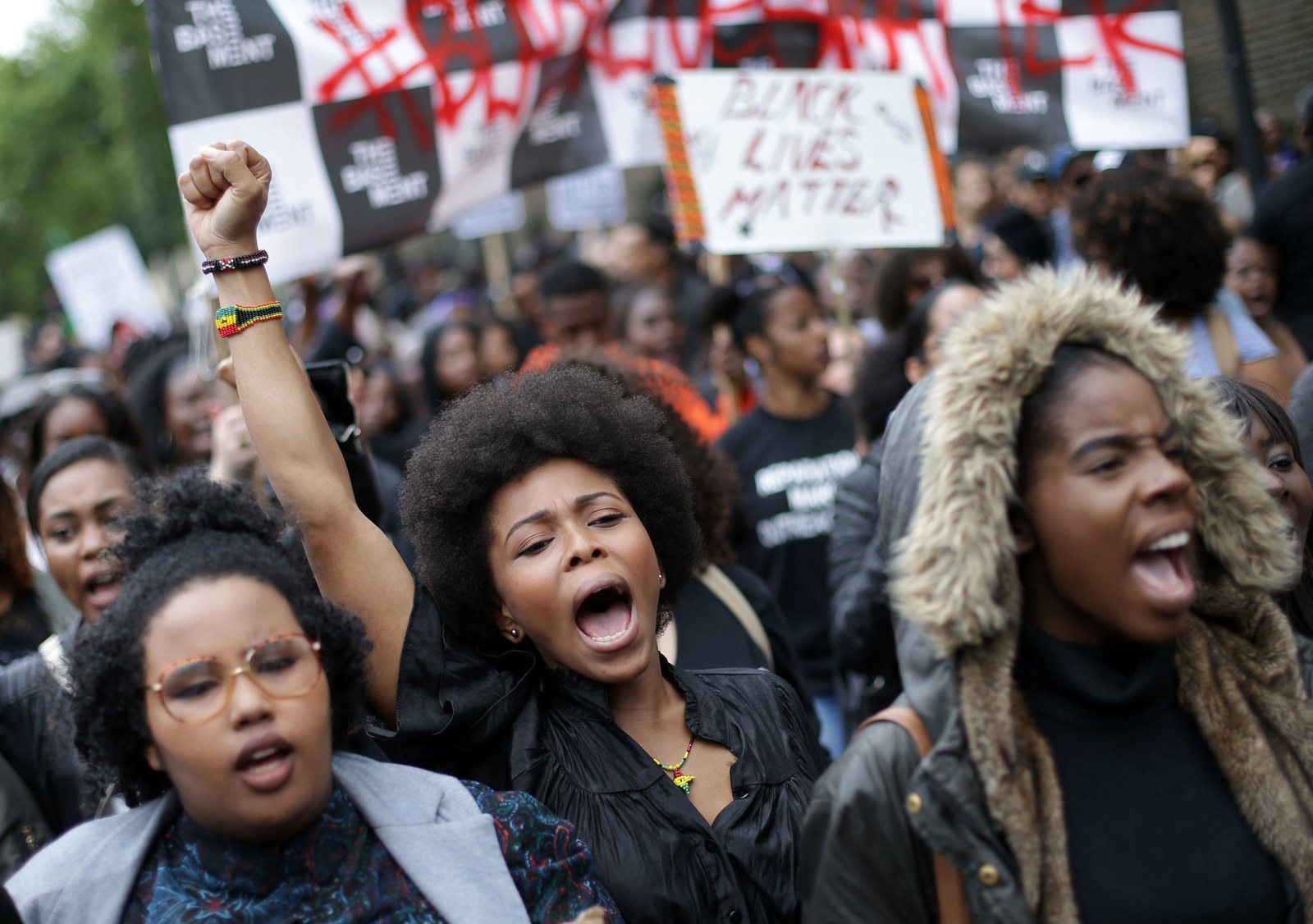 Vinna, who also preferred to only give her first name, said that while she wanted to offer solidarity to victims of racism in America, "even in the UK, there has been an injustice, so we're here for equality".

"There are also cases [of racism] in the UK that are not acknowledged," she added, "so a lot of us are here to network and to bring awareness to what's happening here too."
Vinna said she believes the mainstream media underreports on issues relating to racism.
Another member of Vinna's group, who gave her name as "by any means necessary" also felt "there is a disproportionate coverage of events affecting black people".
With tears welling up in her eyes, she told us she thought that in its coverage of the police killings in Dallas, the press had placed too much focus on the sniper's mental health than on the killings of black men in Louisiana and Minnesota that the shooting had been in response to.
"Black people often suffer from mental health issues because of institutional racism, but that's not recognised," Vinna said.
On social media a message of solidarity prevailed as many shared their images and videos from the march using the #BlackLivesMatter hashtag.
A further march is said to be planned for August, according to The Voice.

"Sometimes people just focus on the now. It creates a buzz now, but in time you'll forget it," one teenager told Britain's leading black newspaper at Sunday's march. "We're going to keep showing our support."