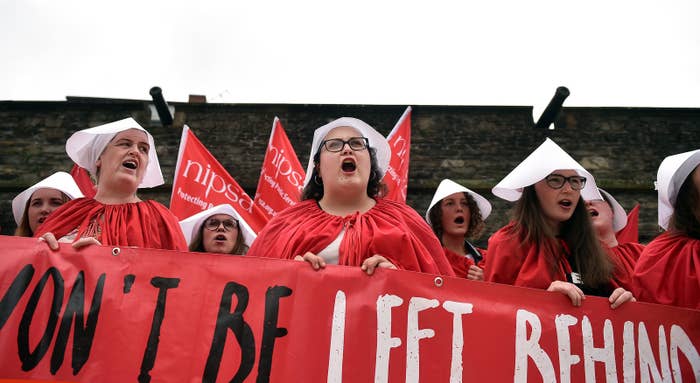 Abortion rights groups in Northern Ireland are firmly opposed to the proposition of a referendum on legalising abortion and are instead pushing for reform from Westminster.

"We don't need a referendum on abortion law in Northern Ireland; it isn't a constitutional matter," Danielle Roberts, a campaigner with abortion rights group Alliance for Choice, told BuzzFeed News.

"We urge Westminster to step in to end the human rights violations of abortion-seekers in Northern Ireland," she added.

Since last month's landslide vote to legalise abortion in the Republic of Ireland, there have been calls to hold a referendum on the issue in Northern Ireland, where abortion remains illegal. Abortion is a devolved issue in Northern Ireland and the Abortion Act 1967, which allows the procedure in the rest of the UK, doesn't apply there. 



While Labour MP Stella Creasy has won wide cross-party support for debating the possibility of reforming the 1861 law that currently prohibits abortion in Northern Ireland, at a meeting of Conservative MPs yesterday, prime minister Theresa May reportedly held firm on her view that the priority should be to reform Northern Ireland's assembly, which collapsed over a year ago, and allow the devolved government to resolve the matter, according to the Guardian.

This could include the possibility of a referendum on allowing abortion in Northern Ireland.

"It must reflect the will of people there, not the will of a small number of people in Westminster," said Conservative MP Maria Miller, who has previously told BuzzFeed News she is in favour of holding one. According to reports, Miller is not alone among Tory MPs.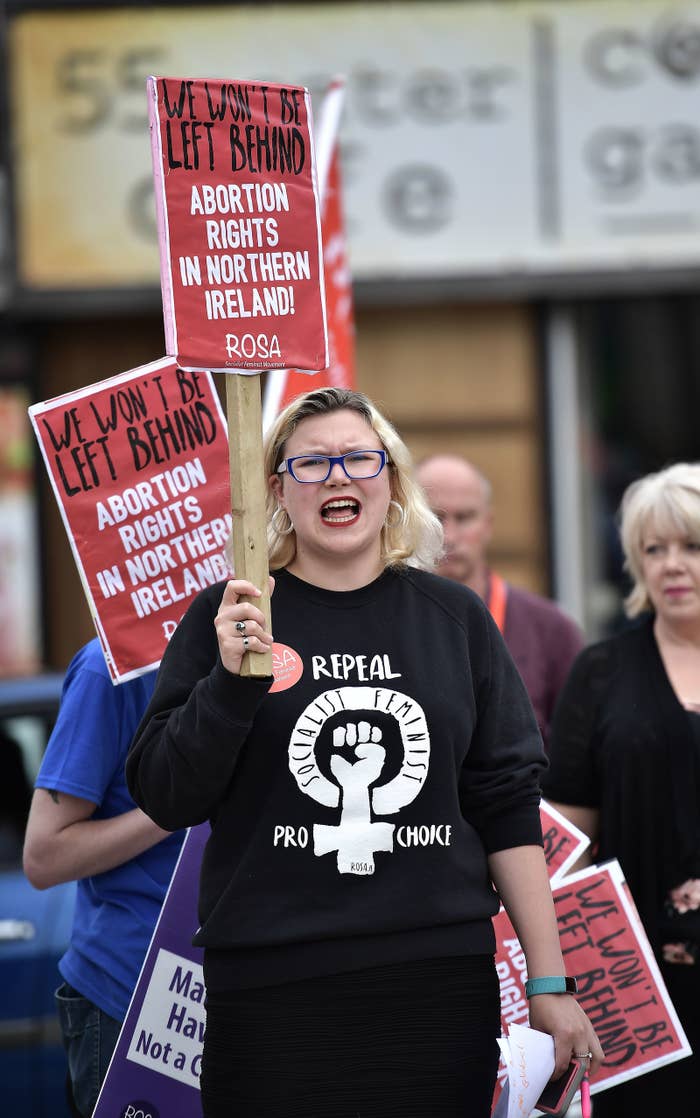 Caitlin de Jode, of the London-Irish Abortion Rights Campaign, whose attention is focused on Northern Ireland following now that the Republic has voted to legalise abortion, also rejected calls for a referendum.
"The Republic of Ireland didn't have a choice about whether a referendum was necessary because it was a constitutional issue, which is emphatically not the case in [Northern Ireland]," she told us.

"We very much reflect the position of the abortion rights campaign ... who are very clear that a referendum in Northern Ireland would be unnecessary, expensive, and nonbinding."

Because a referendum in Northern Ireland would not force a change to the law there, de Jode is concerned that even a sitting assembly could block subsequent reform. Arlene Foster, leader of the anti-abortion Democratic Unionist Party, has said that her party does not support reform of abortion law.

"Even if we had a referendum, we'd still need legislation to enact it and some DUP MLAs have said that regardless of any vote that they would block attempts to reform the law," de Jode said.

"It seems at the moment that Stormont is a dead end in terms of introducing that change, which is why we're so focused on Westminster."
Abortion rights campaigners who BuzzFeed News met in Belfast on Saturday were also dismissive of a referendum. 



In the Republic of Ireland, much credit was given to women's personal stories of travelling for abortion for swinging the vote, and Ellen McVey, who had recently joined Alliance for Choice, told us that it felt unfair for Northern Irish women to be put through a similar experience when the government could act. "It was very painful for people to have to tell their stories and also reading them was horrible too," she said.
Vicky Loughran, also a campaigner with Alliance for Choice, felt a referendum would be a "cop-out" by the government. "It's a human rights issue, not a constitutional issue, so we need Westminster to step in. It should be something they should legislate on," she said.
"A referendum would be no more than an opinion poll. I don't think it would do any good in the long term."

Alliance for Choice campaigner Stephen Donnan agreed that abortion was a human rights issue in Northern Ireland and called on Westminster to make a change.

"UK is a signatory of human rights bodies, so they have a responsibility to change the law on this and other issues as well," he said. 


"A referendum would be a lot of resource, time, and energy and it would give credence to the idea that human rights should be subject to the public mood.



"That's the wrong message to send out."