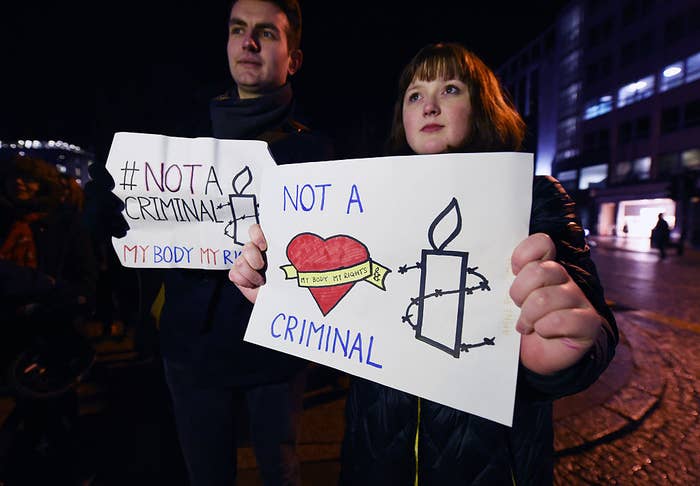 An Irish woman who was denied an abortion has suffered a violation of her human rights, a UN committee has concluded.
In January 2010, Siobhán Whelan, who was 20 weeks pregnant at the time, was told that her baby had a rare congenital brain malformation that meant it was unlikely to survive the pregnancy, or long after birth.

In Ireland, where she is from, abortion is illegal in almost circumstances, including in cases of fatal foetal abnormality (FFA) with which Whelan's baby was diagnosed.
As a result Whelan was forced to travel to Liverpool, England, to obtain an abortion.
On Tuesday the UN Human Rights Committee ordered the Irish government to compensate Whelan and provide her with psychological treatment as a result of the distress caused to her by the country's restrictive laws.
After deciding to travel to England for an abortion, Whelan struggled to find information on abortion services in the UK and have her hospital records transferred, Irish news network RTE reported.
It wasn't until much later that year that campaigner Mara Clarke founded the Abortion Support Network, a charity that helps hundreds of Irish women like Whelan every year to travel to the UK for an abortion. Such services were less available at the time of Whelan's visit.
The UN committee concluded that Ireland's abortion laws "constituted an intrusive interference in [Whelan's] decision as to how best to cope with her pregnancy", and urged incoming prime minister Leo Varadkar to urgently revise the law.
In a statement released following the ruling, Whelan welcomed the committee's decision and said the suffering she had endured as a result of the law had been "inhuman".

"I believe that women and couples must be given the best possible care at home at such a difficult time in their lives, including if they decide to terminate the pregnancy," she said.

"The human rights committee has found that what happened to me was a human rights violation. It has recognised that Ireland's abortion laws can cause women intense suffering violating our most basic human rights."

Earlier on Tuesday, the UK's Department of Health released data that showed that thousands of Irish women travelled to the UK for an abortion in 2016.
While the number had declined slightly since 2015, abortion rights campaigners believe the statistics don't show the full picture of abortion in Ireland, as they do not take into account women who purchase abortion pills online to illegally terminate their pregnancy at home, or who do not give their home address when being admitted to an abortion clinic in the UK.

Whelan's case is the second time in less than a year that the UN committee has ruled that Ireland's abortion laws are in breach of women's human rights. In June 2016 it ruled in favour of Amanda Mellet, who was also denied an abortion after her baby was diagnosed with a fatal foetal abnormality.