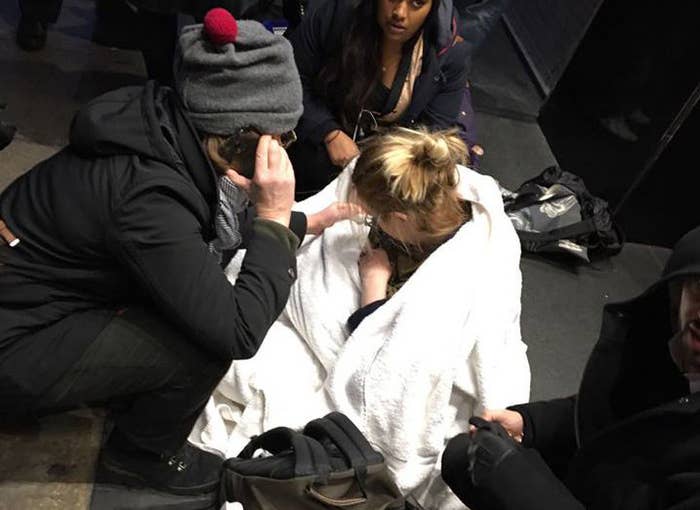 A woman gave birth in a central London street after being turned away from a maternity ward that said her labour wasn't advanced enough.
Lizzie Hines' son Louis was born outside Tottenham Court Road tube station last December.
She had been told by the maternity ward at University College London Hospital (UCLH) that as she had only been in labour for two and a half hours, she could not be admitted. Half an hour later Louis was born.
In a statement, UCLH said it had since apologised to Hines, who said staff had a "difficult judgement call" to make.
A year later, she posted about her story on Facebook to try to track down the stranger who wrapped her newborn son in a scarf to protect him from the cold, to thank them – and to give them back their scarf.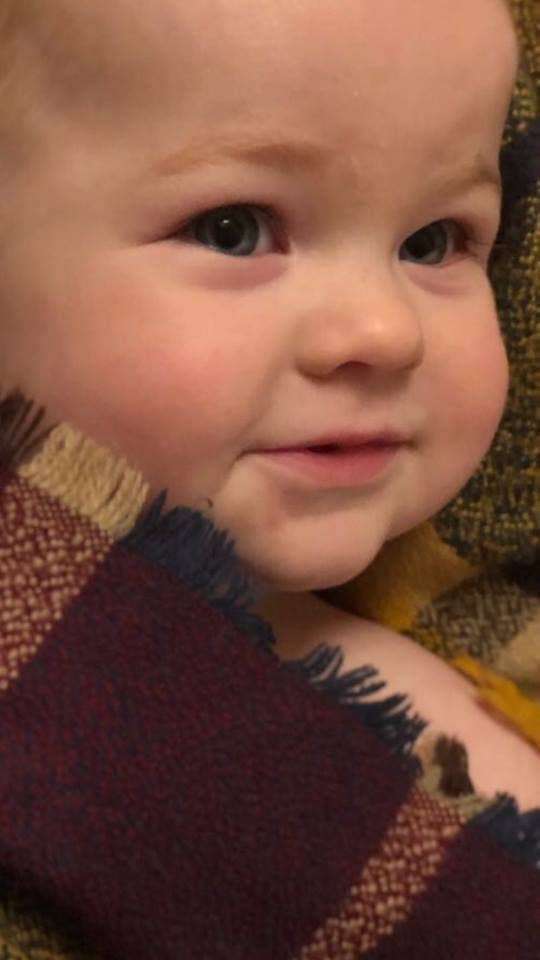 "I'd like to say thank you for their kindness, and to all the people that helped," Hines told BuzzFeed News.

"There's something amazing about sharing something so monumental and precious with strangers.

"Especially when they drop everything in that moment to help, and you can feel them rooting for you. I'd also like them to know that Louis is well and fine.
"He's just the hardy, cheeky little boy you'd expect him to be!"
Hines said she had been told to come back in six hours or so by the maternity ward.
"But we knew better, so my husband checked us in to a nearby hotel," Hines remembered. "We only lasted there about 30 minutes when we tried to rush back to the hospital, but didn't quite make it!"
Thinking she was having a contraction, Hines' husband sat her down on the pavement, and intended to carry her to the hospital before the next one.
"But I knew I was sitting down on the pavement to have my baby," Hines said. "I just couldn't speak at that point."
She said a crowd began to form around them, including an off-duty doctor who Hines said was extremely calm and reassuring.
"When [Louis] arrived he flew at speed into the pyjamas I was wearing with a T-shirt, bare feet, and a long coat, but no one had realised," Hines continued.

"I said 'He's here!' And a woman said 'Don't worry, we will get you to the hospital before he arrives,' and I said 'No, he's here!'
"They opened my pyjamas and found him wriggling and starting to cry out. Someone in the crowd shouted 'It's a Christmas miracle!'"

Hines and Louis were later admitted to hospital, where staff confirmed her baby boy was healthy. She said they apologised for not having admitted her when she had originally arrived, explaining that women in labour often progress more quickly when they are at home.
"I understand it's a difficult judgment call but I think there is a policy question that needs looking at," Hines said. "It's a vulnerable time. It would be great if women in labour could stay somewhere safe and comfortable in a hospital if they wanted to."
A year later, Hines said she still finds it "wonderful" and "heartwarming" that a stranger took off their scarf so she could keep her new baby warm, but that in the drama of the situation she didn't manage to get their name or contact details.

"I love that the first thing that wrapped up Louie's freshly pink little body was clothing from a stranger wanting to keep him warm," she said. "What a welcome."
A UCLH spokesperson said: "After Mrs Elizabeth Hines gave birth last December, we carried out an internal investigation so that we could learn from her experience and reduce the risk of it happening again. We have also apologised to Mrs Hines."