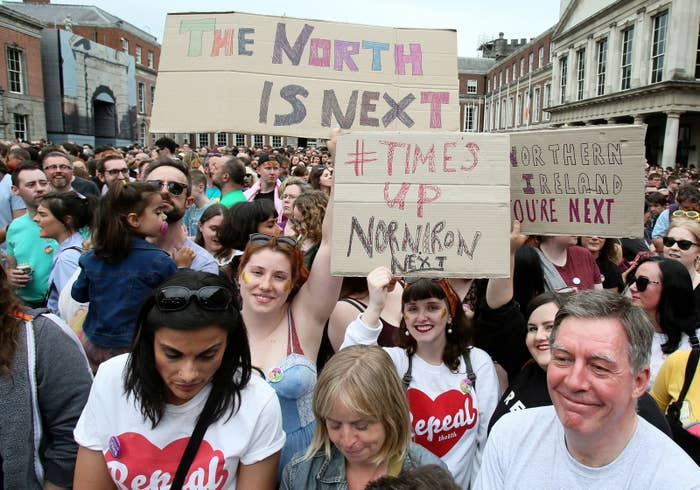 Northern Ireland should follow the Republic of Ireland and hold a referendum on relaxing its abortion laws, a senior Conservative MP and former UK cabinet minister has said.
Maria Miller, the former women's minister and the current chair of the House of Commons Women and Equalities Select Committee, told BuzzFeed News it was time for the people of Northern Ireland – where abortion remains illegal in almost all circumstances – also have their say on the issue.
"I feel strongly that the people of Northern Ireland should have a chance to voice their views too, and that the Westminster government, in the absence of a Northern Ireland Assembly, has a duty to hold a referendum before the end of the year," she said.
"The people of Northern Ireland should also have their voices heard in a democratic way."

Her intervention comes after 48 hours after the Republic of Ireland voted by a landslide to remove the Eighth Amendment of its constitution, which prohibited abortion in most circumstances. Abortion is still illegal in Northern Ireland, however. The Abortion Act 1967, which allows abortion in the rest of the UK, was never extended there.

Miller is joined by fellow Conservative MPs Penny Mordaunt, Amber Rudd, Justine Greening, and Nicky Morgan in pushing the government to reform abortion law in Northern Ireland, according to a report in the Sunday Times.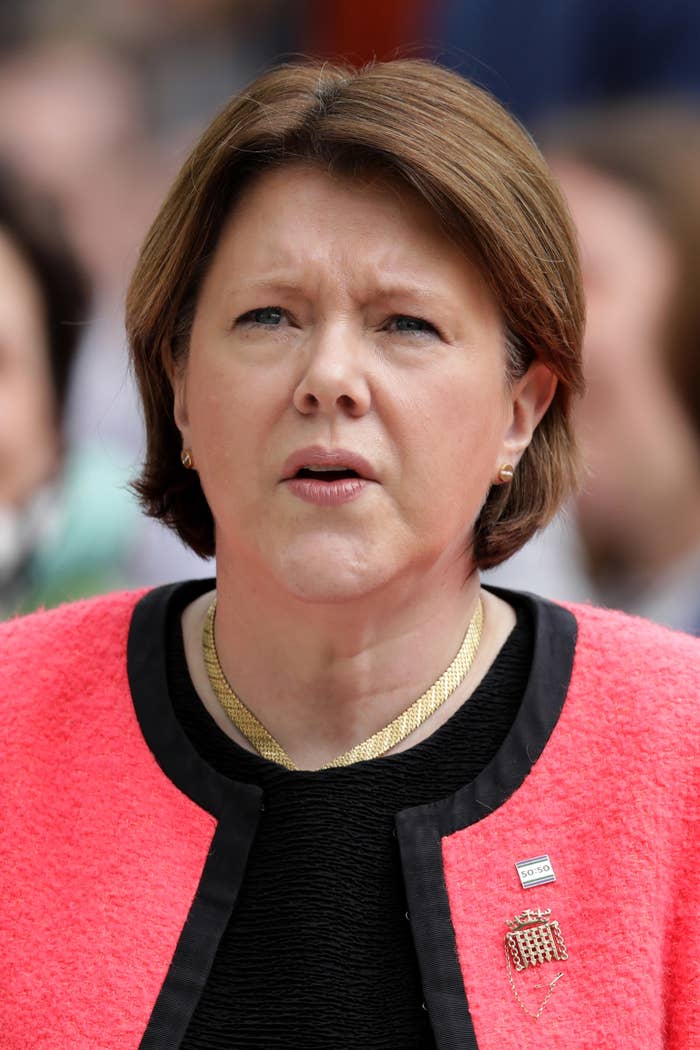 Mordaunt, who is minister for women and equalities, has vowed to put abortion law reform at the top of her agenda. "A historic and great day for Ireland and a hopeful one for Northern Ireland. That hope must be met," she tweeted.

This would, however, risk a rebellion by the Democratic Unionist Party, the Northern Irish party that remains vehemently opposed to abortion. Prime minister Theresa May relies on support from the DUP in passing policy through Westminster after last year's general election resulted in a hung parliament.
Westminster is currently able to legislate for abortion in Northern Ireland because its Assembly, which normally sits at Stormont, has had no executive since January 2017 after a power-sharing deal collapsed and several rounds of talks between the DUP and Sinn Féin failed.
Following the result of Friday's historic abortion referendum in Ireland, May congratulated Irish campaigners on their success in repealing the Eighth Amendment.

"The Irish Referendum yesterday was an impressive show of democracy which delivered a clear and unambiguous result," May wrote on Twitter. "I congratulate the Irish people on their decision and all of #Together4Yes on their successful campaign."

But May is likely to oppose MPs' plans to extend abortion rights to Northern Ireland, believing it is "an issue for Northern Ireland", according to the Guardian.
Abortion rights campaigners in Northern Ireland have told BuzzFeed News that they would welcome intervention from Westminster on reproductive rights.
A report published earlier this year by the UN's committee on the elimination of discrimination against women warned that prohibiting abortion so severely is a violation of human rights.

On ITV's Peston on Sunday, Sinn Féin vice president Michelle O'Neill also called for liberalising abortion laws in Northern Ireland. "The North is becoming a backwater," she said.
Labour MP Stella Creasy, who last year won funding for women in Northern Ireland to have abortions via the NHS in England, has renewed efforts to win support from MPs across parliament to legislate for free, safe, and legal abortion in Northern Ireland.

"This weekend 2.5 million Irish women won the basic human right to make choices themselves about their own bodies – those who fought this victory did so because these rights are at the heart of equality," Creasy said in a statement.
Rather than extend the 1967 Act to Northern Ireland, Creasy and other campaigners are calling for full decriminalisation of abortion in the UK and for those new regulations to be extended to Northern Ireland.
"We cannot let Northern Irish women be left behind – that's why we will be asking MPs to back legislation to bring the UK's abortion laws into the 21st century and to make sure all our citizens are given equal access to their reproductive rights," she said.
Unlike in the Republic of Ireland, which had abortion law written into its constitution, a referendum would not be legally necessary to legislate for abortion in the north.

Emma Campbell, from Northern Ireland's abortion rights group Alliance for Choice, said that campaigners are pushing for reform without a referendum.
"We don't think our human rights should be put to a public vote," Campbell told BuzzFeed News.

But, she added: "We'd welcome anything that would bring change."