A floating floral memorial for murdered MP Jo Cox will be held on what would have been her 42nd birthday on Wednesday 22 June.
Cox, the MP for Batley and Spen, was killed on Thursday 16 June in Birstall, near Leeds, in her West Yorkshire constituency.

The 41-year-old lived on a barge at Thames at Hermitage Wharf in Wapping, London with her her husband Brendan and their two children.
Organisers from the Hermitage Community Moorings (HCM), who are responsible for houseboats moored at the site, have said they plan to tow a boat laden with 1000 roses and tributes to the MP from the houseboat co-operative near Tower Bridge to Westminster.
Members of Cox's family, including her husband Brendan and two small children, will also be aboard the boat, named "Yorkshire Rose" to honour the MP's northern heritage.

The floating memorial will set said from Wapping, where Cox's home was moored at 2pm.

Port of London Authority will set up a temporary buoy and exclusion zone where the River Thames runs through Westminster, to allow the boat to be anchored outside of the houses of parliament from around 2.30pm.
"The boat we are going to place isn't very big, but will be beautiful," a spokesperson for HMC said.
At 3pm, a small procession will then be led from Westminster to Trafalgar Square, where a memorial for Cox will be held between 4pm and 5pm.
Speakers at the Trafalgar Square will include Cox's widower Brendan, who gave a moving interview to the BBC about the aftermath of his wife's death on Tuesday. Malala Yousafzai will also speak at the event.
A book of condolences has been set up at the gate of houseboat community where Cox lived. "The barges on the mooring are all currently flying flags," one resident said, adding that candles will be lit for their former neighbour every evening at dusk.
The barged shared by the Cox family has been covered with flowers left by mourners since the MP's death on Thursday.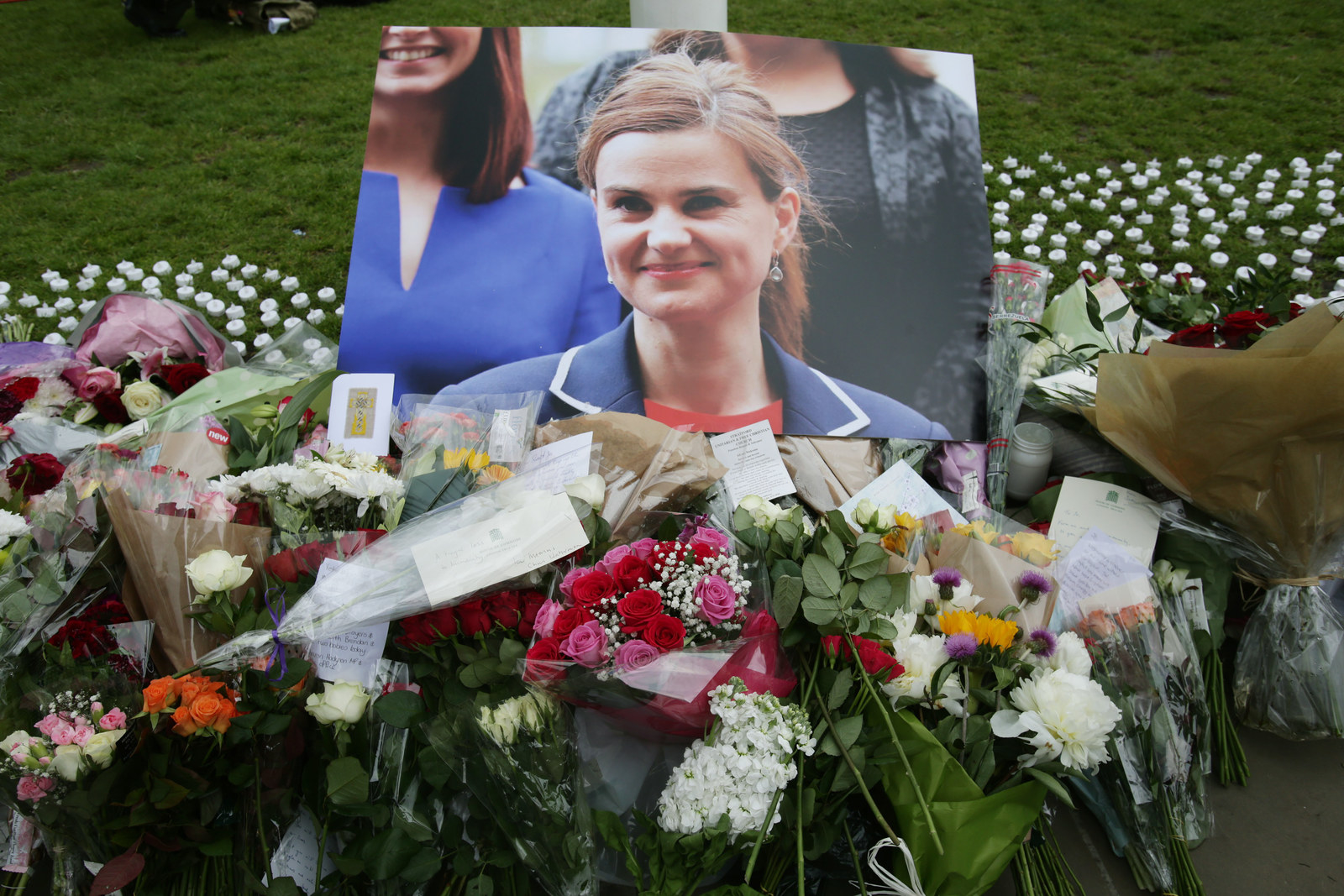 Flowers, candles and tributes have also filled Parliament Square in central London since Thursday, while residents of Birstall, in Cox's constituency in which she was killed, were joined by prime minister David Cameron and Labour leader Jeremy Corbyn in laying bouquets on Friday.
A GoFundMe page set up by Cox's friends and family in her memory has raised over £300,000 for charity in less than 24 hours as members of the public continue to express their condolences.
The money will be donated to The Royal Voluntary Service, to support people working to combat loneliness in her West Yorkshire constituency; anti-extremism and anti-racism organisation Hope Not Hate; and The White Helmets, unarmed volunteers and rescue workers in Syria who have helped save 51,000 people's lives by pulling them from rubble, charities said to be "close to the heart" of Cox.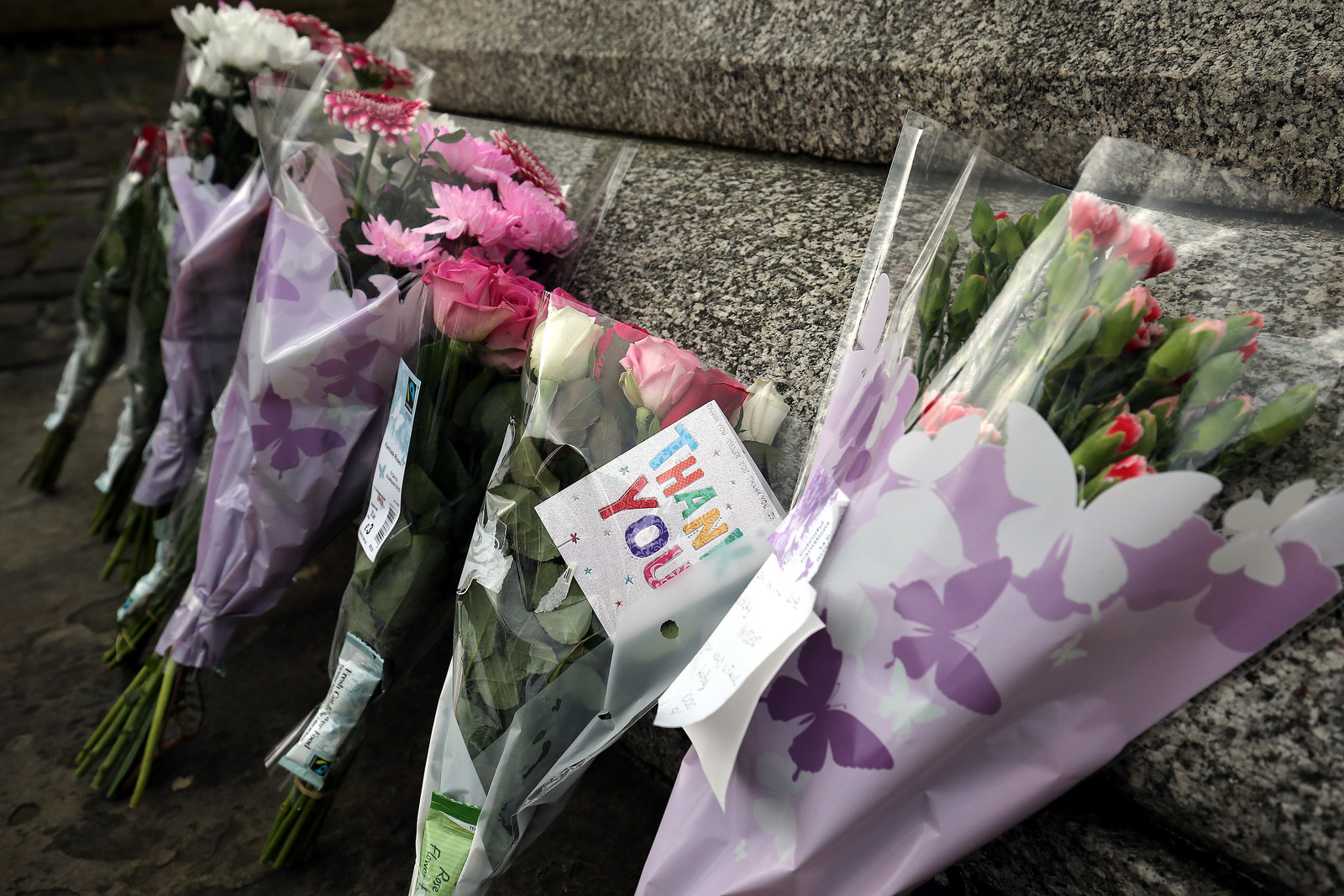 Parliament will be recalled from its summer recess on Monday in response to Cox's death. Jason McCartney, Conservative MP for Colne Valley has called for backbench MPs to sit together on opposing benches as a show of solidarity.
In a letter to the Speaker of the House of Commons, John Bercow, McCartney asked for a "break in tradition" that would see MPs "mix cross party on the benches on Monday to show we are united in fighting hatred". MPs from opposing parties are usually grouped on benches on opposite sides of the House.
McCartney, who serves a constituency near to Cox's, said the move would symbolically show that all parties are "united in grief and admiration" for Jo Cox.