A Boy And A Woman Have Died In A Supermarket Bus Crash
The double-decker bus crashed into a Coventry branch of Sainsbury's on Saturday evening.
An 8-year-old boy and a woman thought to be in her seventies died on Saturday when a double-decker bus crashed into a Sainsbury's supermarket in Coventry, local police have confirmed.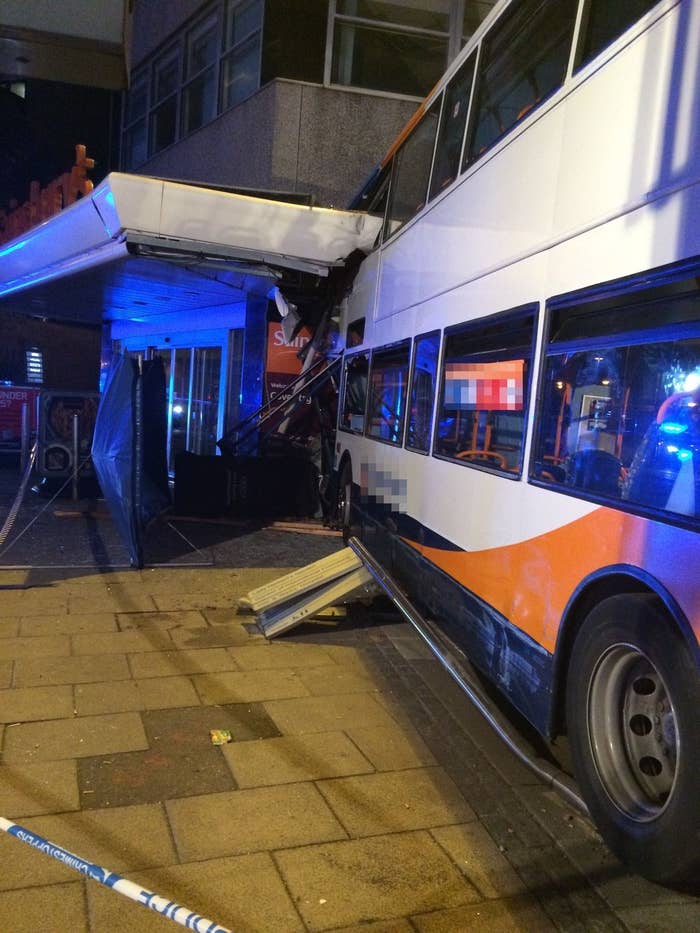 West Midlands police said that the collision occurred after the bus hit several stationary cars and a lamppost, before crashing into the supermarket at around 6pm on Saturday evening.
Both the woman, from nearby Nuneaton, and the boy, from Leamington, died at the scene. Six other people were injured in the incident, including a young girl who was treated for suspected leg, chest, abdominal, and pelvic injuries at Birmingham Children's Hospital.
"She was taken on blue lights and under police escort to Birmingham Children's Hospital after she had been given blood, pain relief and was anaesthetised and her airway maintained," a spokesperson for West Midlands Ambulance Service said.
Eyewitnesses described hearing "kids screaming" at the time of the crash. Maneer Fiaz, who was in the supermarket at the time, told the BBC he heard "a loud bang" and saw smoke pouring from the bus.
"People on the bottom deck seemed to be able to get out of the emergency door," another witness, Anand Basi, told the BBC. "But people on the top deck seemed to be trapped... It was chaos, everybody moving around, shouting, screaming, crying."
Police said that the driver of the bus was among the injured. "It's too early to say what condition he is in, medical staff are dealing with that. We'll be looking after his welfare accordingly," Superintendent Paul Keasey told the Coventry Telegraph.
Keasey spoke of the "spirit of Coventry", praising local witnesses who have offered information about the event. "So many people have come forward to help us with this and that will assist us with the investigation," he said.
West Midlands police offered condolences to people affected by the tragic accident. "Our thoughts are with those affected by this tragic event; we have specially trained officers with the families at this difficult time," Keasey said.
He added: "We hope to carry out a swift investigation and I would like to thank people who have already come forward who witnessed the collision.
"This is a busy area of Coventry city centre and we hope to keep disruption to a minimum as our investigation continues; no one has been arrested at this stage."