Weed-Infused Thanksgiving Gravy Is A Thing Now So I Ate It
Prior to this moment in my life, I have never gotten high by eating gravy at a Thanksgiving meal. But that all changed today.
Hi there, Lara here, and like a lot of people on this earth I enjoy getting high by ingesting cannabis in different forms. But one way I have yet to ingest cannabis is through my gravy at Thanksgiving. However, thanks to Kiva Confections, I can now check this off my list because they are now, for a limited time, offering cannabis-infused TURKEY GRAVY.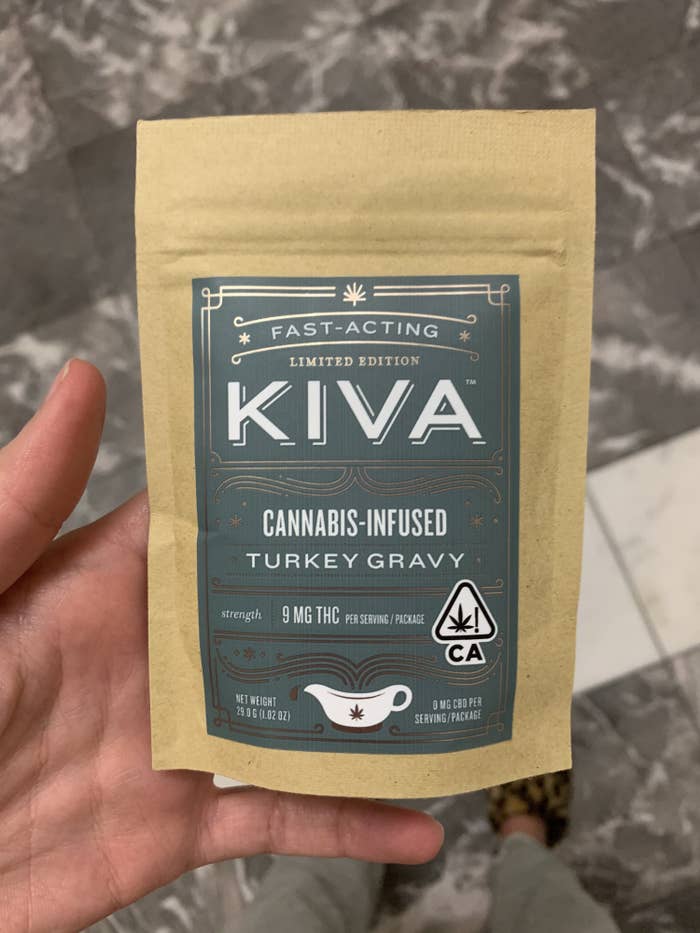 In my experience my edible has never taken longer than 90 minutes to hit, but alas, the 2 to 15 minutes timeline they claimed to have with this gravy still piqued my interest. And that's why I decided to make this gravy myself.
Here's a look at the ingredients for anyone who is curious. The entire packet contains 9 mg of THC. An average edible is usually between 5 and 10 mg of THC so this was right on track. However, Kiva's Turkey Gravy was supposed to offer the "fastest-acting and most bioavailable cannabinoids available in edibles today." I was sort of nervous, but mostly just excited if not feeling a bit odd about making a bowl of gravy alone in my apartment.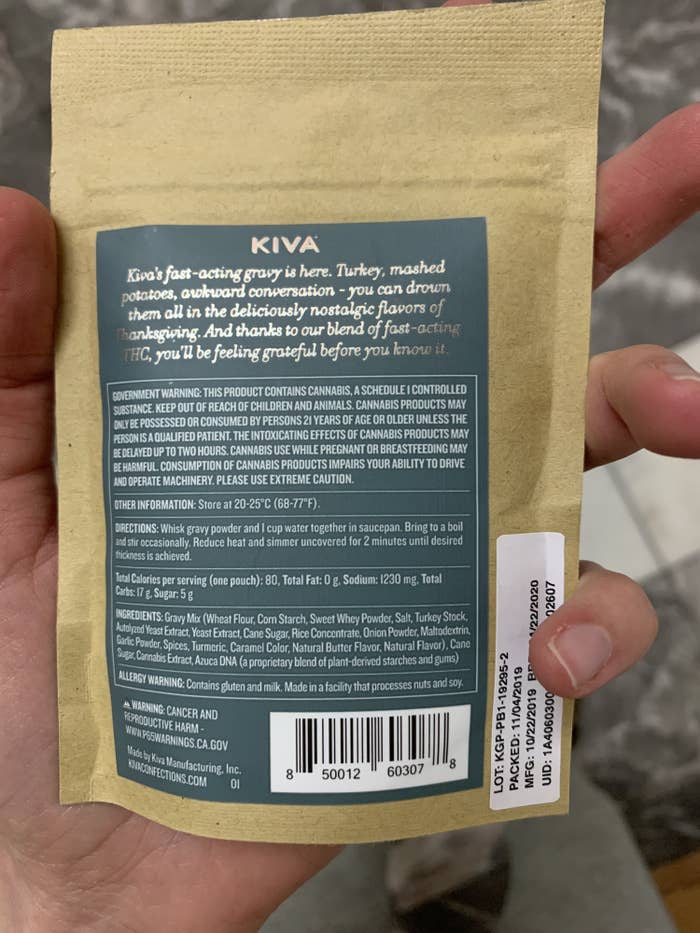 I got my tools prepared which included a whisk, exactly one cup of water, and the infused gravy mixture.
This is how the gravy looked after being whisked and boiling for about five minutes. Wow! It looks just like gravy. I mean, I assumed it would. But still.
I didn't have any mashed potatoes on hand yet and I was pretty hungry so I just ate the gravy plain. Weird? Maybe. But did it taste good? Yes. Yes it did. It tasted exactly like any gravy I've ever had. Great. Good for me.
After making the gravy and ingesting about 7 spoonfuls of it, I sat down on my couch.
Here's a selfie I took about 10 minutes after eating the gravy. I should mention that I had not eaten in several hours and ate the gravy on an empty stomach. Honestly sort of a rookie mistake but here we are.
And here's a selfie I took about 30 minutes after eating the gravy. I was high, OK?