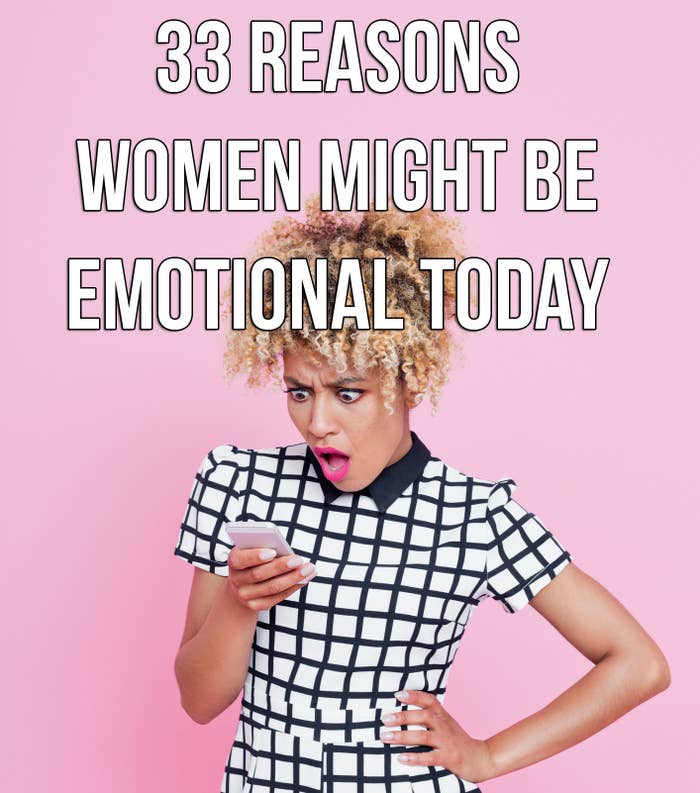 1. Because doctors take women's pain less seriously than men's.
2. Because women — especially women of color — still aren't given equal pay in many cases.
3. Because Hispanic women earned only 58 cents on the dollar compared with white men in 2015.
4. And because black women were paid just 63% of what white men were paid in 2015.
5. Because out of our 100 US senators, currently only 21 are women.
6.. Because every six minutes in the United States, a woman is raped.
7. Because women still have stories about being catcalled.
8. And because of this, women feel unsafe pretty much every time the sun sets.
9. Because women are taught to avoid doing certain things for fear of safety instead of men being taught that women are not possessions.
10. Because when women speak out about rape and sexual assault, they are often slut-shamed and harassed by their own peers.
11. And because, according to this survey, 1 in 5 women have experienced sexual assault at some point in their lives.
12. And because when a man rapes a woman he is often given little to no jail time.
13. Because women are judged by their appearance constantly.
14. Because lawmakers still talk about us like we aren't even humans.
15. Because we have to pay a tax on feminine hygiene products even though they are a basic necessity.
16. Because while Viagra was covered under many insurances for years, birth control was only recently covered under the Affordable Care Act.
17. Because we're still treated like sexual objects.
18. Because the word "pussy" is still used as an insult.
19. Because women's tampons and pads were confiscated at a Texas court to preserve "rules of decorum"… Okay?
20. Because women are still being sexually harassed at work.
21. Because men are able to show their nipples on Instagram, but women's photos often are deleted when their nipples are shown.
22. Because modern-day feminism often fails to include women of color.
23. Because a study on male birth control was cut short by a committee after men experienced increased mood swings and low libido.
24. Because there are reportedly 5,000 honor killings internationally each year, and women are often the most at risk.
25. Because approximately 130 million girls have experienced female genitalia mutilation worldwide.
26. Because a woman is still seen as less of a woman if she does not reproduce.
27. Because violence against women is still seen as a "joke."
28. Because Ciara McElveen was the sixth transgender woman killed in 2017.
29. And because queer women in the United States are still being discriminated against.
30. Because 1 in 4 women in the United States will experience domestic violence, but immigrant women are three to six times more likely to experience domestic violence.
31. Because women make up on only 24% of the STEM (science, technology, engineering, and mathematics) field workforce, and a mere 3% of the workforce are Latina women.
32. Because if I had the emotional capacity, this list could easily go into the 100s.
33. And because even if you haven't personally lived through all of these things, other women have. And that's just fucking sad.