Having lived through the last few months of Australia's postal survey on same-sex marriage, it can be hard to see how absurd the process seems from the outside. But luckily for all of us, British comedian John Oliver has delivered a reminder, in a monologue that started going viral on Monday.
After running through American politics on his HBO show Last Week Tonight, Oliver turned to Australia for a less-than-glowing assessment of the survey.
"If any of that made you feel sad about our state of democracy, spare a thought for Australia," he said. "Not in fact the birthplace of the Outback Steakhouse but very much the Outback Steakhouse of countries."
Oliver started by pointing out that consistent polling has shown a clear majority of Australians in favour of same-sex marriage, and that the government could simply pass a bill to legalise it if they wanted to.
"But instead, they are inexplicably holding a non-legally binding voluntary postal vote at a public cost of $120 million, which is the worst waste of Australian money since every Baz Luhrmann movie ever made."
Oliver then ran through a series of, er, highlights from the debate so far...and let me just say it is fairly dispiriting.
It started with Liberal MP Kevin Andrews' comparison of gay relationships to his cycling mates.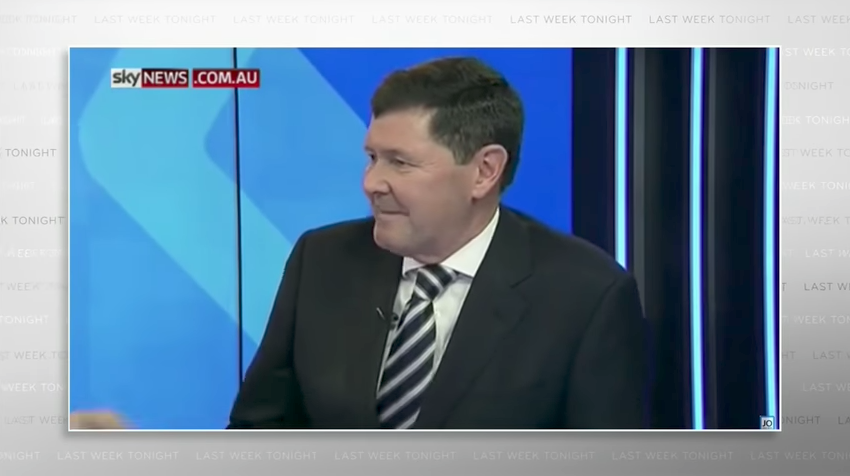 Then came the suggestion from Marriage Alliance's Sophie York that gay people should just call their unions "garriage".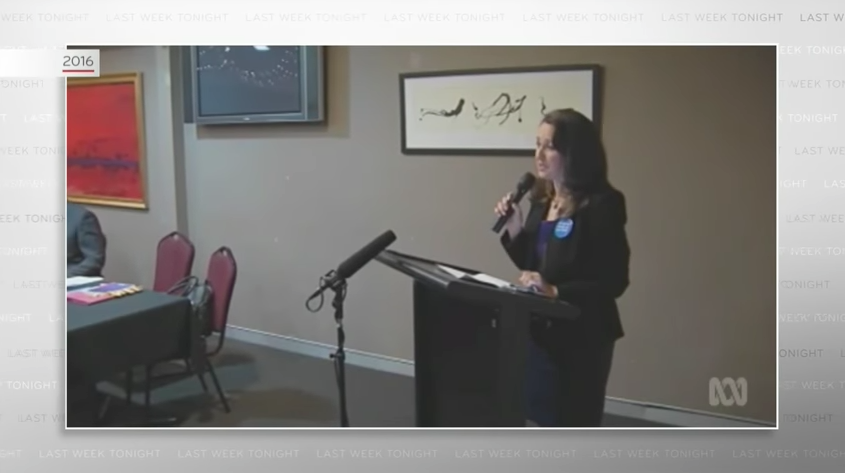 "Garriage! That is a stupid word," said Oliver. "Except in the very rare case of a wedding between two men named Gary, in which case obviously they should be getting garried."
The gay couple who appeared on ABC's 7.30 to rep the "no" campaign got a mention — during which Oliver called for Mark to break up with Ben, who declined to marry him, saying "I don't think it's my cup of tea."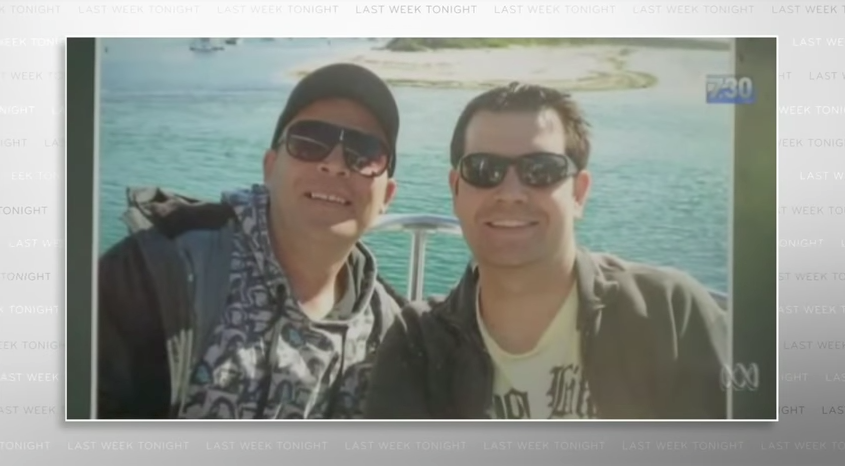 "Two things, Ben, you are cold-blooded and Mark you can do so much better than him!" said Oliver. "You deserve someone who's committed to you, as you are to them!"

The man who smashed a cream pie into Qantas CEO Alan Joyce's face was there.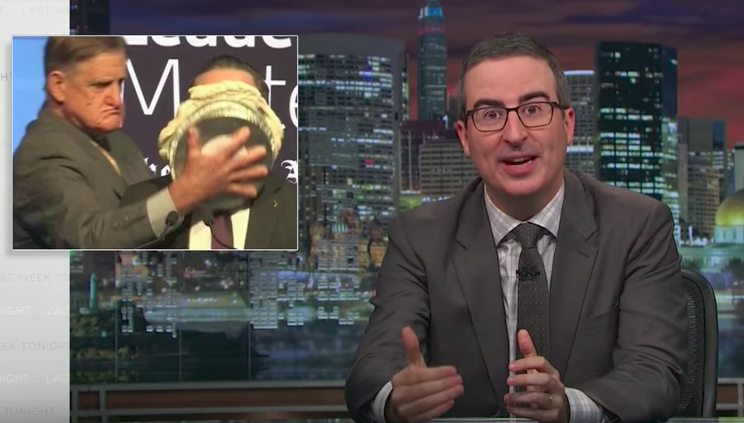 And there was anarchist DJ Astro "Funknukl" Labe, who allegedly headbutted Tony Abbott, giving the former prime minister a "very very slightly swollen lip".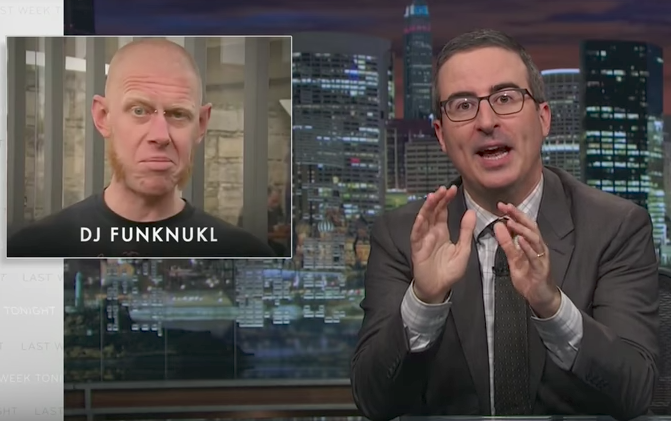 "It turns out that according to DJ Funknukl, the attack actually wasn't connected with the gay marriage issue at all," Oliver said.
Labe said after the incident in September that he saw Tony Abbott and simply wanted to headbutt him.
"I am in no way condoning Tony Abbott being attacked," Oliver said. "What I will say is, thinking to yourself, 'There's Tony Abbott, I am going to headbutt him', is entirely natural. It's an automatic human response. It's like, 'There's a puppy, I'm going to pet it'. Or 'There's Sean Penn, I'm not going to see that movie'.

"This has been a dispiriting and ultimately pointless process," Oliver concluded, reflecting the thoughts of many Australians.
It'll all be over on November 15 — well, the survey part at least.