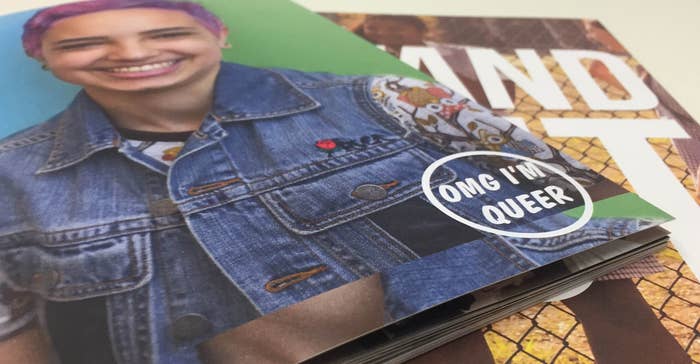 A group of 13-year-olds is sprawled on the grass at Sydney University, eating sandwiches on their lunch break from a conference talking about LGBTI kids.
All are members of the diversity group at their public, inner-west high school. They swap sexualities as casually as weekend plans.
"I'm bisexual," says one girl enthusiastically.
"I'm straight, but I'm an ally," says another.
"I'm straight too."
"I haven't told many people this… but I'm pansexual."
The group clap her on the back.
"You already told me!" the first girl says.
They're hanging out at the annual symposium of the Safe Schools Coalition, a nationwide program with the mission to improve school for kids who are lesbian, gay, bisexual, transgender and intersex. Armed with $8 million of federal government funding, Safe Schools offers resources, teacher training, and policy and practice advice.
But the program, which enjoys strong bipartisan support, has a lot to reckon with. Earlier this year, a Beyond Blue study found anti-gay prejudice was rampant among teenage boys, and the Writing Themselves In study found approximately three in four LGBTI youths experience homophobic abuse or discrimination of some kind. Much of it happens at school. Phrases like "That's so gay" are ubiquitous in the schoolyard, and a bureaucratic culture of misunderstanding leaves transgender and intersex kids feeling unsafe.
While relevant political parties are united in support of the program, not everyone is on board. The Australian Christian Lobby (ACL) recently called for the program to be defunded, calling the resources "extreme sexual material".
"No one should be bullied at school, including children grappling with same-sex attraction or gender confusion," says ACL spokesperson Wendy Francis. "But promoting radical sexual and gender theories to children without parental consent is not the role of the federal or state governments."
However, Tim Christodoulou, partnerships manager at LGBTI youth group Minus18, says defunding the program would be "disastrous" for vulnerable students across the country.
"It would be really harmful for the fight against homophobia and transphobia," he tells BuzzFeed News. "We're already beginning to see the impacts of the program in fighting a lot of the prejudice that we're seeing in schools."
From his work with Minus18, Christodoulou has witnessed kids coming out at younger and younger ages – like the 13-year-old crew from the inner west.
"Definitely, young people are coming out much younger than they were five or ten years ago," he says. "The number one reason is that LGBTI people are becoming more and more prominent in the media and through TV and movies."
"It's becoming something that's far more mainstream than perhaps it was a few years ago."
And as this shift takes place, schools are often left behind in adjusting to the increasing acceptance of LGBTI people in society.
"Progress is gradual and it takes a long time," says Christodoulou. "But schools are getting the message."
BuzzFeed News asked teenagers at the symposium about their experiences.
Mark Edwards, 17, is a year 11 student at Penrith High School. He tells BuzzFeed News most of the students are actually "pretty OK" with him being transgender.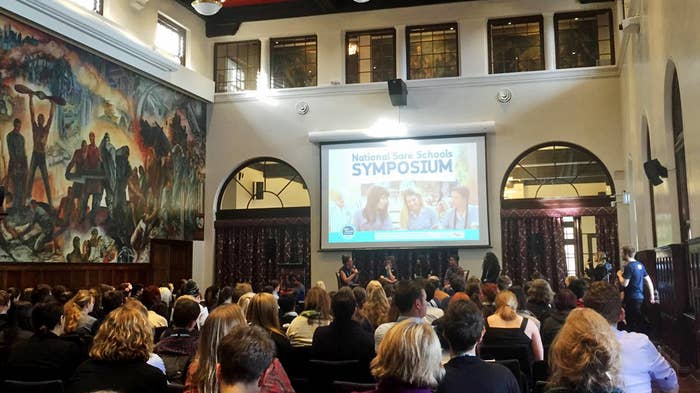 "Most of the students are OK with it or they're just quiet," he says. "I mean, there's a lot of casual homophobia, like using 'that's so gay', and 'faggot', but they don't realise that they're doing it."
Where Mark has run into trouble tends to be with bureaucracy. A lack of understanding contributes to teachers making things more difficult without meaning to, Mark says.
"The whole construct of the education system is very gendered," Mark explains. "Teachers are confused about how they might change things to suit someone who doesn't fit into the binary."
When Mark was transitioning at school, management was reluctant to accommodate him because they thought students would be uncomfortable.
"They were like 'You can't use your name, or the bathrooms, or the uniform, because the students won't be happy with this'." Mark remembers. "Even though there was absolutely no problem with the students at all."
Mark suggests health class and school uniforms as two areas where easy reforms could change lives.
"In health class, just saying that not everyone is heterosexual and cisgender, and making the language less gendered," he says. He advocates the same stripping of gender from uniforms, saying guidelines needn't specify typically male or female clothes.
Kate*, who is 13 and bisexual, also goes to a school where most students are accepting. There's plenty of posters and stickers reiterating support for LGBTI students, and "there's a lot of out people," she tells BuzzFeed News.
However, in primary school it was a different story.
"Everyone was so homophobic," she says. "I didn't know [that I was bisexual] at the time, so I was like, 'That's kinda rude, but whatever'."
Peter Alliott, 17, says LGBTI issues are almost "taboo subjects".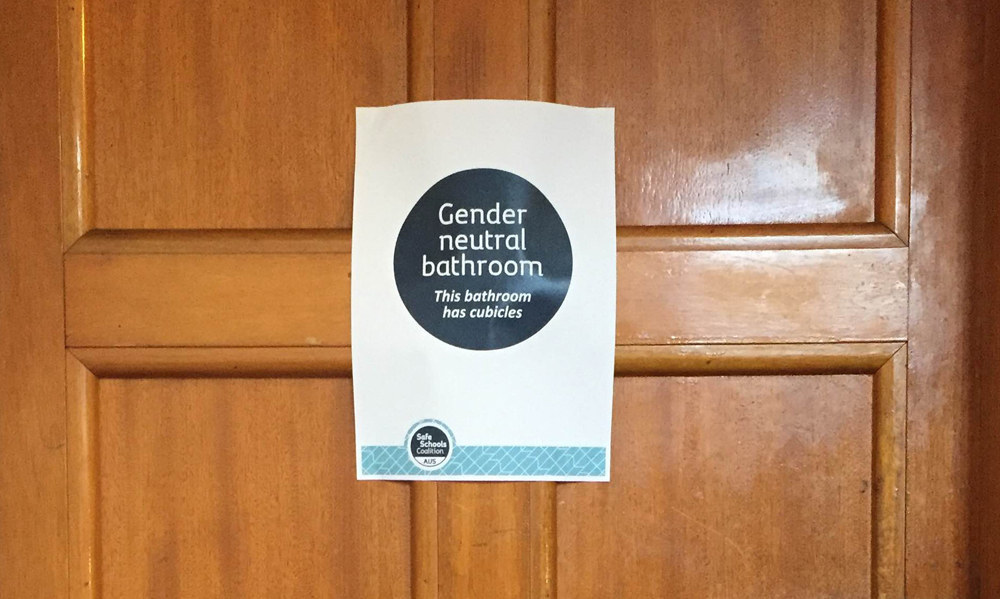 A year 11 student at Narrabundah College in the ACT, Peter delivered a keynote address at the symposium.
There's a lot of negativity directed at LGBTI students, he says. Language plays a huge part in the divide with words like "fag" and "gay" permeating the classroom.
"People are almost afraid of talking about their gender and sexual diversity, afraid of difference. I find that it's often quite present in sports faculties," he says.
"There are often stereotypes pinned to people, like if you're gay, you won't like sport. I've had friends who have been excluded from games because of the way they identify. It is an issue that involves everybody."
Like Mark and Kate, Peter advocates for schools to move away from a strict gender binary.
"I would like to see gender neutral bathrooms put in place. I would like to have teachers, students and forms use non-gender specific language," he tells BuzzFeed News.
Rory Blundell, 19, graduated in 2013 and is an intern with the Safe Schools Coalition.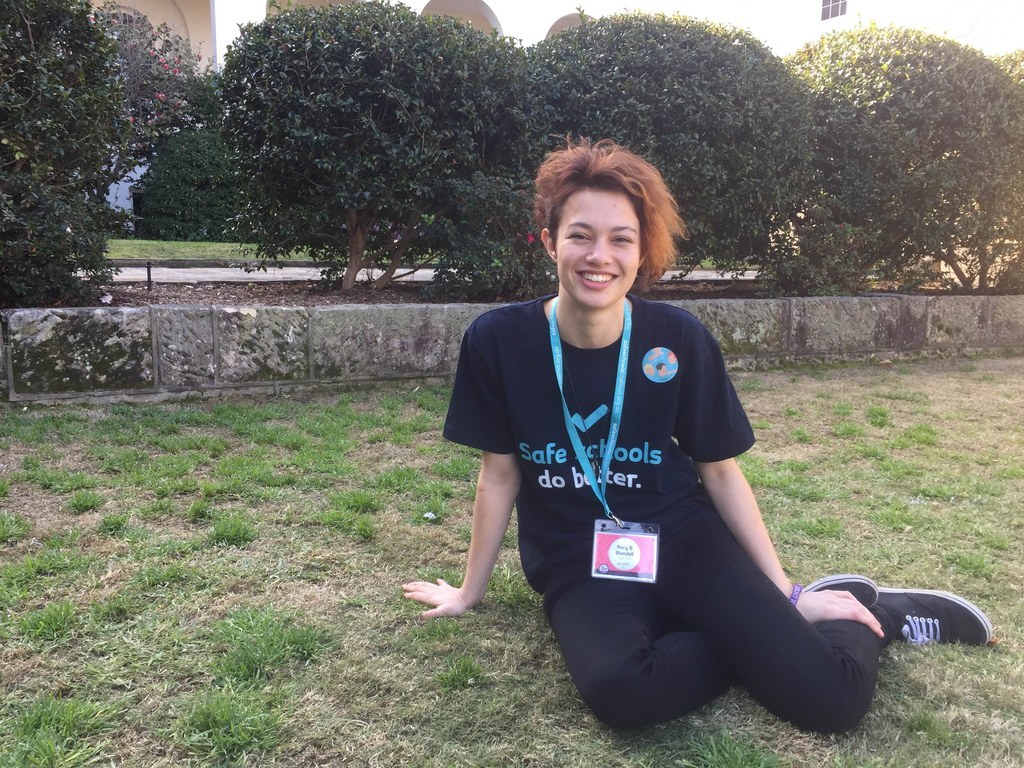 For Rory, who uses the gender-neutral pronoun "they", language is a big deal too.
"I really wish someone had used the word transgender, or gender diverse, or any of those words when I was at school," Rory tells BuzzFeed News. "What I've seen now is that a lot of young people are aware of these terms, they're able to be out at school."
Rory's own school experience was not particularly positive. After telling people about being attracted to a friend, they were "utterly excluded".
"Apparently one of the girls actually told people not to talk to me for a year, until I moved schools. It was just hard because I felt very alone, it was never, ever, talked about."
However, they are heartened by a coming shift in attitudes. "It's not just letting things slide, not just tolerance, it's actually positive action. Being proud of diversity," they say.
According to Rory, things like posters, LGBTI student groups, more information in health class – these are the kinds of things that can alter the school experience.
"Every school has LGBTI kids." Rory says. "The smallest action can have huge positives."
*This name has been changed to protect Kate's identity.