Like a lot of transgender kids, Erika is articulate – the corollary of spending many of her 12 years justifying who she is.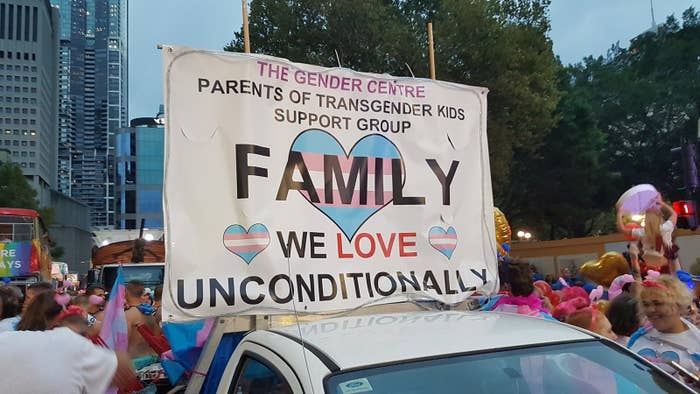 "I was always hanging around girls, doing girl stuff," she told BuzzFeed News. "My mum got to this point where she thought: 'Is she gay, or is she transgender?' And one day I told her, 'Mummy, I want to be a girl'. Simple as that."

On Saturday Erika and her mum Anna marched in the Sydney Gay & Lesbian Mardi Gras parade for the first time. Erika spoke to BuzzFeed News before the parade, sitting just outside a frenetic room where other marchers were getting ready to shine, armed with make-up, glitter and transgender flags.
It was a night to celebrate being trans, and being loved. But Erika's identity is not so accepted elsewhere. For example, the first weeks of Year 6 have been difficult.
"I have a few close friends, but some of [the other kids] aren't very nice," Erika said.
"Sometimes they like to call me names, they make jokes about me. They kind of, like, pick out that I'm different and make fun of that. And I really don't like that. But it's not just being mean. It's also in class. Since I'm trans, it kind of makes everyone else uncomfortable. In group work I'm always alone, and no-one ever wants to choose me. In dodgeball, I have to be alone or on my own team."
She paused.
"I feel like nobody really likes me."
"Five minutes 'til we leave!" someone hollered in the background. A stampede of fellow marchers rushed towards the bathroom, transgender flag capes trailing behind them.
"People treat me like I'm special," Erika said. "I don't want to be treated special, I want to be treated like any other girl."
Anna, busy rifling through a handbag, looked up.
"Because she's so young, there is nothing out there for when you're under 12," she said.
"I've been contacting headspace, Twenty10, the Gender Centre. We've been there to talk about school. But [there is] not really anything out there for us, at the moment."
Asked what she would be doing as she walked up Oxford Street, Erika said she would be looking out for her teacher, who told her he would be at the parade.
"I'm definitely going to wave to my teacher," she said. "He's really nice."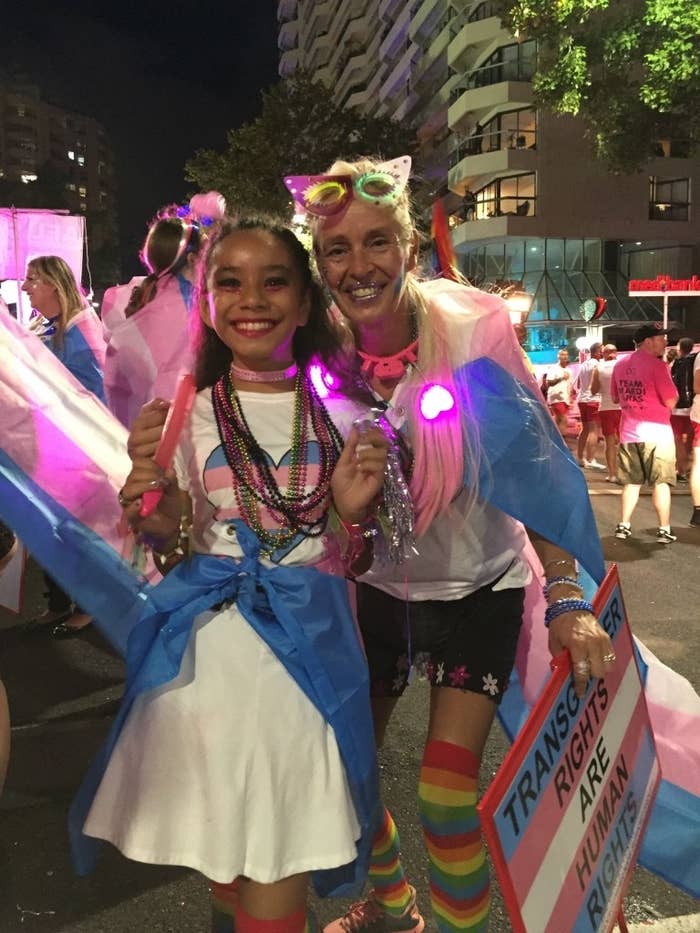 Erika and Anna marched on Saturday with the Gender Centre, a Sydney-based organisation for transgender and gender diverse people. The float, in the works since August 2016, was organised by a small contingent of mothers from the Gender Centre parents' group.

In the weeks leading up to the parade, notifications in the float's Facebook group flew thick and fast. There were parade updates; instructions for a modified t-shirt; craft ideas; a new marcher signing up; a discovery of cheap, sparkly pom poms; a request for float decorators; a call for dancers; more craft ideas.
On Saturday afternoon organisers handed out neatly labelled t-shirt packs and clear ponchos in case of rain. Those who needed to use hairspray were sent out of the room – "Not in here, please!" – while others wandered around armed with safety pins and tips on how to make the best cape out of a transgender flag.
At the centre of the hubbub stood Lisa, a six-year veteran of the parents' support group. She announced where the bathrooms were, and then added: "You can go into either bathroom, no matter your gender!"
Lisa has helped set up parents' groups in places including Wollongong, south of Sydney, and Tasmania. After about 18 months in the group she was ready to step back, but "hung around for other parents".
"Most people come in frightened," she told BuzzFeed News. "Most parents want to support their child but they don't know what to do. When a child comes out to their parents, they are often in trauma. [The child] may have sat on this for a really long time, and [then] they need everything to move really fast."
For some parents a very steep learning curve awaits, as they have no idea what to expect.
"Parents walk into the room, they look around and think, 'Wow, you all look really normal!' I don't know what they think we're going to be, [maybe] bohemians sitting there naked going 'Om'."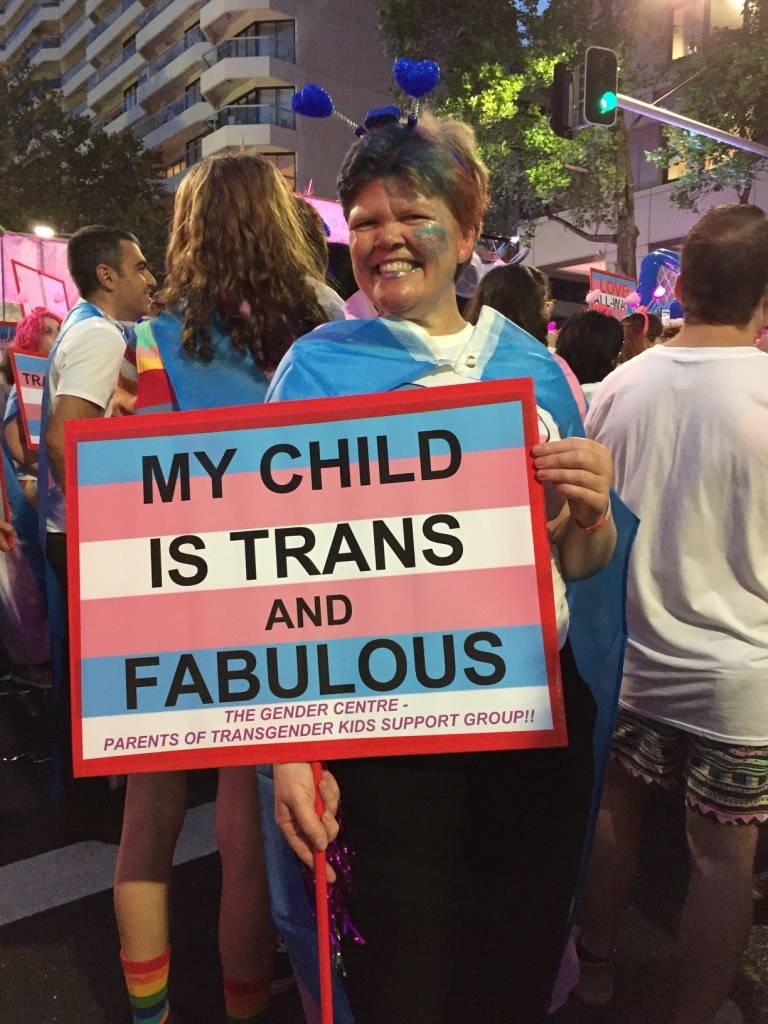 Susan from Richmond in NSW has two gender diverse children: a transgender 14-year-old, and a non-binary 24-year-old. She has been part of the parents' group for just over a year.

"It's a relief, every month, to go," she told BuzzFeed News.
"You realise that everyone goes through their own challenges with their kids. They have easy times and hard times and times you want to tear your hair out."
Her son has social anxiety and doesn't like to talk about himself, which can make for awkward conversations about subjects such as legal name changes or testosterone. But Susan is finding solutions.
"If I want to have a full-on conversation with him, the best thing I can do is send him a text message," she said. "He'll text message me from across the room [or] house about what he's thinking and how he's feeling. But if I try and talk to him face to face, he's like 'What do you want?'" she said.
"That's how he came out. I was sitting less than a metre away and he sent me a text message."
Kieren from the Blue Mountains has only been involved with the parents' group for a few months. He wasn't sure about attending Mardi Gras.
"I went to Mardi Gras many, many years ago, but I haven't been that interested in going or watching for years, mainly because it's this massive commercial event with bad disco – neither of which is my thing," he said.
"I said to my boy, 'How would you feel if I went in Mardi Gras, as a parent transgender supporter?' He went 'Oh yeah, oh yeah!' and I said 'Fuck, I guess I'm doing it then!'"
Neither Lisa, Susan nor Kieren were particularly savvy about trans issues before their kids came out. Lisa said the group's most important slogan is "Fake it till you make it".
"I know my children," Lisa said. "They're my children. I know exactly what I'm doing, even when I don't know what I'm doing."
"Sometimes I don't know how to get them from A to B. I might have to read 10 books and go halfway around the alphabet before I get there. But I am going to get them from A to B, because I'm their mum and that's my job."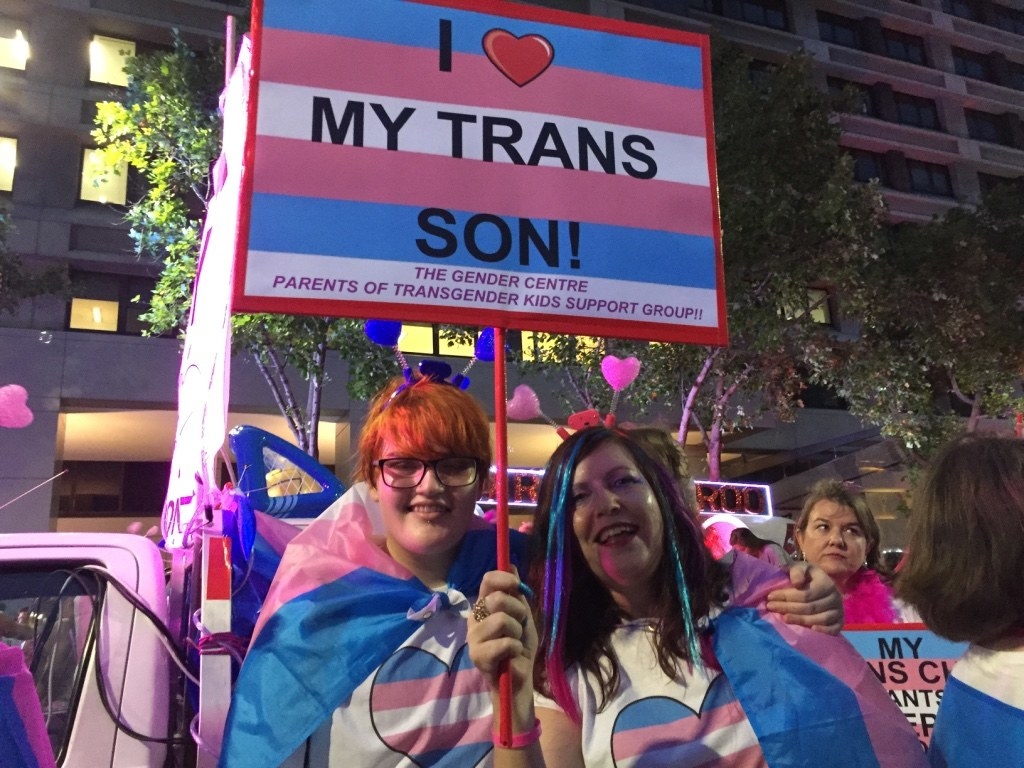 The float also attracted a solid contingent of transgender young people. One group of friends – Vio, Felix, Andrew, Elliot and MJ – came along with Vio's mum and dad.

"I am... something," said Elliot, when asked how he identifies himself.
"I describe my gender as, like, 80% male and 20% glitter glue," joked Vio.
"I'm mostly a dude? I'm a very feminine dude," said Andrew.
Elliot: "I think I just don't want to be anything… but I prefer looking like a dude than looking like a girl. I'm pretty agender. But I still use he/him pronouns."
The story of how they all met is a bit complicated and involves an LGBTI youth camp; a secret Facebook group; a secret offshoot of the secret Facebook group (formed after online drama); and a party at Elliot's house last December. Now they're in a group chat, which is about as tight as it gets.
Felix said coming out to his parents was his biggest hurdle, and that it came as a "huge shock" to them. But his mum is now supportive, and his dad has recently started using his name.
Vio's mum and dad, Kath and Phil, are the parade chaperones. All five agree that Kath is a legend.
Elliot, whose parents are separated, said his mum is "a lot better now" – and would probably even march at Mardi Gras, were it not for the crowds – but his dad is not.
MJ's parents have not accepted that he is trans: "Seeing that there are so many parents that love their transgender children and do good things for them… it gives me a perspective of, I don't have to take [my parents'] shit," he said.
Andrew came out to his parents about two years ago. But it's only now that the wheels in his transition are turning. In the past couple of months he had a fight with his mum and walked out of the house.
"I had a screaming match with her about how important this really was to me. She said that if I came out now, to people at school, I would be ruining my life."
But then, Andrew said, she turned a corner.
"She finally noticed [that] pretending to identify as a girl was killing me. In the past two weeks we've called family, set up meetings with school. I'm actually the first known kid [from] my school to transition.
"So in the past couple weeks I've gotten my [chest] binder. My parents and sisters at home have started using the proper pronouns and my name. And since then, things have gotten a lot better."
"He's living the good life," Elliot said.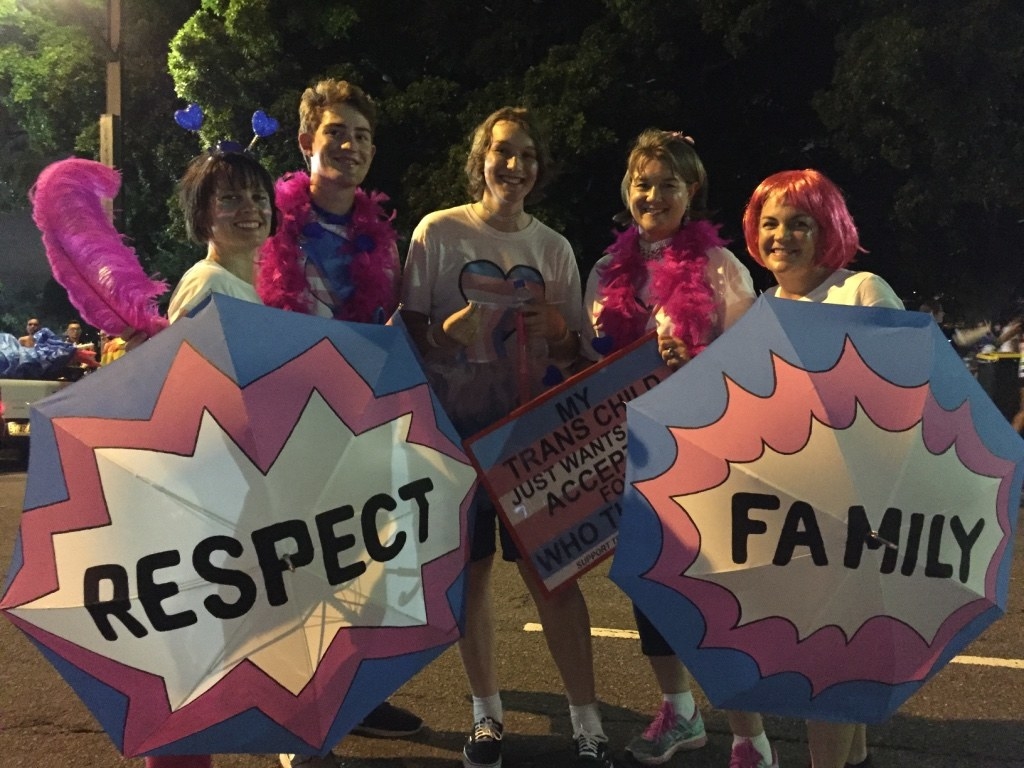 No matter how many times you've been, the Mardi Gras marshalling area never fails to amaze. Behind the rent-a-fences, marchers in every costume imaginable practise their routines – performing for the community before they perform for the crowd.

Ahead of its departure down Oxford Street the Gender Centre group gathered behind a banner-adorned ute, from which blasted the Sister Sledge anthem We Are Family. Organisers distributed signs sporting slogans such as "My Child Is Trans And Fabulous" and "I Love My Trans Daughter".
The emphasis on family is important. Asked which Mardi Gras floats make them a bit teary, LGBTI people often point to those related to family, including Rainbow Babies and Kids, and Parents and Friends of Lesbians and Gays.
Lachlan, who is transgender and from Armidale in regional NSW, turned up to march with a collection of family members and friends.

Lachlan's mum Catherine danced along the parade route, while dad Ian drove the ute. Aunt Gen came down from Brisbane; cousin Ellen from Marrickville in Sydney's inner southwest; and Charlton – a friend since kindergarten – visited from Canberra.
Gen, who danced with an umbrella with the word "family" on it, noticed the emotion. She was embraced by supporters, thanking her for getting involved.
"There were one or two who were in the crowd, and when they saw people walking with their family, it was really important," she added. "You could tell."
---
After the parade, once the music had finished and the ute had been moved on by a harried official with a glowing baton, the marchers slowed down and stopped.

Susan, who was holding a sign saying "My Child Is Trans And Fabulous", looked slightly stunned.
"That was really overwhelming," she said. "I thought I was going to cry a few times, from the emotion of it all. All the cheering, the happy vibes. I'm still flying."
Erika was still flying too.
"Did you have a good time?"
"YES!" she shouted, as if it was the stupidest question she'd ever been asked.
"It was the best thing ever! I felt the adrenaline rushing through my blood. I had 100% excitement in my body. I had more excitement than flesh."
Erika was beaming. Ecstatic. A million miles from school. It reminded me of something else Lisa said, when she was explaining why she stood up for her son:
"Being trans is not a sad story. And it's not a new story. The only sad part is the way other people react."