Indigenous leaders have rejected constitutional recognition, calling instead for a treaty commission and a voice in the Australian parliament in a landmark statement at Uluru.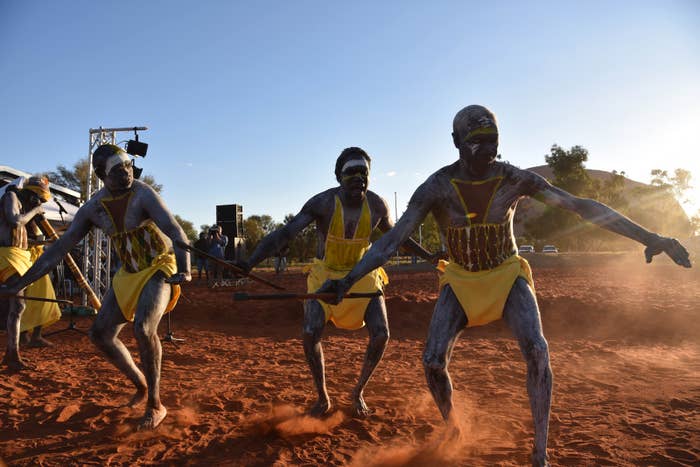 The Uluru Statement from the Heart comes from hundreds of Indigenous leaders following three days of discussions organised by the Referendum Council at Uluru, in the Northern Territory.

The statement calls for a Makarrata Commission to "supervise a process of agreement making between governments and First Nations" and the establishment of a "First Nations Voice" in the constitution.
"We want to set up a commission that will lead us to a treaty process," Referendum Council Co-Chair Pat Anderson said.
"Overwhelmingly around the country, people are wanting to negotiate a proper settlement between us all. This is a long process. We've set up now, people have put their hands up and were chosen, we've got a very large working group that will continue to work on this this process for the next while."
Anderson said an acknowledgement in the constitution was "totally rejected" in meetings and consultations over the past six months.
The statement said the Indigenous leaders seek reforms to "empower our people and take a rightful place in our own country".

"When we have power over our destiny our children will flourish. They will walk in two worlds and their culture will be a gift to their country," it said.

It also outlined several bare facts about Indigenous disadvantage in Australia.
"Proportionally, we are the most incarcerated people on the planet. We are not an innately criminal people," it said.
"Our children are aliened from their families at unprecedented rates. This cannot be because we have no love for them. And our youth languish in detention in obscene numbers. They should be our hope for the future.
"These dimensions of our crisis tell plainly the structural nature of our problem. This is the torment of our powerlessness.
"In 1967 we were counted, in 2017 we seek to be heard."

A treaty would likely give Indigenous Australians more power to make decisions about their own future than constitutional recognition.
The government-funded Recognise campaign, aimed at convincing the community to support a referendum on Indigenous constitutional recognition, has been in motion since 2012.
Australia is the only Commonwealth country that doesn't have a treaty with its Indigenous people.