Australian researchers have created a powder out of ugly broccoli that you can put in smoothies, baking, soups and, yes, YOUR COFFEE.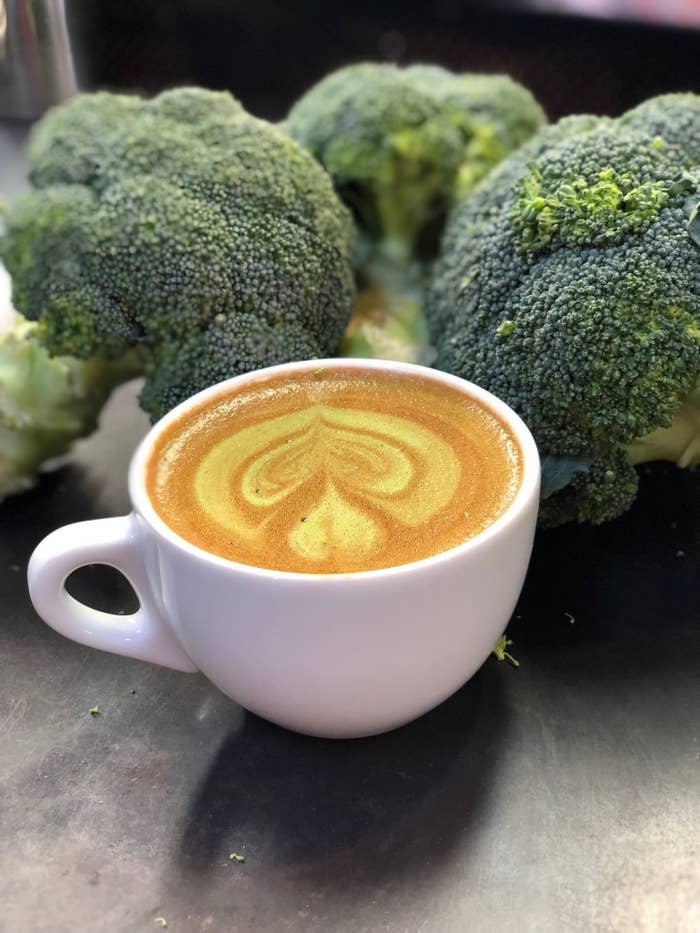 The powder was created in a joint project between Australian government body the CSIRO (Commonwealth Scientific and Industrial Research Organisation) and Horticulture Innovation Australian (HIA), a not-for-profit, grower-owned research and development and marketing company for Australia's horticulture Industry.
There's one serve of broccoli in every two tablespoons of the stuff. And yes, the broccoli powder is 100% broccoli.
Why have scientists done this, you ask? Extremely reasonable question.
One, because people do not eat enough vegetables.

A CSIRO survey in 2017 found two in three adults are not eating their recommended daily serve of vegetables.
The chief executive of HIA, John Lloyd, said the powder can be used when baking, or in smoothies or soups. It's also a way for frazzled parents to hide vegetables in their fussy kids' meals.
"Research shows the average Australian is still not eating the recommended daily intake of vegetables a day, and options such as broccoli powder will help address this," he said.

Two, because we have unrealistic beauty standards for vegetables.
Asked how the powder differs from the vegetable powders that are currently available, a CSIRO rep told BuzzFeed News that the project was aimed specifically at finding uses for vegetables, or parts of vegetables, that would have otherwise have been thrown away.
The broccoli used to make the powder would typically have been thrown out after being deemed too ugly to sit in a supermarket for purchase.

Some stores sell misshapen, discoloured, or otherwise not-to-specification veggies at a discounted price, but there's still a lot of produce that gets chucked out or left in the field for various reasons.
This project is looking at how the nutrients in broccoli, carrots and other vegetables can be used in other ways.
Hence, powder!
Lead researcher at CSIRO Mary Ann Augustin told BuzzFeed News the broccoli powder they had created kept all the nutrients present in an ordinary piece of fresh broccoli.
"If you do not treat your broccoli properly you will tend to destroy some of the components during processing," she said.
With those nutrients actually contained in the powder, it becomes exponentially easier for people to get in a serve of veggies.
"You need five serves of veggies today. One serve of veggies is 75 grams. When you convert it to powder, it's 7.5 grams. You could put that in muffins or noodles or anything in a normal diet," she said, adding that fresh broccoli is about 90% water.
Augustin said that CSIRO had scaled up the production process over the course of the project to ensure "tonnes" of the powder could be produced commercially and become an ordinary household kitchen item.
Broccoli and carrot have been the focus of the project thus far because they produce a lot of waste vegetables – but avocados, snow peas, chick peas and apples are some of the other fresh produce the project has looked at.
A Melbourne cafe, Commonfolk, tried out the powder in coffee in a video CSIRO posted on Facebook.
We haven't tried it, but the reviewer in the video says "Yeah that's alright" before starting to gag, so make of that what you will.



This post has been updated with comments from lead researcher Mary Ann Augustin.