The Trans 16-Year-Old Who Was Allegedly Assaulted Says The Marriage Survey Has Made Her Less Safe
"Before this, things weren't as bad."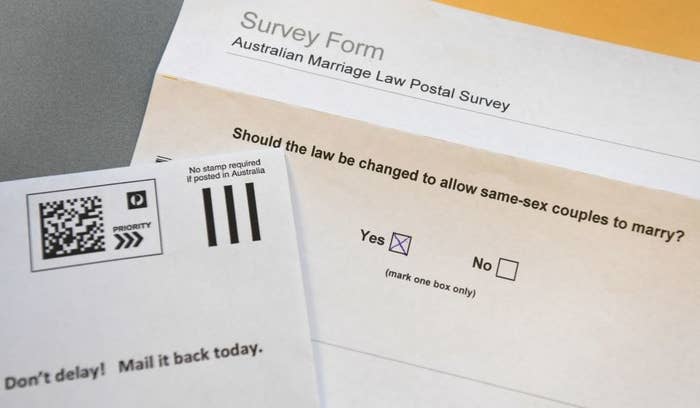 A transgender teenager who was allegedly assaulted on Friday during a heated debate about same-sex marriage says the politically charged nature of the postal survey has left her feeling less safe in her day-to-day life.

Thalia Black, a 16-year-old student from Tasmania, alleged she was assaulted after standing nearby an argument in Hobart's Elizabeth Street Mall on Friday. A 32-year-old man has been charged with common assault in relation to the incident.
Tasmania Police said in a statement that the man had been bailed to appear in Hobart Magistrates Court on October 23.
"Any violence in our community is unacceptable," the police statement said. "Tasmania is a safe place to live and Tasmania Police takes any incidents of violence seriously."
Black, who has been living in a homeless shelter for the past two months, told BuzzFeed News she had experienced significant anti-gay and anti-transgender bullying and violence from other students during high school.
She is now in Year 11 and at a senior college (Tasmania splits high school into Years 7-10 and 11-12) and is finding school easier: "College has been a lot better to me."
But Black said before the "politically charged" debate on same-sex marriage began, violence and derision from strangers on the street was not a regular part of life for her.
"Before this, things weren't as bad," she said. "There have been times where I've gone out in public in dresses, in full make-up and not had any problems whatsoever from anybody.
"And now suddenly I'm getting called a faggot just for walking down the street with a pride badge pinned on my hat."
She said there was "a lot of stigma around acting at all feminine in this country. Not even just to trans people. Gay people. Anybody who was assigned male at birth and acts in any way feminine is shunned and is treated horribly.

"I may have just been wearing a pride badge. I may have just been an ally. The stigma isn't just towards trans people or gay people, it's towards anybody who wants to express their views."