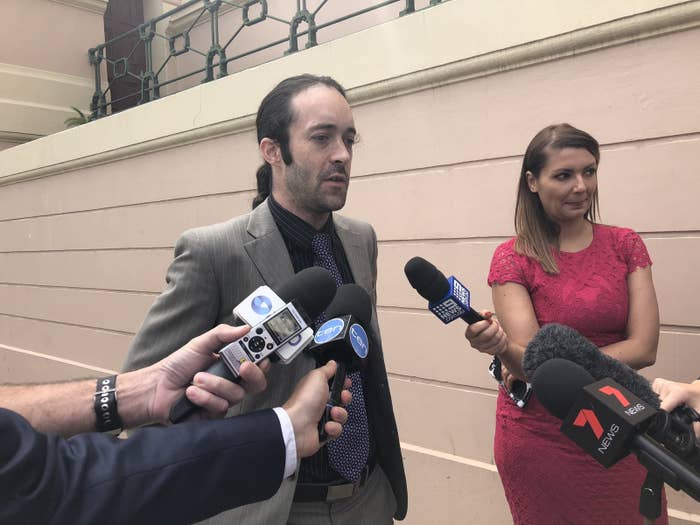 The lawyer for a Sydney man who describes himself as a "cyborg" and had the chip from a train pass implanted into his hand has argued his client is "ahead of the law" and shouldn't receive a conviction for travelling without a valid ticket.
But a local court magistrate was unconvinced by the bio-hacking argument, saying people have to comply with the law as it stands, and handed the man a conviction and a $220 fine.

Meow-Ludo Disco Gamma Meow-Meow (his real name), 33, appeared in Newtown Local Court in Sydney, on Friday morning, charged with travelling without a valid ticket and failing to produce a ticket for inspection. He pleaded guilty to the charges.
"Mr Meow-Meow is a self-identified bio-hacker," his lawyer, Nicholas Broadbent, told Magistrate Margaret Quinn.
"He describes himself occasionally as a cyborg — that is, a person who implants or has components of machinery on his person."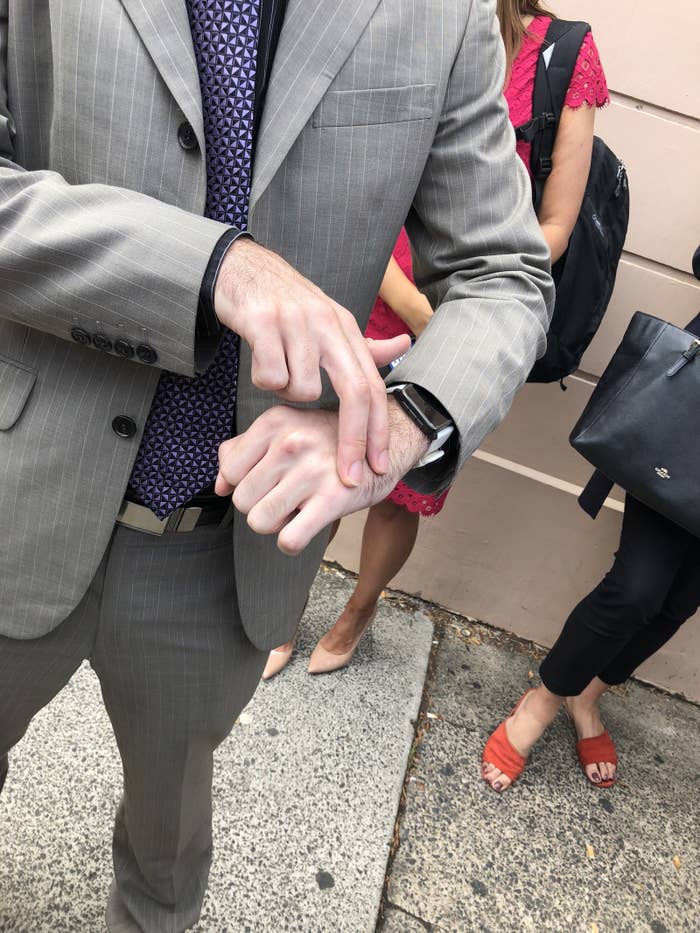 Meow-Meow had the chip from an unregistered Opal card implanted in his hand by an expert piercer in April 2017. He could simply tap on and tap off to enter and exit a train station by placing his hand up to a card reader.

But in August 2017, when he tapped on to the train with $14.07 on the card, he was stopped by transit officers and handed a fine for travelling without a valid ticket.
In court, Broadbent said that Meow-Meow had sufficient funds on the chip in his hand to get to where he was going.
"There was an intention to comply at least with the payment component of a train fare," he said.
Broadbent acknowledged that it may seem "strange" to some people to "implant in oneself the chip from an Opal card". He explained that one of the goals of bio-hacking was to reduce user interface with machines.
Meow-Meow's motive for installing the chip was to "make his life easier", Broadbent said. "Mr Meow-Meow is in effect ahead of where the law is. And as a result he fell foul of it."
Andrew Wozniak, prosecutor for Sydney Trains, told the court that holding a valid ticket means holding an Opal card as it is issued by the state government.

"Whatever was in the defendant's hand, it certainly wasn't a card," he said.
Wozniak described the law as "very simple".
The Opal card terms of use state that you must not "misuse, deface, alter, tamper with or deliberately damage or destroy the Opal Card". They also state that all Opal cards are the property of Transport NSW.
Meow-Meow's lawyers asked that no conviction be recorded, but Magistrate Quinn disagreed.
On the charge of travelling without a valid ticket, she recorded a conviction against Meow-Meow and fined him $220. On the charge of failing to produce a ticket for inspection, she ordered that no conviction be recorded.
He was also ordered to pay $1,000 in costs.
Quinn noted that Meow-Meow could not give his ticket or card to the transit officer "because as I understand it you are a bio-hacker and you had a chip that was placed in your hand".

In response to the argument that the technology was ahead of the law, she said, "I'm afraid it is often the case", but concluded anyone travelling on a train "must comply with the legislation as it stands today".
Outside court, Meow-Meow said he respected the decision but had hoped for a different outcome in what he described as a "moral case".
"This was a case where the law hasn't kept up with the technology," he said.
He said recent developments in the Opal system to tap on and off using credit cards and smartphones are not that different to the chip in his hand.
"I hope people sit down, think about where this technology is going, and make smart legislation," he said.

"I feel like this is another one of the times where legislation isn't written correctly, it ends up punishing people who aren't really doing the wrong thing."
By the end of the year, he plans to upgrade the chip in his hand to function as a credit card, so he can tap on and off at public transport and pay for other things too.
Several supporters of Meow-Meow were at the court, including a woman who wore an Anonymous mask to the hearing (but not inside the courtroom).
As Meow-Meow spoke to reporters outside, a man walking past called out: "Why would you put that in your arm, bro?" The woman in the Anonymous mask retorted: "You're discriminating against cyborgs."
Meow-Meow also unsuccessfully stood as a candidate in the New England by-election against former deputy prime minister Barnaby Joyce, who was briefly ejected from parliament when it was discovered he was dual New Zealand citizen.