Los Angeles couple Markie and Sarah have been together for six and a half years.
Markie (left) and Sarah.
For over a year, Markie had been thinking about pulling off an incredible underwater wedding proposal for Sarah, who is a marine biologist and experienced scuba diver.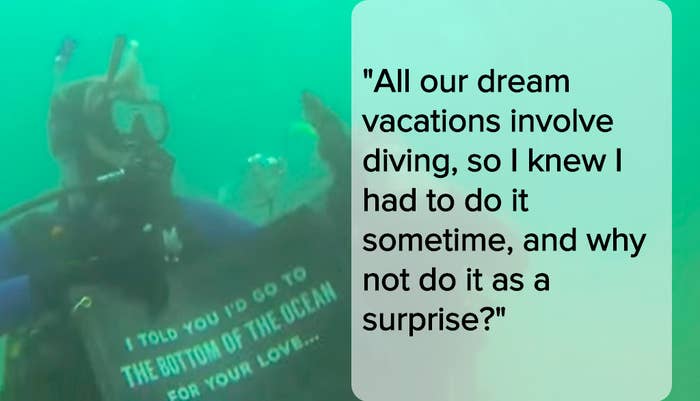 "Sarah has been scuba diving for about eight years now, and I've always been interested but never taken the time to get certified," Markie told BuzzFeed News.
Markie spent a month secretly taking scuba diving lessons so she could surprise Sarah underwater.
"I work in film, so working long hours on short notice isn't shocking," Markie said.
"I was getting up very early, going to a friend's house to get all my gear, going to classes and doing dives, then coming back to the friend's house, showering, completely drying my hair, and then putting product in so it didn't look like I'd just washed my hair, then going home."
On the big day in June this year, Markie arrived at Redondo Beach in LA County, where Sarah thought she was just going on a regular dive with her brother and some friends. She had no idea Markie was there.
Markie was feeling nervous that her elaborate plan might come unstuck.
"I was nervous that it wouldn't work out exactly as planned, but I tried to be calm and be ready for anything."
But it all went PERFECTLY. Markie found Sarah underwater, and surrounded by friends, she used printed boards to ask Sarah to marry her.
"I told you I'd go to the bottom of the ocean for your love...but right now I'm only certified to 60 feet," the signs said.
"Will you marry me?"
Sarah told BuzzFeed News that she was initially just really confused to see Markie underwater.
"It probably didn't sink in until I saw the 'Will you marry me?' sign," Sarah said.
"I was so blown away by how Markie was even underwater and how my brother and some of my best friends were also witnessing this! It was an amazing surprise.
"I am still as surprised that she can dive as I am that I am engaged!"
In classic experienced diver style, Sarah joked about safety protocol as soon as they broke the surface.
"Typically, good safety protocol means that everyone involved knows exactly what's going to happen on the dive, and my dive buddies and I pride ourselves in making sure we plan very safe dives," she said.
"This dive started out no different. But when I realized that everyone else knew exactly what was happening, and how much planning must have been involved, I was astonished.
"It wasn't in my dive plan to surface with a fiancé!"
Once they were back on solid ground, Markie went down on one knee and gave Sarah a ring.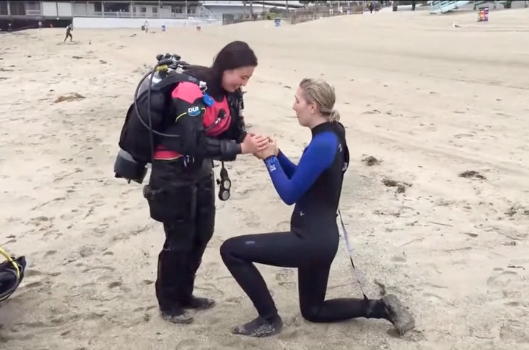 To make the day even sweeter, the U.S. Supreme Court legalised nationwide marriage equality for same-sex couples just two weeks later.
"We knew it was coming up that month, but I didn't plan the proposal around it at all," Markie said.
"It was a really special moment for us in a week that was already full of love and happiness."
The gorgeous couple plan to get married next year.