The Australian parliament has a clear majority in support of same-sex marriage in both houses for the first time in history.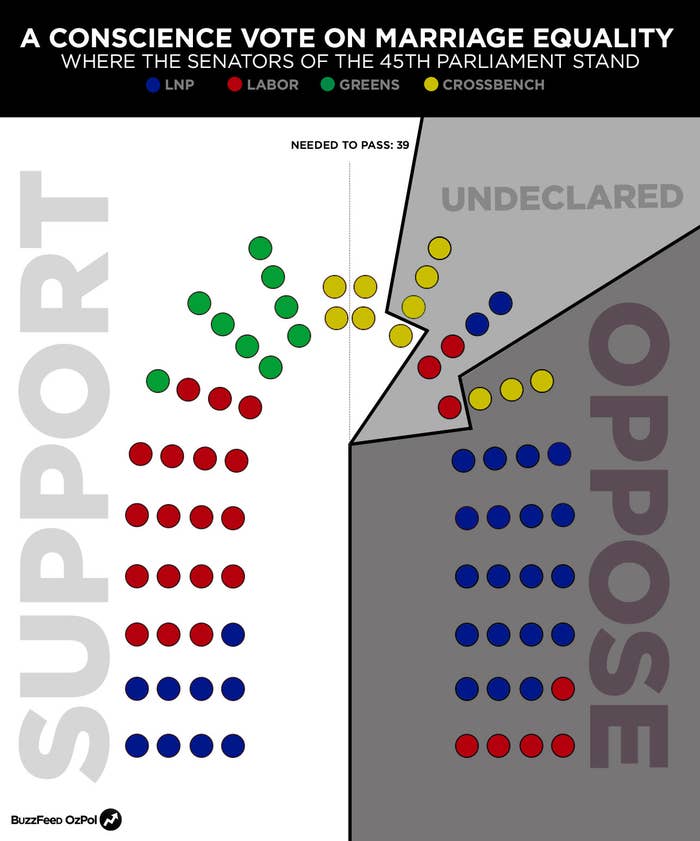 In the new senate for the incoming 45th parliament, BuzzFeed News counted 41 senators in favour of marriage equality, 27 in opposition, and eight yet to declare their views. It takes 39 votes for legislation to pass the upper house.

Of the enormous 20-senator crossbench, comprised of nine Greens and 11 others, there are 14 senators in favour of same-sex marriage.

The government is pressing on with plans to hold a national vote on the issue, with attorney general George Brandis expected to bring a proposal to cabinet in the coming weeks.
However, it is unclear whether enabling legislation for a plebiscite would pass the senate, where the government does not hold a majority.
The government is likely to gain the support of the four senators from Pauline Hanson's One Nation, along with Liberal Democrat David Leyonhjelm, and Tasmanian senator Jacqui Lambie.
Labor, the Greens, the Nick Xenophon Team and Derryn Hinch have all said a plebiscite is not their preferred mechanism for dealing with same-sex marriage, but have stopped short of saying they will vote against it.
A spokesperson for Family First senator Bob Day said he had no position on the plebiscite until he saw legislation.
A BuzzFeed News analysis of the house of representatives found 85 MPs in favour of marriage equality, 48 opposed, and 17 yet to declare their views.
The plebiscite legislation will most likely pass the house of representatives given the government's slim majority.