A New Zealand Pentecostal preacher said natural disasters are a response to "human sin", just hours before a deadly quake killed two and left thousands stranded on Monday morning.
Brian Tamaki, the head of the New Zealand fundamentalist Destiny Church, gave a sermon on Sunday morning blaming "human sin" – including homosexuality and same-sex marriage – for natural disasters such as earthquakes.
Hours later, in the early hours of Monday morning, a magnitude-7.8 earthquake struck the South Island about 95km (59 miles) from the city of Christchurch, killing two people.
The video in which he gives the sermon is pinned to the top of the Destiny Church Facebook page, with the caption: "As predicted during yesterday morning's service, the recent natural disasters are a sign that 'nature was never created to carry the bondage of our iniquity'."
"The Earth can speak," Tamaki told church followers in his sermon.
"Leviticus says that the Earth convulses under the weight of certain human sin... It spews itself up after a while: that's natural disasters. Because nature was never created to carry the bondage of our inequity," he said.
Tamaki went on to say that a "stubborn and ignorant human race" is going in the wrong direction and hurting nature.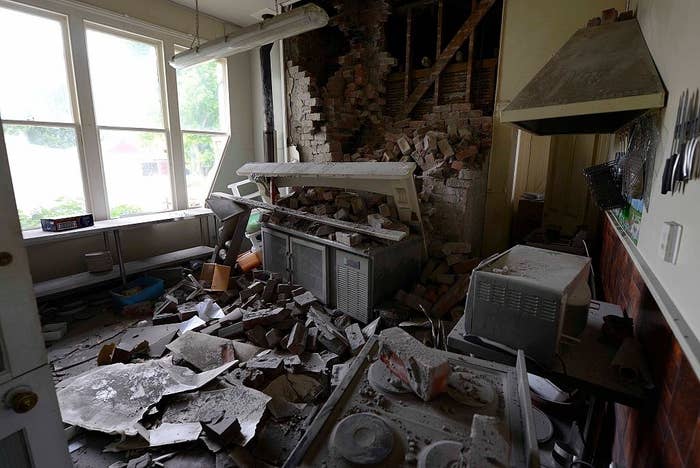 He cited the magnitude-6.3 earthquake in Christchurch that killed 185 people in February 2011.

"If next year [natural disasters] happen, you know why. Massive earthquakes have already hit in Christchurch. You could have just about predicted that one," Tamaki said.
"The churches there [have] allowed all sorts of activity you wouldn't dare to imagine. If I'm bulldozing your ignorance, good. Because there were churches there that weren't churches. They were actively involved in homosexual practice, homosexual priests."
Tamaki, a controversial figure, has previously been criticised for his opposition to homosexuality and LGBT rights. He said in 2015 that "gaypower" – growing acceptance of homosexuality – is the biggest problem currently facing the world.
Tamaki doubled down on his comments in a blog post on Wednesday, saying he warned churchgoers about the earthquakes after having an "inspired moment" before the sermon.
"Firstly my heart-felt prayers to those who have lost their lives and who have suffered trauma and loss," he wrote.
Tamaki went on to say that while some natural disasters can be explained by global warming, fracking, oil exploration and other "human causes", others are directly related to scripture.
He quoted the Book of Leviticus, arguing the 18th chapter is "God outlining the types of sexual sins that when they are practiced to a point of blatant disregard ... that the land will actually react and spew up the inhabitants."
A spokeswoman for Destiny Church told the New Zealand Herald, "In view of the terrifying events that have impacted the cities and families of New Zealand over the last few days, our heartfelt condolences go out to the victims affected by the earthquakes and floods over this last week."