This Muslim Woman Was Barred From Testifying In Court With Her Niqab On. Now She's Appealing Her Court Loss.
Sydney woman Moutia Elzahed sued the police and lost. Now she's appealing the decision on the basis she was barred from testifying due to her religious garb.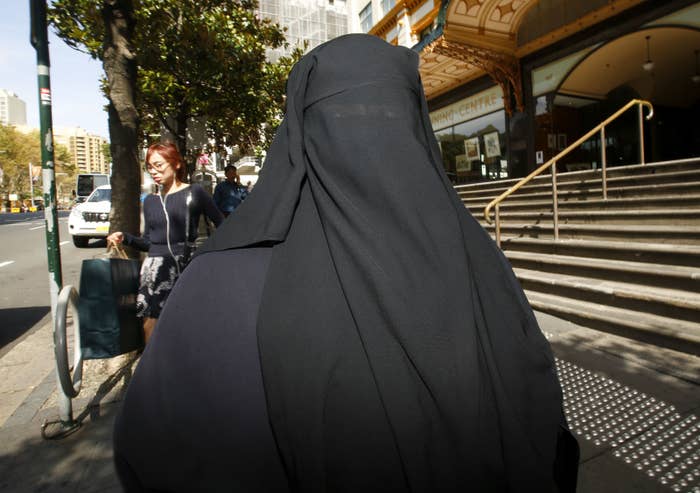 In November 2016, Muslim woman Moutia Elzahed was told she couldn't give evidence in court with her niqab on.
The case was about a police raid on her home in south-west Sydney, Australia, two years earlier, when police officers had broken open her door to execute a terrorism-related search warrant.
Elzahed, her husband Hamdi Alqudsi – who has been convicted of assisting men to travel to Syria to fight – and their two sons sued the police for damages over the raid, alleging violence and assault in the course of the search.
The family lost, and were ordered to pay $250,000 in court costs to the Australian Federal Police and the New South Wales Police.
But now, Elzahed is appealing the decision, arguing she suffered a miscarriage of justice during the trial when the judge ruled she could not testify with her face covered.
"What's at issue here was the niqab," her lawyer, Jeremy Kirk SC, told the NSW Court of Appeal on Monday, describing his client's religious garb.
He referenced a 2017 parliamentary stunt from Pauline Hanson, the leader of the right-wing anti-Islam party One Nation, in explaining how the niqab (which leaves the eyes uncovered) differs from the burqa (which covers the entire face).

"A burqa, your honours may have seen on television, that's the thing Pauline Hanson put on in the Senate," Kirk told the court.
He said that his client wears the niqab as part of her deeply held religious beliefs.
Kirk took the court through the conversation that played out in the NSW District Court in November 2016 between judge Audrey Balla and lawyers representing Elzahed and the police.
It went like this, according to Kirk: Elzahed's then-lawyer, Clive Evatt, had gone to call Elzahed to the stand, explaining that she doesn't show her face to men.
He suggested that she lift her veil to show Balla her face for identification purposes, while the men in the courtroom looked away, before letting it down again to give evidence.
But Balla was unconvinced and said "I don't know if I'm happy with that", Kirk said.
After some back and forth, Evatt told the court: "I'm instructed that she's of the Muslim religion and it's against her religion to reveal her face to men, although not to women, and therefore I'm instructed she will not remove her veil, if that's the correct expression, or whatever it is."
Balla offered two solutions: for Elzahed to give evidence via remote video link so she couldn't see the people who could see her uncovered face, or for Elzahed to give evidence in closed court with just the judge and lawyers present. Elzahed rejected both.
Then the lawyer representing the Australian Federal Police, David Staehli SC, suggested a "middle ground": that Elzahed sit, unveiled, in the courtroom behind a physical screen, visible only to Balla.
Balla ultimately ruled on November 29 that Elzahed could only give evidence with her face uncovered.
"I must balance on the one hand the need to respect the first plaintiff's religious beliefs. In this case, those beliefs mean that she may choose not to give evidence which could impact on the successful prosecution of her case," she said.
"On the other hand, I must take into account whether I would be impeded in my ability to fully assess the reliability and credibility of the evidence of the first plaintiff if I am not afforded the opportunity of being able to see her face when she gives evidence."
Elzahed never took the stand, and on December 15, Balla ruled in favour of the police.

On Monday before a panel of three judges in the Court of Appeal, Kirk was reluctant to criticise the District Court lawyers too harshly, saying he understood the context of the conversation.
"In defence, to some extent, of all of them, they were in deep and substantially uncharted waters," Kirk said.
"Is it perfect? No. It's a long, long way from perfect. It's the District Court, things can happen quickly and in a knockabout way, and that's what happened here."
But, he said, the decision from Balla about the niqab was wrong and gave "significantly insufficient consideration" to how Elzahed not giving testimony would affect her case.
Elzahed alleged in the lawsuit that two officers had assaulted her after coming into her bedroom and pulling down the doona. (Judge Balla declined to find Elzahed had been punched, handcuffed, or abused.)
"Three people were in that bedroom – two state police officers and my client," Kirk said. "It was always going to be essential to hear two sides of the story to resolve the dispute."

"Her evidence was always going to be crucial."
Kirk argued that Balla's decision effectively meant "the perfect was [allowed] to be made the enemy of the reasonably good."
He also contended that Balla had given excessive weight to the importance of Elzahed's demeanour to her evidence, and that Australian courts had previously shown flexibility with court procedures.
Through the day-long hearing on Monday, the court heard about a veritable stream of cases involving complicated court processes to hide people's faces or identities.

These included native title cases where evidence was effectively restricted by gender due to Indigenous cultural practices; officers from Australia's spy agency who gave evidence from behind screens for anonymity; and women wearing the burqa or the niqab who spoke in closed court, and, in one instance, shielded from a male lawyer behind a large umbrella.

Kirk told the court there was no formal ruling or law preventing people with a face covering from giving evidence in Australia.
"Sometimes impediments to the conduct of the trial, criminal or civil, are worth bearing in order to facilitate people coming to justice," Kirk said.
He also noted a New Zealand decision referencing a time when women were required to wear a hat and gloves to testify.
"Yes, I thought we should reintroduce that, actually," quipped Justice Margaret Beazley.
David Kell SC, acting for the state of NSW, said there were three major challenges that come with wearing a face covering during court testimony: it hampers cross examination, it stops the judge or jury from assessing credibility, and it impedes communication.
Kell said there was not a neat comparison between Australia and other countries when it comes to the right of freedom of religion.
"In this jurisdiction … there is a fundamental common law right to a fair trial. That's an overriding duty on the court to ensure there is a fair trial, whether it's a civil or criminal case. That's not the case for freedom of religion," Kell said.
He said Australian courts had "in numerous cases and numerous contexts" taken steps to "have regard to religious sensibilities and the like".
"But in contrast to countries such as Canada there is no positive right to freedom of religion," he said.
There was some disagreement over whether Staehli's suggestion that Elzahed sit behind a screen had been implicitly rejected by Balla, or not adopted because it was not actually suggested by Elzahed's lawyer at the time.
Kell said there had been no error on Balla's part.

"It would be unfair on her honour to submit, as is put, that her honour erred in failing to permit the appellant to give evidence by anther method [the screen] when the application was simply never made," he said.
The hearing concluded today, with the judgment to be delivered at a later date.