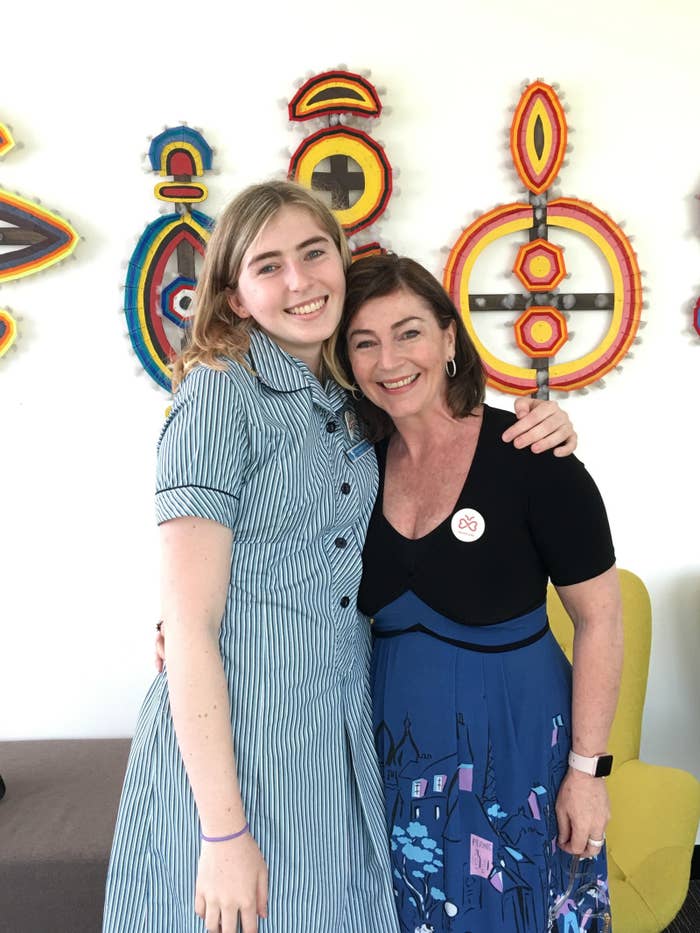 Melbourne teenager Georgie Stone is having a busy January.
Like most 17-year-olds on the cusp of their final year of high school, she has a stack of preparatory homework that is not going away. And as the Victorian finalist in the Young Australian of the Year awards, Stone is juggling the behind-the-scenes tasks that come with being nominated for the national honour.
There's a luncheon, and a Woolworths function, to attend, and a video needs to be filmed. Plus, she needs to write an acceptance speech, in case she is named as the Young Australian of the Year on January 25. She will meet the prime minister Malcolm Turnbull at a breakfast that same day, and is trying to figure out what to say to him.
Most recently she undertook media training, which she found fascinating.

"They told us what the media might want to know; how to steer away from controversy," Stone said, sitting across from her mother, Rebekah Robertson, in a mid-January interview with BuzzFeed News in a St Kilda cafe.

At 17, Stone is well on her way to becoming a media veteran. In 2014 she and Robertson appeared anonymously in a Four Corners episode. Significant interest surrounded her appearance in a 2016 episode of Australian Story, which told of how, from a very young age, she had identified as a girl, and eventually transitioned.
Through her teenage years Stone has become an advocate for her own rights, and those of other transgender youth, appearing in multiple articles and interviews.
Nonetheless, given that since 2016 there has been an ugly debate surrounding the LGBTI anti-bullying program Safe Schools Coalition, and 2017 saw transgender people targeted during the same-sex marriage postal survey, Stone appreciated the tips on dealing with reporters.
"They could be asking questions about misconceptions, or Safe Schools," Stone said.
Robertson tossed out a few examples of the potential questions that may be aimed at her daughter: "It might be alright for you to be trans, Georgie, but is it a phase for other people? Is this a trend?"
To navigate this media minefield, said Stone, is a a matter of appealing to people on two levels: common humanity, and cold hard facts.
"It's important to refer back to your own story, but to statistics as well, and the broader community and trends there," she explained. "If the question is, 'Is this just a phase?', then say, 'At the Royal Children's Hospital, for example, there have been no instances where a child has changed their mind [after going through stage two treatment]'."
"So it's just using statistics, but also acknowledging and empathising with the other side, so you don't anger them."
Frankly, it's a lot to remember.

"I've got the stats here," Stone said, gesturing to a piece of paper under her phone covered in written lines of information. "I'm going to memorise them."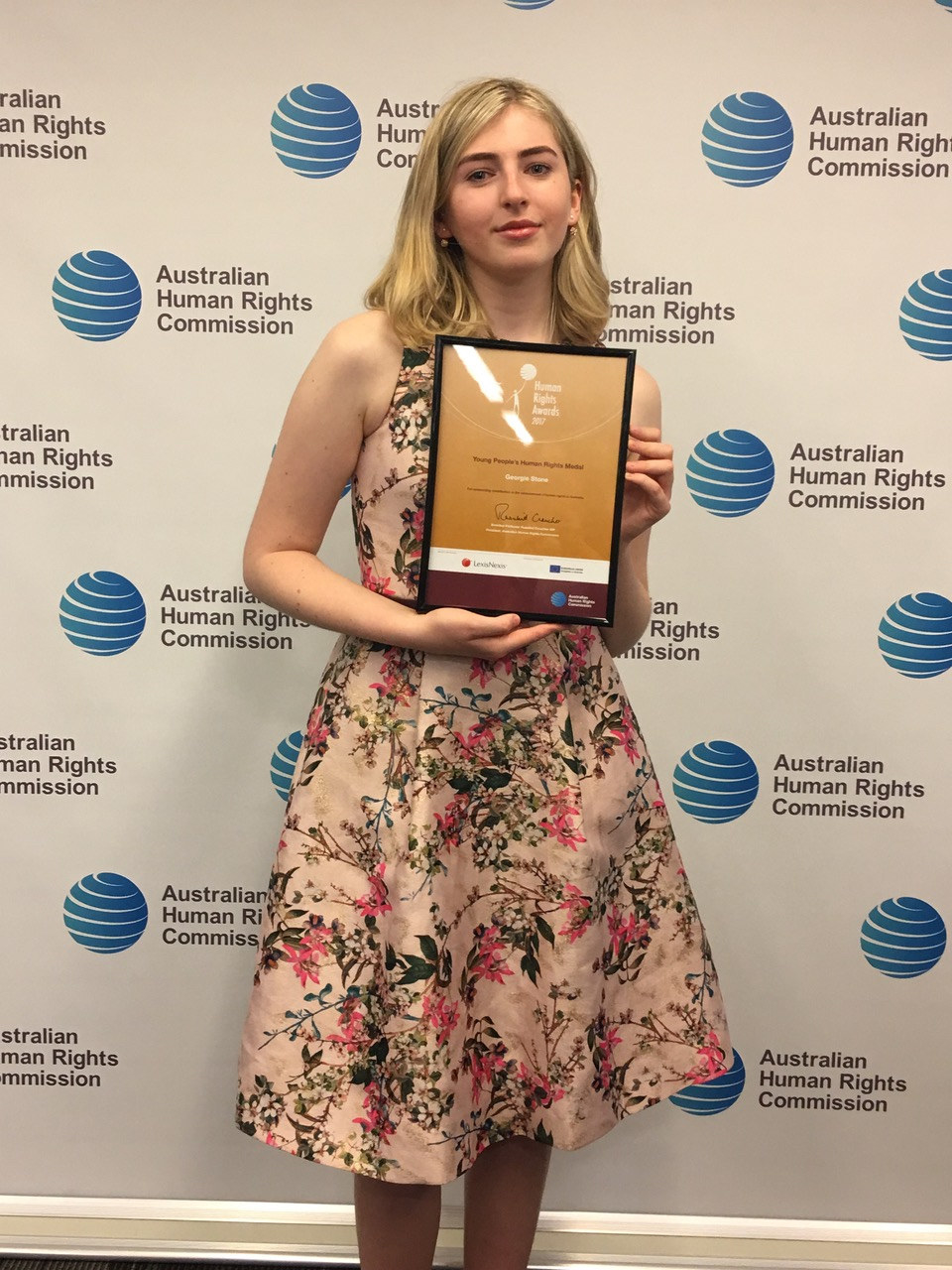 On November 30, 2017, the Family Court handed down a landmark decision that meant transgender teenagers no longer have to apply to the Family Court to undergo cross-sex hormone treatment.

Previously, Australia was the only nation in the world that required transgender teenagers to get court authorisation before they could start hormone treatment (oestrogen or testosterone), which is known as "stage two", in the process of transitioning.
For Stone, the court process was fraught. When she started to hit puberty in 2010, faster and earlier than anticipated, transgender youth also needed court authorisation for puberty blockers, or "stage one" treatment.
It was a race against time to get court approval for the blockers before Stone's voice broke, and before her body started to irreversibly change in a way that would have caused her unspeakable distress.
Stone and her family may have got the approval in time, but were shaken by the experience. In a 2013 case known as Re: Jamie, Stone's family, represented by pro bono lawyers, challenged the court requirement and won – kind of. The ruling overturned the court requirement for stage one, but not stage two.
More and more stage two cases were heard in the Family Court, and advocates – as well as judges – questioned whether they belonged there. In early 2016 Stone and a number of other transgender children and their families travelled to Canberra to plead with politicians to change the law. Stone started a petition, gathering more than 15,000 signatures from people who disagreed with sending kids to court for treatment.
But it wasn't until the November ruling, on a case brought by a transgender boy known only as "Kelvin", and his father, that the process stopped. Now, as long as the teen, their parents, and their doctors agree the treatment is in their best interests, no court authorisation is needed.
On the day of the court decision, Stone and Robertson were at the Royal Children's Hospital Melbourne, where Stone has been attending the Gender Service since she was seven. They were with another family and a group of specialists.
In the minutes before the judgement, Stone said, "It was like there was electricity in the air".
When the head of the Department of Adolescent Medicine, Dr. Michelle Telfer, walked through the door, a huge smile on her face, Stone knew they had won.

For transgender youth and their allies, the court decision triggered a sense of relief and outpouring of emotion comparable to the announcement of the "yes" vote in the same-sex marriage survey a fortnight earlier.

"It's hard to explain — it was like a weight was lifted off my shoulders, but at the same time I was winded," Stone said.

"It was odd. 'Cause it's like, after so, so much work. So many battles, so many tears, so much time. We started that process in 2010. How that was finally over for everyone. The thing that kept coming back to my mind was, this has changed everything."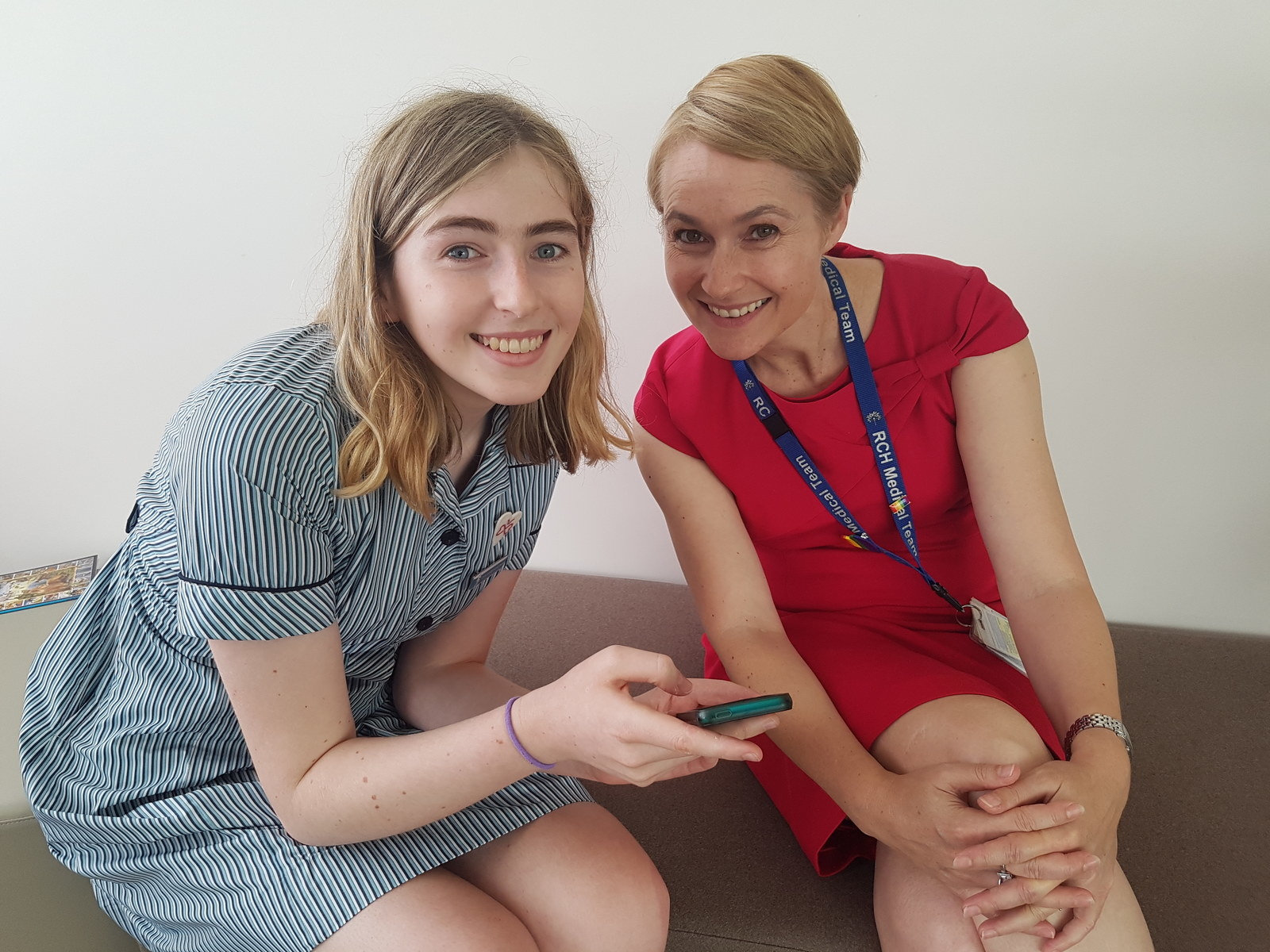 Now the court battle is over, Stone plans to focus her advocacy on fundraising. She will raise money for the Trans20 Project, an Australia-first longitudinal study of transgender and gender diverse youth, running over 20 years, conducted through the Royal Children's Hospital Melbourne.

Given the lingering doubts over transgender issues in the community – the precise reason for Stone's sheet of written facts – advocates see the collection of such data as crucial for ensuring future generations of transgender children can get the best treatment.
Stone has almost finished running the gauntlet of being a transgender teen. She and her twin brother, Harry, turn 18 in May. Stone is most excited to undergo gender affirmation surgery in July, but getting a drink at a bar with her best friend, Leah, runs a close second.
Stone acknowledges how unusual her supported path to being a transgender woman has been.

She looks me in the eye. "I am very fortunate. I am very lucky. I have a family who supported me, and I had early intervention, so I'm very, very fortunate. And a lot of kids are a lot worse off than me."
It is partly because of that support that Stone has been able to tell her story, which has spread more widely than she and her family could have imagined. According to her biography for the Young Australian of the Year nomination, several organisations have used Stone's appearances on Four Corners and Australian Story for training and education, including schools and the NSW Police Force.
Robertson said inviting people into their lives has been the best tactic, on a personal and national level.
"Especially in an environment that's so toxic towards trans and gender diverse young people," she said. "I really want to invite people in as much as possible.
"In terms of our private lives, that's what's always worked for us. Family members who have struggled with it ... it comes from not knowing and being really fearful. As with all things, when you have a personal experience of it, you can grasp it better.

"A lot of families that I know personally can feel really guilty that they're not out there trying to change the world. I always say to them, the best form of advocacy you can do is raise a healthy child who is positive about their future. Because that changes everyone around you."

Robertson closely follows prominent opponents of transgender rights in Australia. She said she wants to "bear witness" to what is being said, as well as seeing it as a responsibility as an advocate to know what is going on. Another reason, Robertson says, is that she handles the "gross stuff" so her teenage daughter does not have to.
Stone is on Twitter, Instagram and Facebook and cops the usual abuse that accompanies being an out transgender advocate. Trolls do not discriminate based on age. But, she said, it rarely bothers her.
"I don't listen to, respond to, or take in the 'opposite' side, I suppose," Stone said. "I see tweets about me that are negative, regularly. But I don't usually care, I don't respond."
There are other things to think about, including her final year of high school. Stone, who is co-captain of Elwood College for 2018, has an answer ready to every Year 12 student's most dreaded question: "So what are your plans for after school?"
Music was a professional dream for a long time. "My long term passion since I was eight has always been singing. I always wrote songs, it was a coping mechanism for me."
But now a different career is front and centre: "I've actually been thinking about journalism."
Why? After her own story has been told so many times, Stone wants to try her hand at telling other people's.
"Storytelling is the thing I love about music and songwriting," she said. "Mum and dad are both actors, they tell stories for a living. I've always grown up around stories, and journalism is another way of telling stories."
Broadcast is what she has in mind, though she likes writing too. "I just want to try it. Because I speak a lot. I talk, like, way too much."
Stone's interests are reflected in her celebrity heroes; she lists P!NK and Taylor Swift as her musical idols, and Emma Watson as the woman whose blend of acting and advocacy led her to identify as a feminist.
Like many thousands of girls across the world, Stone saw herself in Watson's portrayal of Hermione Granger in the Harry Potter series.
"The character of Hermione was someone you really related to," Robertson said. "The bookishness, being prepared, all of those things are real Georgie traits."
"Inadvertently bossy!" Stone added.

But perhaps the most significant idol in Stone's life is a journalist too: American activist and TV host Janet Mock, who came out as transgender in an article in Marie Claire in 2011.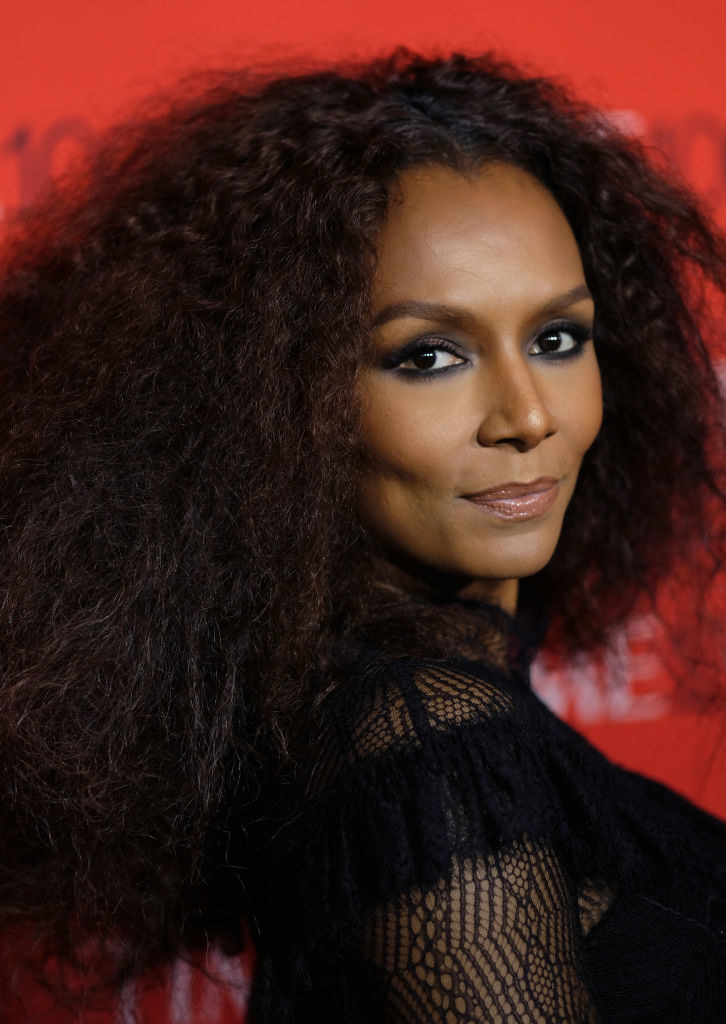 Stone was 11. The moment she first saw the picture of Mock, out and proud in the pages of a magazine, is seared into her brain.

"I remember mum showing me a picture of her and the article, and thinking, that could be me," she said. "I could get there."

Now, Stone is there. In fact, she is to many young Australians what Mock was to her: the first transgender person they could see, and in who they could see themselves.
She often gets messages from other trans kids who explain what Stone sharing her story has meant to them.
"Thank you so much for the work you do, you've made me realise I can be who I am, you've given me hope," Stone said, recalling the messages with a touch of shyness in her voice.
"Some say some really nice things like 'you're a real inspiration, you're my idol'," she said. "Often I don't know what to say back. It just really touches my heart.
"I normally say, if there's anything else they need I'm here, and thank you. And keep going, and it'll be OK."