Anti-gay flyers featuring a picture of The Joker from Batman have been found in Sydney and Adelaide.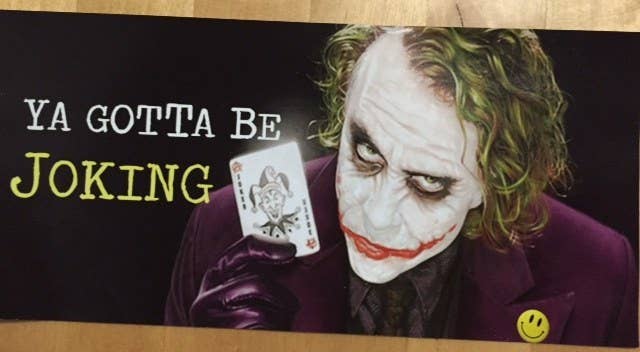 The front of the flyers show The Joker holding up a playing card, with the caption "Ya gotta be joking".
On the back, there is a list of facts about gay and lesbian health, followed by the statement "Should we be surprised?" and quotes from the Bible.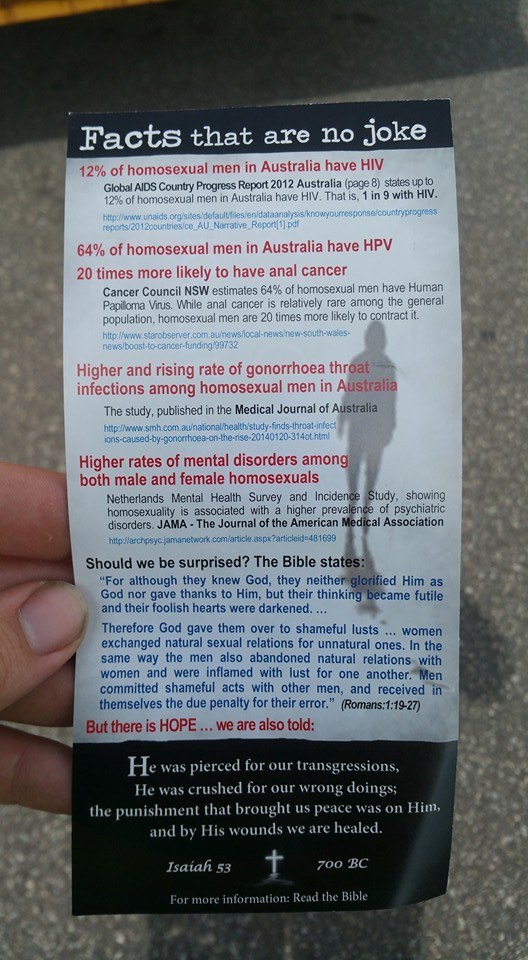 "Men committed shameful acts with other men, and received in themselves the due penalty for their error," reads one quote.

A woman from Kingsford, Sydney, told BuzzFeed News the flyers had been distributed in letterboxes in her suburb on Monday March 7, two days after the Sydney Gay and Lesbian Mardi Gras parade.
Adelaide resident Danny Riot told BuzzFeed News he had found an identical flyer at Kurralta shopping centre on March 5.
The flyers have no information about who distributed them... with only a cryptic direction to "read the Bible" for more information.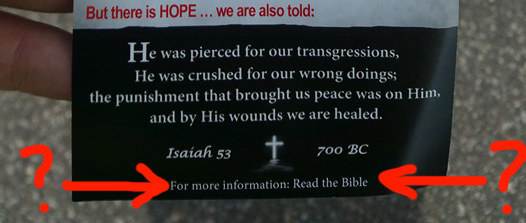 But this isn't the first time flyers like this have been handed out.
In June last year, cards with similar imagery and statistics were distributed in the Adelaide suburb of Warradale after controversy over the Marion Council's decision to fly the pride flag.
Although the design on the front of the 2015 cards features a different Joker and refers specifically to the Marion Council issue, the design of the "facts" on the back is near identical.
The area of Adelaide where the cards were handed out last year is just a few suburbs away from the Kurralta shopping centre, where the new flyer was found.
BuzzFeed News contacted Marion councillor Bruce Hull, who referred the cards to the Adelaide police in June 2015. Hull said the police had looked into it, but could find no concrete indications of who might be behind them.
BuzzFeed News also contacted several groups and political parties who have spoken out against homosexuality from a Christian viewpoint in the past, but none claimed responsibility for the flyer.

Do you know more? Email lane.sainty@buzzfeed.com.