Some Of The "No" Campaign's Claims Are Hurting Children, Leading Paediatricians Say
The kids of same-sex parents are alright – but prolonged, nasty debate over their families contributes to stress and anxiety, experts say.
When the word "NO" was sprayed across a blue Melbourne sky earlier this month, people across the city couldn't help but notice.

Some rolled their eyes and snarked on social media, while others stayed mum, quietly hurt by the latest missive in Australia's survey on same-sex marriage. Supporters of the "no" campaign felt invigorated by the gigantic declaration. Others still glanced up, ignored it, and got on with their day.
But LGBTI parents across Melbourne thought of one thing: their kids, in school, perhaps spilling out into the playground just in time to see the admonishment of their families written in the sky.
Felicity Marlowe, a Melbourne mum-of-three and the convenor of Rainbow Families Victoria told BuzzFeed News she was immediately worried when she saw the skywriting.
"It was exactly at lunchtime," she said. "Facebook just lit up with parents going, 'oh shit. I've been so careful [to keep them away from the debate]'."

After school, Marlowe asked her kids how they had felt, seeing "NO" hovering above the playground. Her son answered: "I don't understand why they're so aggressive."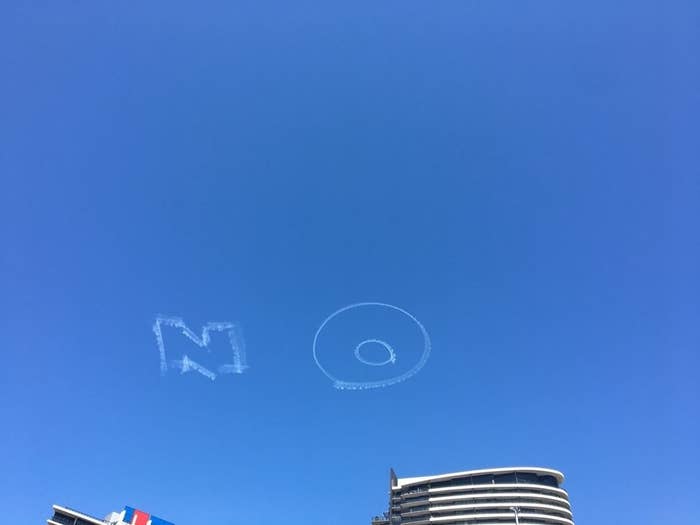 The kids of same-sex parents do just as well as those raised by heterosexual parents, but ongoing negative debate about their families contributes to stress and anxiety, leading child health experts say.
A review of evidence penned by 13 paediatricians and set to be published in the November issue of the Medical Journal of Australia concludes that three decades of peer-reviewed research shows children raised by same-sex parents do just as well "emotionally, socially, and educationally" as kids raised by heterosexuals.
In a statement accompanying the review, the authors also called on the "no" campaign to put an end to its negative statements about same-sex families.

The firm intervention – from organisations joined under the banner of Melbourne Children's, a paediatric hospital and research institute – comes as Australia enters the final weeks of its long-running survey on same-sex marriage, which has seen bitter debate, violence, and hurtful claims about LGBTI people.
Senior author Frank Oberklaid, who is the director for the Centre for Community Child Health at the Royal Children's Hospital, said there had been "emotional claims" made during the survey that are simply not backed up by research.

"This [review] is really moving beyond claims, beyond counter-claims, beyond opinion, beyond ideology to look at the research," Oberklaid said.
"And the research says pretty conclusively that no harm comes to children who are raised in same-sex families."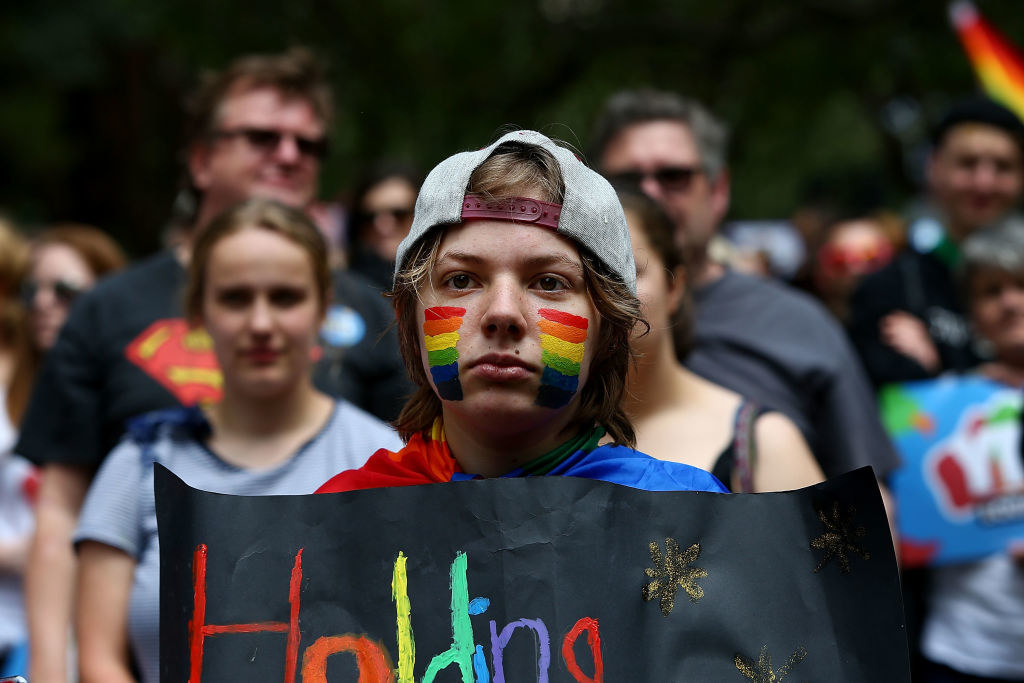 But this conclusion, which has been drawn and aired multiple times, has been repeatedly disputed by both fringe and mainstream elements of the "no" campaign.

One of the founding groups of the Coalition for Marriage, Marriage Alliance, has previously labelled same-sex parenting as akin to "child abuse", while Australian Christian Lobby leader Lyle Shelton has repeatedly likened the children of same-sex parents to a new "stolen generation", citing the Aboriginal children forcibly removed from their parents throughout the 20th century.
Similar claims have been made in anonymous posters and flyers distributed throughout the campaign.
Citing the "stolen generation" comment and others, Oberklaid said the review was prompted by concern for children's wellbeing over the potential harm caused by such statements.
"We believe we have a duty to speak up, to put into the public debate that this is not what the research says, that these comments are hurtful to children, and to please desist," he said. "Study after study after study has found the exact same conclusion. The pretty robust outcomes from these studies is that kids do fine."
Elements like the wellbeing of parents, the way parents relate to a child, and nurturing and stimulating home environments are much more important than the sexual orientation of the parents, Oberklaid said.
But, the review states, there is evidence that discrimination and stigma against LGBTI people and same-sex families erodes the wellbeing of both parents and children.
"We also found that same-sex couples who are subject to discrimination and exposure to some of this debate feel stigma, they're affected, they experience stress and anxiety, and that's not good for children," Oberklaid said.
"Inevitably, even with the best will in the world, they'll transmit that stress into their family lives, into the way they parent."

According to Oberklaid, that stress can be compounded when kids read negative things about their families in the newspaper, see it on TV, or hear it on the radio.
"We also found that children raised in same-sex parent families worry about being bullied or teased by their peers, particularly in the school environment, and as result they feel distress and guilt and a sense of shame, and this is harmful to their wellbeing and sense of self much more than the actual raising in the families."
"When countries have legalised same-sex marriage, like the Netherlands a couple of decades ago, generally the findings for parents, for how families operate, and for children are better in those countries than in countries that haven't yet legalised same-sex marriage," he added.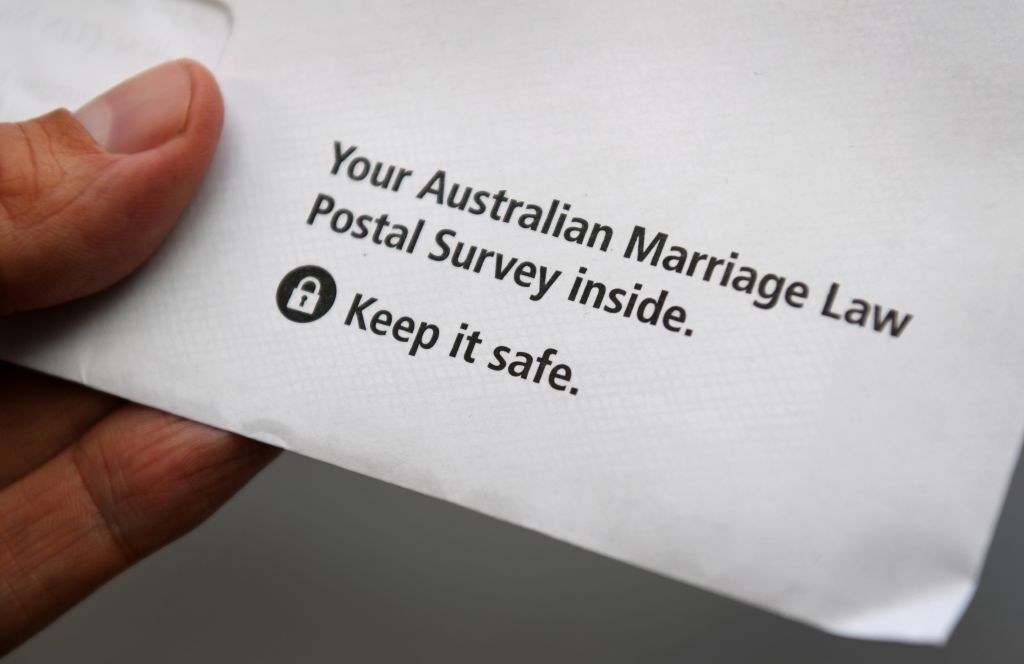 "It's not new, but it's absolutely true," Marlowe said of the review. "The research also tells us that our kids are so much more accepting of diversity and respectful of difference, and that's a really good thing."

In her travels around Victoria to speak to LGBTI families in places like Shepparton, Gippsland, Warrnambool and Ballarat, as well as in Melbourne, Marlowe has heard one message over and over from families exhausted by the debate: "It's just that it's so constant".
"It's the debate on The Project, on talkback radio, the constant media, ads on radio, ads on the telly," she said.
Marlowe added that the pressure to be a perfect same-sex family in the marriage campaign had adversely affected some LGBTI people, who face issues like relationship breakdown, family violence, and difficulty with parenting just like anyone else.
"A few people have said, I feel like I can't say I've separated from my partner three years ago, or that I'm having a hard time parenting at the moment, because it feels like I'm letting down the team," Marlowe said.
"That has been an unfortunate by-product of a campaign that has focused on love, and commitment ... Keep up a happy face, don't be angry, you'll play into how the right is talking about our families."