The Greens will vote against the marriage equality plebiscite, making it harder for the government to secure the votes they need for the controversial policy.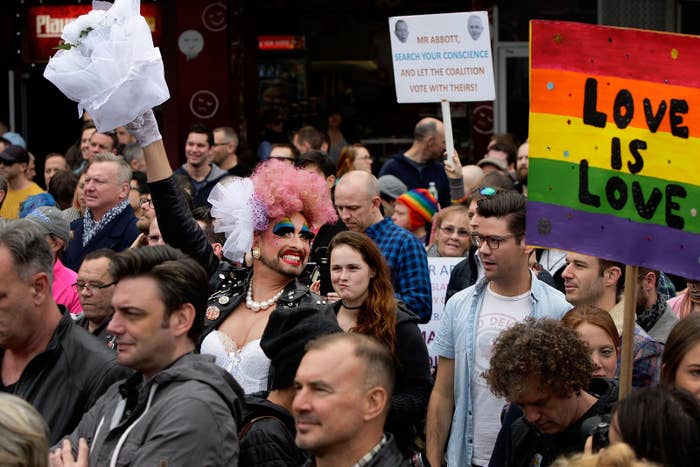 At a press conference on Friday, Greens leader Richard Di Natale and LGBT spokesperson Janet Rice announced that all nine Greens senators, as well as Adam Bandt in the lower house, would vote against the legislation.

"A plebiscite will be harmful, it'll be divisive it'll be expensive, and we should never put questions of human rights to an opinion poll," Di Natale said.
"Young people are at risk. We will most likely see young people take their lives if this plebiscite goes ahead and the hate that will come if that is unleashed."

The government currently has 37 votes for the legislation in the senate, including 30 Coalition senators, four One Nation senators, Jacqui Lambie, Liberal Democrat David Leyonhjelm and Family First's Bob Day. It needs 39 to pass it.
The Greens' decision means the government is more likely to need Labor's support to pass legislation enabling a plebiscite, something the opposition has so far resisted.
Labor leader Bill Shorten has not ruled out his party voting for the plebiscite. However, he has heavily criticised the national vote, and Labor will introduce a bill for marriage equality when parliament resumes.
Labor and the Greens would need the Nick Xenophon team on board to block the legislation.

LGBTI advocacy group Just Equal called on Labor and crossbenchers to follow the lead of the Greens and commit to voting against a plebiscite.
"A key concern of LGBTI Australians is that a plebiscite will be a platform for hate and that it will not actually lead directly to marriage equality," said spokesperson Ivan Hinton-Teoh.
Earlier this week, Nick Xenophon told the ABC that "right now, it's a no" in terms of whether his three senators would vote for the legislation.
In recent days, several Liberal MPs have remarked that if the plebiscite does not pass the parliament, marriage equality will be off the agenda for the current term of parliament.