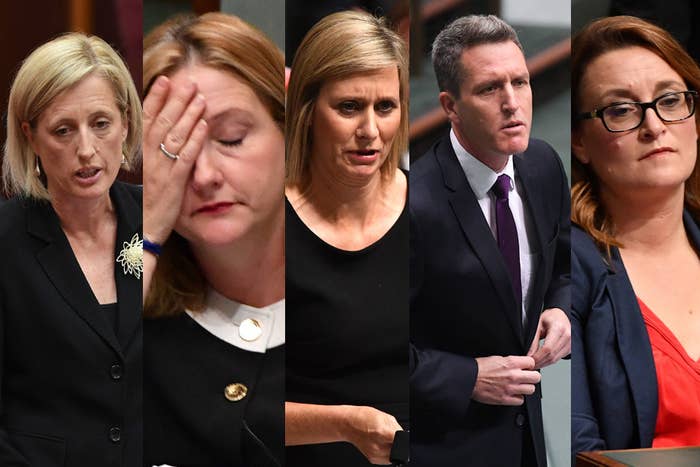 Four politicians have announced they will resign from parliament and recontest their seats following a High Court decision on citizenship on Wednesday morning that saw Labor senator Katy Gallagher ejected from the parliament.
The highly anticipated ruling prompted four lower house MPs – Labor's Justine Keay, Josh Wilson and Susan Lamb, and Centre Alliance MP Rebekha Sharkie – to resign.
And now Australians face five by-elections in the near future, for the four lower house MPs, and also to replace the former member for Perth Tim Hammond, who recently resigned to spend more time with his family.
The mass resignation is the latest development in Australia's ongoing political citizenship saga, and a nightmare for the Labor party, which in one day went from losing one MP over dual citizenship (David Feeney in January) to five.
Fifteen politicians in total have now had to leave the parliament or resign and re-run since the scandal began with the shock resignation of former Greens senator Scott Ludlam in July 2017.
All five MPs gone from the parliament on Tuesday held joint citizenship on the nomination date for the 2016 election and didn't receive confirmation until after the crucial date had passed, except for Lamb, whose application to renounce her citizenship was rejected altogether.
Sharkie announced her decision to resign at a press conference on Wednesday, hours after the decision was handed down.
"The High Court ruling in Gallagher, I believe, is quite clear. Consequently, I will resign from the Australian Parliament today and seek re-election at the forthcoming by-election, which I believe the earliest can be the 16th of June and I would hope it would be that date," she said.
She apologised to the people of Mayo for the inconvenience of a by-election.
Her press conference was immediately followed with Justine Keay, Josh Wilson and Susan Lamb standing up in the House of Representatives to resign.
Keay described the citizenship drama as a "character building experience".
"I want to make it very clear to every member of my community and every member of this House that I am not done working and fighting on behalf of those who sent me here," she said.
"The people in my community deserve somebody who cares about them, respects them, and listens to them."
Wilson said under the new interpretation anyone with dual British citizenship must have renounced before the close of nominations. But he says that wasn't possible in his case, as he wasn't preselected as Labor's candidate for Fremantle until the day before nominations.
Wilson said he hasn't served a single day in the Australian parliament as anything other than an Australian citizen.
Lamb told the parliament in February that she was unable to obtain her parents' marriage certificate, which she needed to renounce her citizenship, because she is estranged from her mother.
"I am putting the government on notice that while ultimately this decision will be in the hands of the amazing people of Longman, I intend to be back," she said. "I am not done."
The resignations will take effect on Friday.
Labor previously argued that their MPs had taken all reasonable steps to get rid of their joint citizenship and would therefore be eligible under an exception to the now well-known Section 44 of the Constitution.

But the High Court said that the exception of taking all reasonable steps to renounce citizenship only applies when the foreign country in question makes it impossible, or practically impossible, to renounce.
Labor leader Bill Shorten defended his previous statements that Labor would not have citizenship issues due to its solid vetting processes and said the party had acted in "good faith".
"We followed the legal advice we have been given. Legal experts said this decision surprised them," he said.
Shorten said the High Court has now set a new, stricter, test for citizenship requirements, while attorney-general Christian Porter disagreed, saying it was instead a "crisp and crystal clear clarification" of the law.
Shorten said Susan Lamb had not yet renounced her citizenship yet and he didn't know if she had the necessary documentation, but that he was confident she would be eligible to run by the nomination date for the by-election (which is not yet known).
Prior to today's mass exodus, 10 politicians had left the parliament over their citizenship.
In the House of Representatives, deputy prime minister Barnaby Joyce was unseated after a High Court decision and Liberal MP John Alexander resigned. Both won back their seats – New England and Bennelong respectively – in by-elections.
Feeney also stepped down from the parliament after being unable to locate proof that he had renounced his British citizenship. He did not run again, but Labor held onto the seat with Ged Kearney who won the Batman by-election in March.
Seven senators also resigned or were ejected from the parliament over their dual citizenship: Scott Ludlam (Greens), Larissa Waters (Greens), Fiona Nash (National), Malcolm Roberts (One Nation), Stephen Parry (Liberal), Jacqui Lambie (Jacqui Lambie Network) and Skye Kakoschke-Moore (then Nick Xenophon Team).