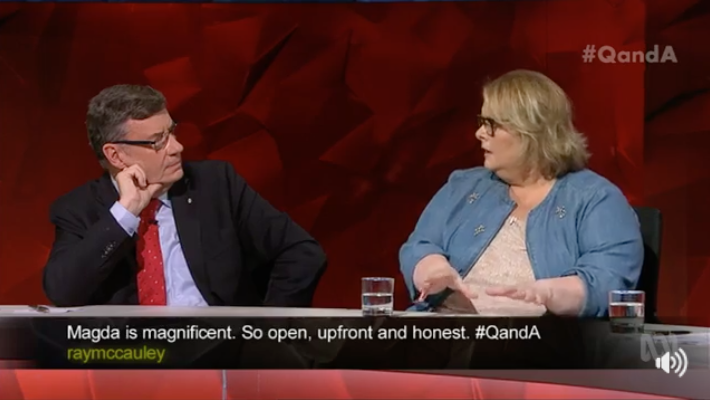 Australian actor Magda Szubanksi says although she accepts the Catholic Church will never marry her because she is gay, she doesn't understand why religious beliefs about marriage continue to influence civil law.

Szubanksi, who is best known for creating and playing the beloved Sharon Strzelecki in Kath & Kim, appeared on an episode of ABC's Q&A program devoted to same-sex marriage on Monday night, alongside Anglican archbishop of Sydney Glenn Davies, Catholic priest Frank Brennan, and "no" campaigner and Liberal Party vice president Karina Okotel.
In an emotional speech, Szubanski told Davies of her mother's funeral, saying she is "less of an atheist than people would think".
"I accept that the church will never marry me," she said. "That grieves me in ways you will never know. I'm the one in my family, when I buried my parents I organised every detail of the masses. I wrote the orders of service. I put the pall over my mother's coffin.
"Now I accept the Catholic Church will never marry me but you won't even let me marry outside the church.
"Fair enough, in your domain, you do what you like. We live in a 'live and let live' society. I don't want to tell anyone else what to do. Why should you have the right to tell me or any other person, straight or gay, what they do in the civil domain? That's not your domain."
Asked for a response, Davies said he wasn't telling anyone what to believe. "I wouldn't tell you that either, OK? That's not my job."
Szubanski retorted: "You paid a million dollars to fund the 'no' campaign. And not out of your personal money either."
Davies: "No, it was out of our personal money."

Szubanski: "Your wages?"

Davies: "No, it comes out of–"

Szubanski: "The coffers?"

Davies: "No, it doesn't come out of donations."

Tony Jones: "Just a quick question — was that donation tax deductible?"

Davies: "No, it comes out of our investment [fund]. You put your money where your mouth is. We believe in marriage."
Prior to Szubanski's speech, the religious leaders on the panel had disagreed about whether a Christian view of marriage should apply to all Australians.

"I believe Magda cannot have a sacramental marriage in the Catholic Church," Brennan, who voted "yes", said. "But equally, I as a human rights lawyer, believe that she can have a civil marriage in Australia and I actually think God would be happy with that."
Brennan added that he did not think Jesus or God would want to impose a Christian view of marriage on those who are not Christian, and that the civil law should treat all relationships equally.
Davies said that as a follower of Jesus, he is "bound, and I delight, in telling people about him and helping people to understand God's good design for marriage is actually for all people".
"It's not just for Christians, like a sacramental marriage might be in their tradition, but rather, marriage is God's design for all people because they are image bearers of God," he said. "In that regard, I want to propose that to the Australian nation. I do not want to coerce. That's not my job."
Much of the debate in the rest of the show centred on children, off the back of a new research review of existing evidence showing that children of same-sex parents fare just as well as children raised by heterosexuals.