Australia's national broadsheet has discovered the existence of a taxpayer funded teaching guide aimed at addressing bullying of LGBTI students in public schools – and it's not happy.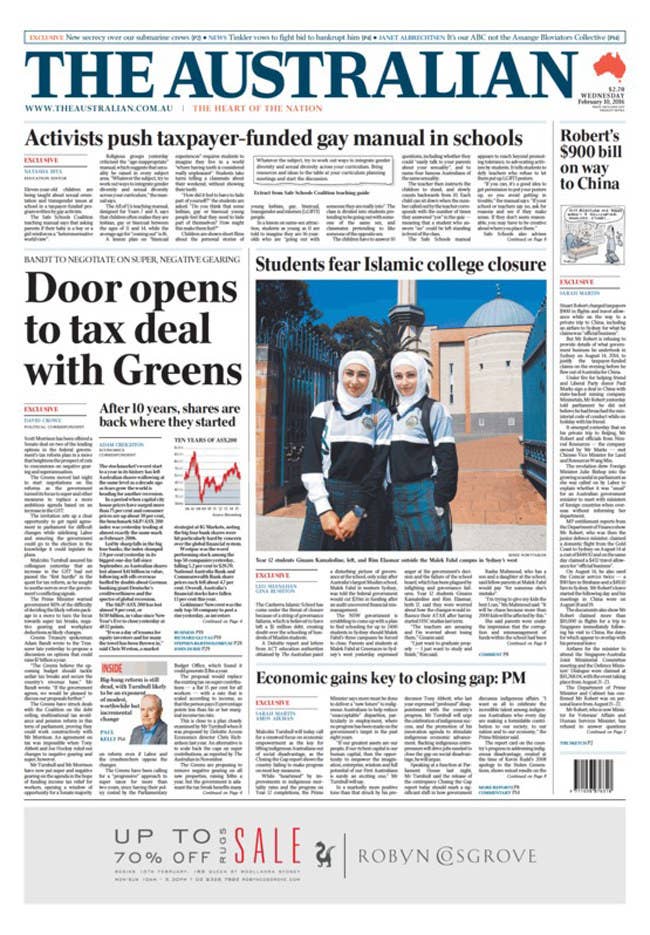 An article titled "Activists push taxpayer-funded gay manual in schools" was splashed across the front of Wednesday's newspaper – complete with an exclusive stamp.

Sounds big, right? But the article in question details a teaching guide released in November that is publicly available online and part of an ongoing program – the Safe Schools Coalition – that enjoys bispartisan support.
And the new editor of The Australian is Paul Whittaker – the same man who, as editor of the Daily Telegraph, launched a campaign against Gayby Baby, a documentary portraying the reality of living in a same-sex family.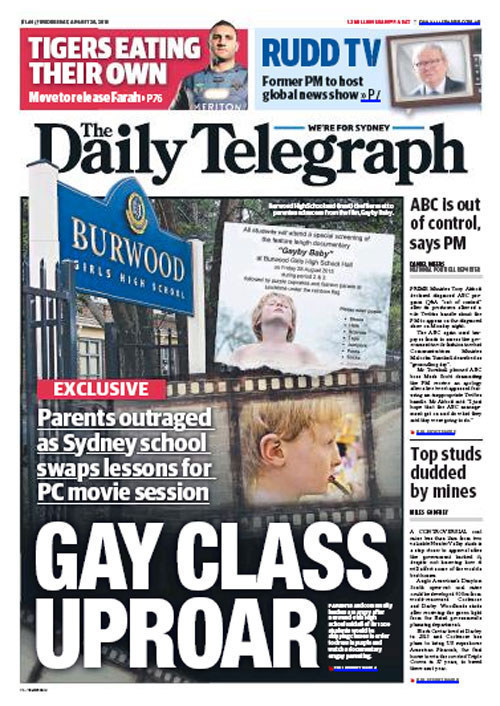 So, with all that in mind, you may have some questions about Safe Schools, and the reaction to it.

Is "gay manual" really an accurate characterisation of All of Us, one of the government's Safe Schools Coalition resources?
First things first: Safe Schools resources don't encourage kids to be gay. This is because you actually can't convince someone who isn't gay to be gay – in the same way you can't convert a gay person to being straight.
But even going beyond the inevitable lack of nuance when it comes to headline writing, All Of Us is a teaching manual. It's publicly available for download, and contains eight lessons focused on different young LGBTI people, asking students to consider the issues through the lens of these young people and their lives.
Yes, these lessons explicitly imply that LGBTI people exist and ought to be treated with respect. And they do encourage students to bring LGBTI topics into the classroom for discussion – where such issues have long been ignored or treated with disdain.
For instance, it's suggested that students consider sexuality and gender in their music or art assignments, while another lesson encourages students to put themselves in the shoes of a young LGBTI person and consider what it might be like to have to hide a huge part of your life.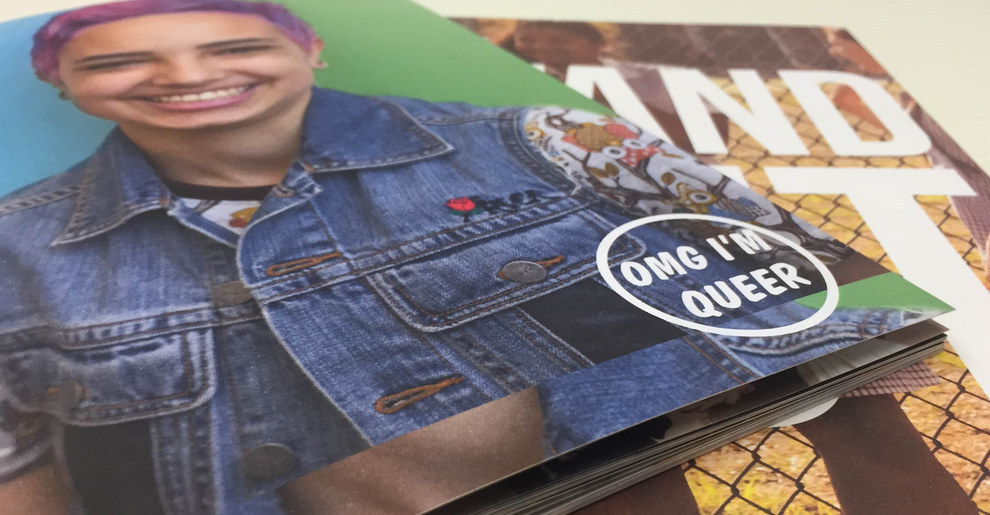 As BuzzFeed News reported last year, Safe Schools can be an invaluable tool for a young person trying to figure out their place in the world.
"I really wish someone had used the word transgender, or gender diverse, or any of those words when I was at school," one participant said. "What I've seen now is that a lot of young people are aware of these terms, they're able to be out at school."

Is it really just "activists" who support the program?
If you have an exceptionally broad view of activism – one that includes the federal department of education, for instance – then sure. But otherwise, probably not.
The program is supported by education minister Simon Birmingham, and was supported by Christopher Pyne before him. It enjoys the strong support of the Labor opposition too, along with the Greens.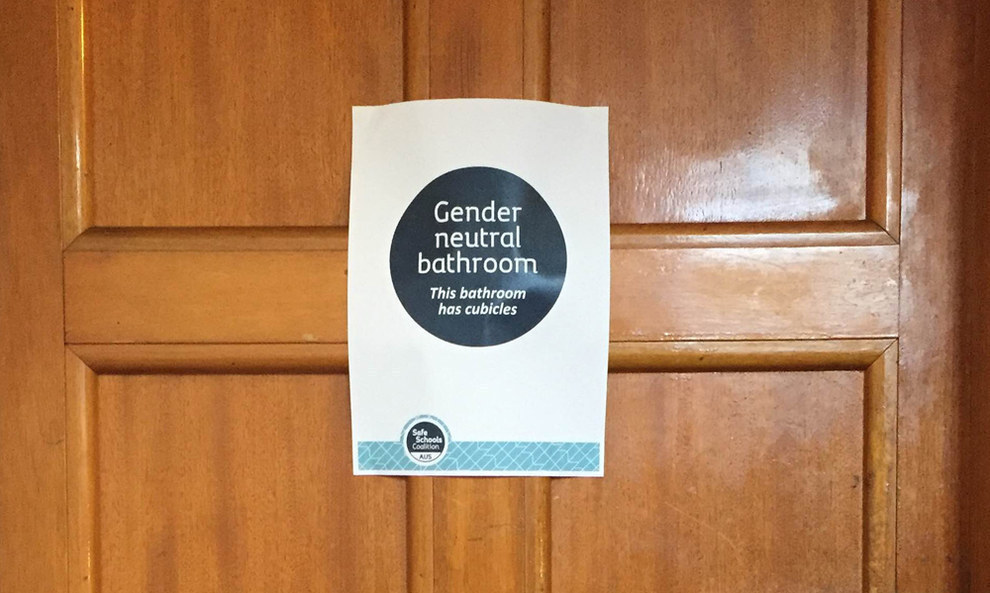 Peak Australian mental health bodies Beyond Blue and Headspace also advocate for the program, as does the Australian Secondary Principal's Association. Australian Human Rights Commissioner Tim Wilson has also lent his support to the program.
Today's article in The Australian quotes one dissenting voice, Wendy Francis from the Australian Christian Lobby, who has long been on the record advocating against the program.
And does the Safe Schools Coalition advocate activism?
"The Safe Schools manual appears to reach beyond promoting tolerance, to advocating activism by students," reads the article in The Australian.

But the only example given of the "activism" students are encouraged to take part in in their schools is to put up posters. And even then, the advice is measured. If the schools don't allow students to put up the posters, they are asked to question why, and assess for themselves whether the reasons given are "reasonable".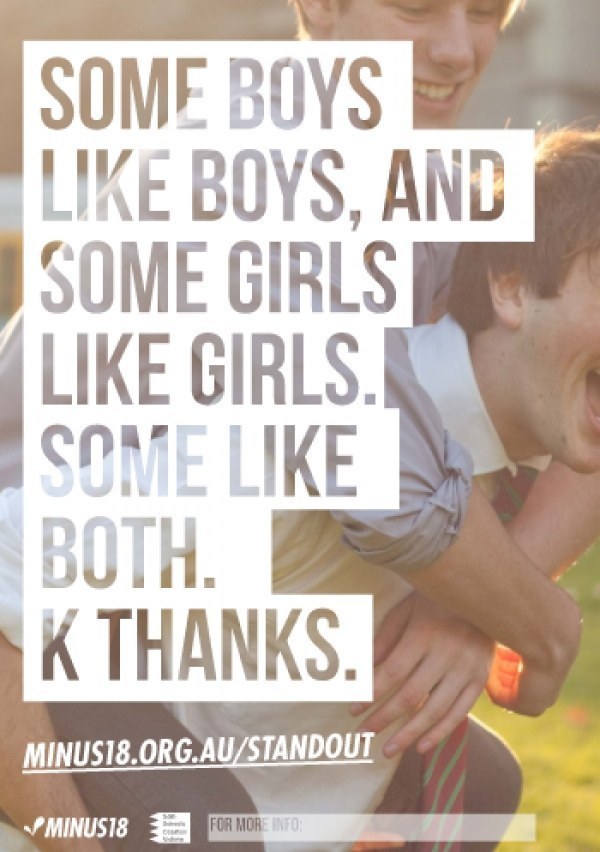 The first unit guide in All Of Us makes it clear everyone's ideas should be respected.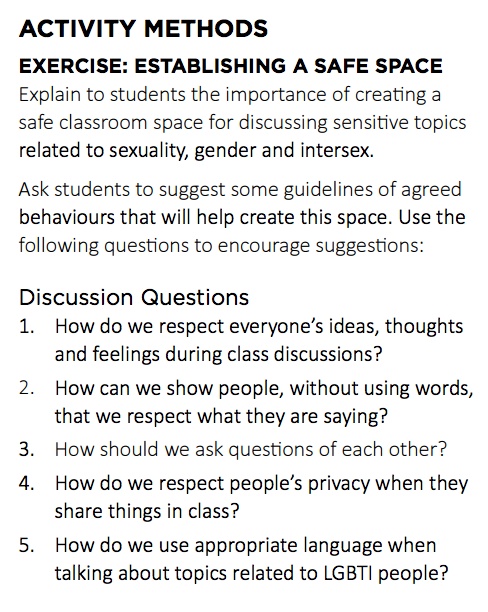 And despite the "exclusive" tag, religious groups have been criticising the Safe Schools Coalition for some time – with plenty of reporting around it, too.
The launch of the teaching guide was comprehensively covered by Fairfax. And it's hardly new that the Australian Christian Lobby opposes the Safe Schools Coalition. Last year alone they called for the program to be defunded, ran a campaign against a resource that wasn't actually part of the program, and issued countless press releases railing against the program.
Here's a little definition of "exclusive" from the Macquarie dictionary: "a story which is in the possession of only one newspaper, television or radio station".