The Guy Who Runs Liberal Anti Same-Sex Marriage Website Is Suspended From The Party
"I don't think it affects anything."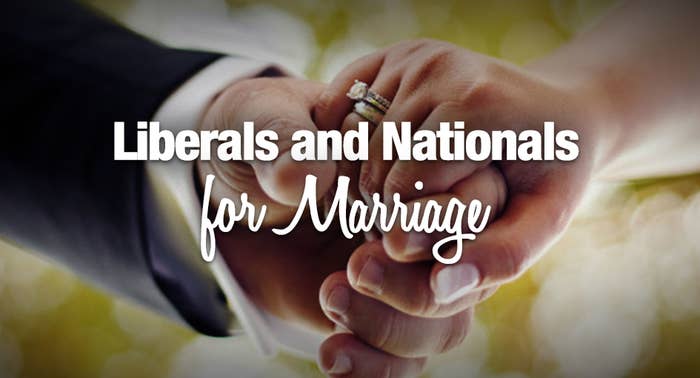 The Liberals and Nationals for Marriage campaign is run by a former Liberal National Party (LNP) Senate candidate who is currently suspended from the party for criticising prime minister Malcolm Turnbull on Facebook.

The Liberals and Nationals for Marriage website and Facebook page, urging party supporters to vote "no" in Australia's postal survey on same-sex marriage, was started earlier this week by married couple David and Belinda Goodwin.
The Courier Mail reported in July that Mr Goodwin had been formally suspended for one year in May after calling for Turnbull to be dumped and replaced with deputy prime minister Barnaby Joyce in a post on his private Facebook page.

Goodwin, who was fourth on the LNP Queensland Senate ticket at the 2013 federal election, said he doesn't think it matters that a suspended member is running a campaign on behalf of his party.
"I don't think it affects anything," he told BuzzFeed News. "I'm a grassroots guy, I'm a member of the party, I may have a suspended status around certain things.
"My wife's a full member, not suspended."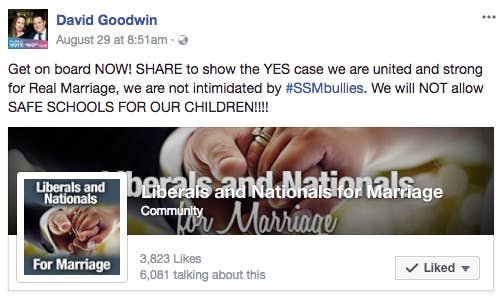 Belinda Goodwin, a doctor, is listed as the person authorising the website. Goodwin said the couple started the page after seeing the Liberals and Nationals for Yes Facebook page.

David Goodwin pointed to the success of their page, which first posted on August 28, as opposed to the Liberals and Nationals for Yes page, which launched on August 14.

"They're up to 1700 likes — we're at 3900, well and truly more than double," he said. "I expected it to go pretty quick, but I didn't really expect that as the outcome.
"You'll see there's quite a few MPs starting to put their endorsements on the page."

Since its launch, the Liberals and Nationals for Marriage page has been shared by several prominent conservatives, including former prime minister Tony Abbott and former ministers Kevin Andrews and Eric Abetz.
There is also strong contingent of Liberals and Nationals supporting the "yes" vote.

Prime minister Malcolm Turnbull will be voting "yes", along with Liberal party president Nick Greiner and the two Liberal premiers, Gladys Berejiklian (NSW) and Will Hodgman (Tasmania).
Several ministers have been vocal in their support of same-sex marriage and intend to vote yes, including Christopher Pyne, Simon Birmingham, Kelly O'Dwyer and Greg Hunt.
Andrew Bragg, who was previously the acting director of the Liberal Party and is now running Liberals and Nationals for Yes, told BuzzFeed News its focus was to put forward the conservative and liberal arguments for same-sex marriage.
"Because the conservative argument has barely been unpacked, few people could pinpoint the arguments," he said. "Our job is to do that now, respectfully and constructively."

Bragg added that there were "red herrings galore" in the debate and that his campaign would "stick to the question".
"At the end of the day, there are millions of Australians who vote for the Coalition. The majority have indicated they'll vote yes, and our job is to ensure they have all the information."
David Goodwin declined to discuss the specifics of the Facebook post that led to his suspension, but told BuzzFeed News he backs the prime minister when it comes to the postal survey.

"Honest truth — in the past, I've been critical of the prime minister but I have to say, on this one, I'm remarkably impressed with him because he has stood up to any number of bullies who have said, 'don't do a plebiscite'.
"He's stared down the bullies and the naysayers and taken it to the people, and you've got to give credit where credit's due."