An Aboriginal Man Who Sued Channel Seven Says They Should "Apologise Properly" Over A Controversial Panel
One of the men who sued was unimpressed, calling on the network to "apologise properly" over footage that left him angry and sleepless.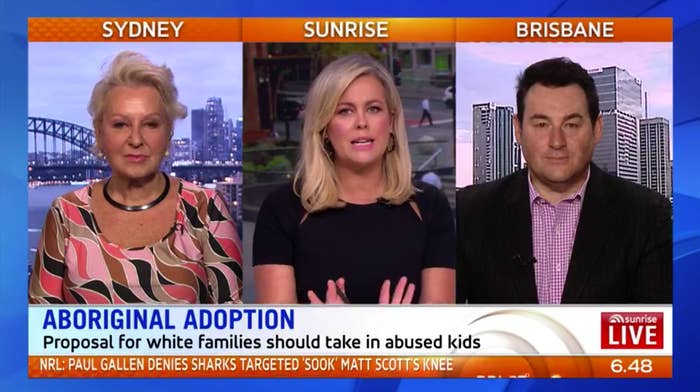 The infamous breakfast television panel about adopting Indigenous kids broadcast on Sunrise in March 2018 has now sparked protests, a media watchdog smackdown, a racial discrimination complaint, an Alaskan rock band boycott, and a defamation case. It is, in a not insignificant achievement, the longest entry under "Controversies" on Sunrise's Wikipedia page.

And at 6.45am on Thursday, Channel Seven apologised. Not, strictly, for the discussion itself — which included a call for a second Stolen Generation — but for playing blurred overlay footage of Aboriginal people from a remote community as white commentators talked about child abuse.
The apology is not unprompted. It comes after nine adults and six children from Yirrkala in the Northern Territory sued Seven, saying they had been recognisable in that footage, and defamed by it. The case settled in December 2019 with Seven paying the group an undisclosed sum.
The 40-second apology aired directly after a commercial break. An unidentified voice read out text, as it appeared on the screen over a painting.

"The Yirrkala community and those Yolngu families had nothing to do with the story. And they have nothing to do with the alleged child abuse and neglect. They do not support any of the comments made in the story," it said.

"Channel Seven apologises to the Yirrkala community, and especially the Yolngu people shown in the story and their families for the hurt and distress that the misuse of this footage has caused them."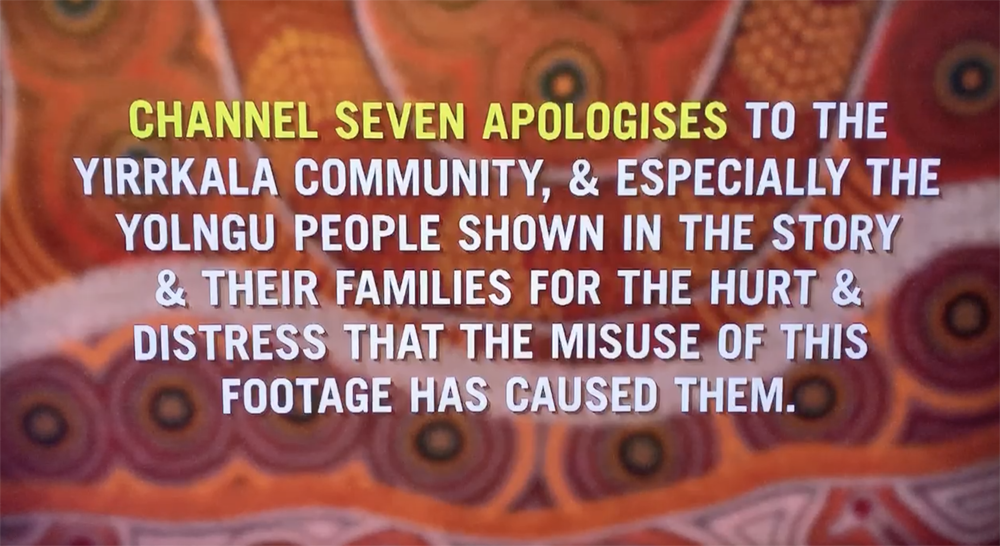 Steven Maymuru, a 60-year-old Yolngu man who was part of the Yirrkala group who sued, told BuzzFeed News he was unimpressed with the delivery.

"The person who was reading the news about us ... was [Sunrise co-host] Samantha Armytage. Either she or David [Koch] should have apologised in person. Waited until everyone else had woken up, you know? Instead of that early, when we were still asleep," he said.

"I just want to ask them to apologise properly, that's all. Instead of subtitles. We speak. We went to school to learn English, to speak English. We want them to properly address the apology."
Maymuru was deeply distressed after he was first shown the footage.

"It hurt. It really, really hurt me. I couldn't sleep that night," he said.

"I had my grandson on my lap. He was playing with my control, I have a motorised chair. He was playing with the knob, you know? And they saw that like I've been abusing my grandson. I don't do that to kids."
The panel on March 13, 2018, which aired at 6.48am as part of a segment called Hot Topics, canvassed whether white families should be able to adopt Indigenous kids, and was based on the incorrect premise that they cannot.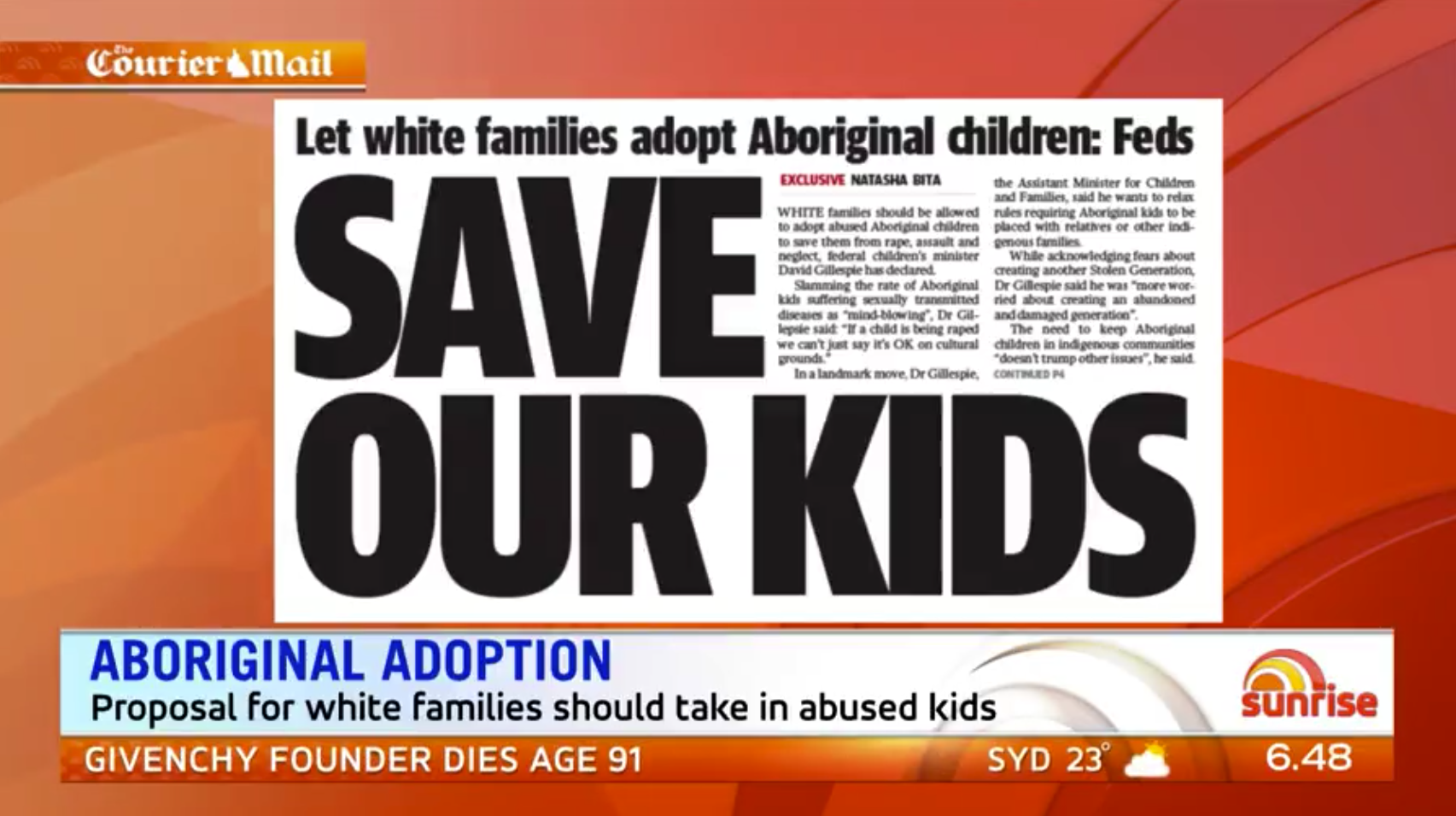 The comments made over the top of the image of Maymuru and others included this from commentator Prue MacSween: "Please, don't worry about the people who decry and hand-wring and say this will be another Stolen Generation. Just like the first Stolen Generation where a lot of children were taken because it was for their wellbeing, we need to do it again, perhaps."

And this from journalist Ben Davis: "We need to be protecting kids, we need to be protecting Aboriginal kids, and putting them back into that culture… what culture are they growing up and seeing? Well, they're getting abused, they're getting hurt and they're getting damaged."
Armytage ended the segment with, "Let's hope some sense prevails there. Poor kids."
Maymuru, who is from Yirrkala but now lives in Darwin, said the footage was initially filmed as a health promotion by Indigenous charity One Disease, and aired by Channel Seven without the consent of the Aboriginal people who agreed to be filmed and share their stories.

"From there, from asking us about how we got [the diseases], they change it around and started talking about abusing kids. Which is very bad," he said. "But they tried to hide that footage, they made it blurred. Blurry, but I could recognise every one of them."
In the months before the defamation case settled, Seven had unsuccessfully attempted to strike it out entirely, arguing that the Aboriginal people in the footage couldn't be identified, and, in the case of the children, that it wasn't defamatory to identify someone as a victim of abuse, anyway.
As well as the apology, the Yolngu group has each received an undisclosed sum from Seven, with money for the six children to be held in trust until they turn 18.
Following the significant protests triggered by the panel in March 2018 outside the Sunrise studio in Sydney's Martin Place — which the show hid with a fake backdrop — the network organised a panel of Indigenous people to discuss the issue.

"We're responding to calls by the Aboriginal community to look at the issue with the experts," David Koch said, introducing the segment.
Maymuru said it was important that commercial TV stations had Indigenous people on to discuss such issues in future.

"Because these things happen to all of Australia, not just in Aboriginal communities, it's in white society too. It's happening all over the place," he said. "They just straight away point the finger at the Indigenous people."
Seven declined to comment.