Update: Brendan Byron, an editor at UNSW student paper Tharunka, has been suspended while an investigation into his conduct takes place. Byron has admitted to deleting past articles critical of him and his political faction from Tharunka's website.
BuzzFeed News has obtained a statement from UNSW student organisation 'Arc', which publishes Tharunka, announcing Byron's suspension. It is signed by Chair of the Board Ben Heenan and CEO Brad Hannagan.
"Arc has been informed a number of previous Tharunka articles have been removed from the Tharuka website by a current editor of the publication," the statement reads.
"No editor has the authority to alter or remove previously published Tharunka articles."
"Arc is investivating whether this editor has breached Arc policy... the Editor has been suspended from his role as Tharunka Editor until such time as Arc completes its investigations."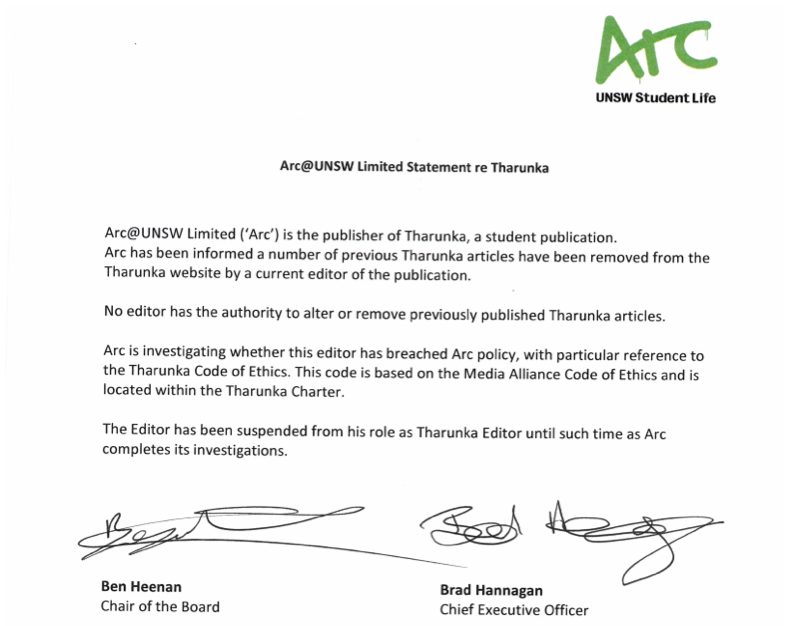 Student journalists across Australia have signed an open letter in protest against the actions of an editor from the University of New South Wales student paper, Tharunka.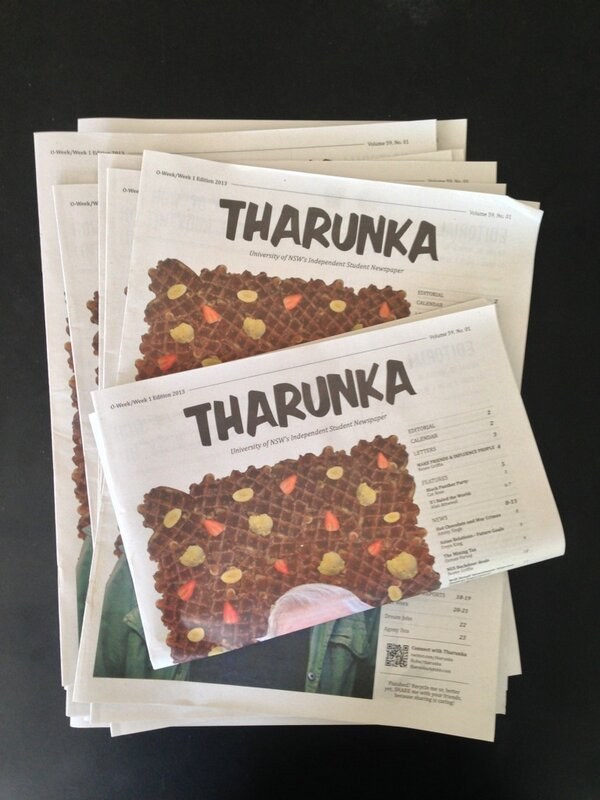 Brendan Byron, a current Tharunka co-editor, admitted earlier this month to deleting a number of articles from the newspaper's website that portrayed him and his political faction in a negative light.
Byron, a student politician associated with Labor Right, confirmed on Facebook that he deleted a 2012 article, which can be accessed using the internet archive site WayBack Machine.
The deleted article describes Byron as a "perennial SRC election candidate" and reports on his efforts to form a ticket to run in the 2012 election for the editorship of Tharunka.
It describes Byron's political history, saying "Byron had last year been involved with the Labor Right 'Fresh' ticket for SRC elections, running unsuccessfully for the NUS Delegate and Undergraduate Councillor positions."
"He also nominated for the Tharunka editor position under the 'Turning Over A New Leaf' ticket alongside Adam Marsters and Sadaf Hakimi, before being disqualified from that vote," the article read.
The article goes on to detail Byron's efforts in creating a ticket, saying the Students' Representative Council had expressed concern over him working with a journalism lecturer to recruit students.
Byron wrote on Facebook that he deleted the article because "using student media to try to destroy people you disagree with: not actually very nice. Not a great look for the reputation of the paper, either."
"If student journalism is to talk shit about someone running against you in an election, mention them specifically by name, and use search engine optimisation to make sure it features prominently whenever you google them, then there's no value in student journalism."
Other articles deleted by Byron cover student politics and mention Labor Right, but do not mention Byron by name.
Byron told The Guardian he had deleted "about four" articles in total.
The open letter is being distributed by Osman Faruqi, who edited Tharunka in 2013. Faruqi told BuzzFeed News he wrote the letter after several former editors and contributors expressed their concern over what had happened.
"Student publications, including Tharunka, have always stood up for freedom of speech, so to see a current editor misusing his position to trawl through archives and delete articles he personally disagreed with was very disturbing," Faruqi said.
"I think this current fiasco is an example of the worst that can happen when student politics gets mixed up with student publications."
The open letter calls for the articles to be restored, an apology issued and procedures put in place to prevent incidents like this occurring in the future.
"In my experience [of student publications] there's been issues around conflicts of interest between editors, writers and some of the topics they cover – however as long as there are processes in place to ensure those conflicts are disclosed and dealt with big issues don't arise," Faruqi said.
"I wanted to help ensure that the University, students and the wider community knew that the vast majority of people who had previously been involved in Tharunka didn't agree with this kind of behaviour and wanted it fixed."
Along with Tharunka editors and contributers, former and current editors from publications at Sydney University, the University of Technology, Sydney and Adelaide University have signed the letter.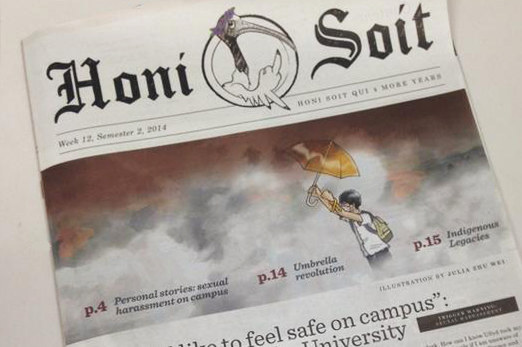 "It was really encouraging that within a few hours of its launch a majority of former Tharunka editors from the past seven years had signed the open letter," Faruqi said.
"The fact that so many editors and contributors, including contributors from this year, signed on in fewer than 12 hours should make it clear that this sort of behaviour is well outside the kind of the principles that underpin Tharunka and independent media more generally," he said.
"It's also been great to have support from former and current editors of student publications across Australia – including the full editorial teams of Honi Soit and BULL Magazine at Sydney University."
Brendan Byron did not immediately respond to a request for comment.