States Are Slowly Reforming Laws Around Legal Gender Transitions
In most Australian states and territories, transgender people must have surgery before they can change the sex on their birth certificate.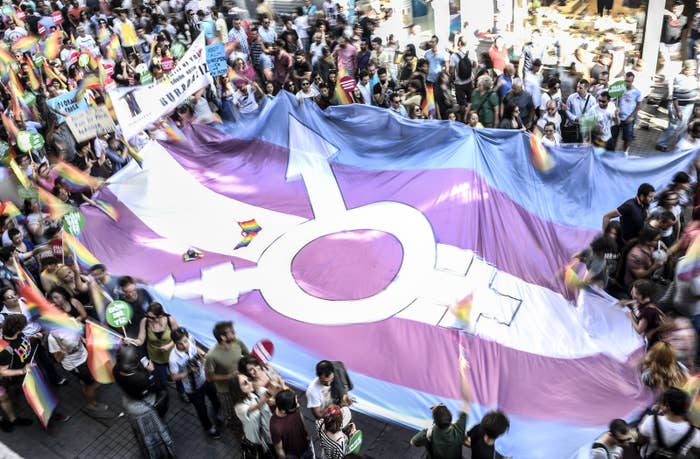 For transgender people in Australia, changing documentation to properly reflect your identity is still an uphill battle.
In all but one state, surgical or medical intervention is required before the sex on birth certificates can be altered. Advocates have long argued this medical focus places undue financial and emotional pressure on transgender and gender diverse people.
"It's a basic right to have documents that reflect who you are, not who someone else thinks you are," says Sally Goldner, executive director of advocacy group Transgender Victoria. "At the moment, many transgender and gender diverse people can't get that."

Earlier this year, a report from the Australian Human Rights Commission called for all states and territories to make it easier for people to change their gender on government records. A statutory declaration should be "sufficient proof" for a documented gender transition, the report said.
The HRC recommendation comes just as some Australian states are beginning to move, albeit slowly, on this issue. The Australian Capital Territory led the way, passing legislation in March last year to remove the surgery requirement, and also the law forcing married transgender people to divorce before they can legally change their gender. A parliamentary inquiry is underway in South Australia, and the Victorian Labor government committed to reform at the last election.

However, advocates want change now. According to Goldner, there are myriad reasons why demanding surgery is inappropriate, including medical complications, financial pressure, people with non-binary gender identities, and those who just don't want to undergo a potentially risky procedure.
"Some people just feel they don't need to have surgery to be who they are," she said. "Someone who needs to identify as other than male or female, where are they left when it comes to surgery? It's just not a workable system."
After a transgender friend of Goldner's had a stroke a few years ago, medical complications ruled out gender reassignment surgery, meaning her gender identity was left in a state of limbo. "She was told 'You definitely need this surgery, but we can't put you on the operating table'," Goldner said.

The cost of gender transition surgeries, which are only partially covered by Medicare and private health care, are insurmountable for many transgender people who already face significant disadvantage. In Australia, transgender and non-binary people face a high risk of unemployment, and a 2013 study found over half earn under $40,000 - $18,000 lower than the Australian median wage at the time.
Despite the dire situation in other states, the ACT's 2014 legislation sets overall principles that are "very good" for transgender people, Goldner says. "It's based on self-affirmed identity and not surgical requirements, they've got provisions for minors to change their marker which is also good, and there's more than two options."
In South Australia, Greens politician Tammy Franks has proposed a bill to repeal the entire Sexual Reassignment Act. A parliamentary inquiry into her proposal has been running for six months, and she is hopeful of reform this year.

The 30-year-old act is "outdated" and "completely unworkable", Franks told BuzzFeed News. "People move to other states quite often if they want to actually be recognised without having to jump through ridiculous hoops they often can't jump through."
Currently in South Australia, surgery is required, but the relevant procedures aren't available in the state. Transgender people can only get the surgery interstate or overseas, but then they are not authorised by the health minister, as required under the act. In a situation that belongs more in Heller's Catch-22 than a modern bureaucracy, trans people are thwarted at every turn.
"People were just giving up and going interstate," said Franks. "Or getting a passport change is much easier, so they do it that way as well."
Passports are dealt with by the Australian federal government, which has a set of guidelines for gender and sex recognition that are much less stringent than most states. Transgender people must provide a statement from a doctor or psychologist, but the Australian guidelines explicitly say neither surgery nor hormone therapy is needed.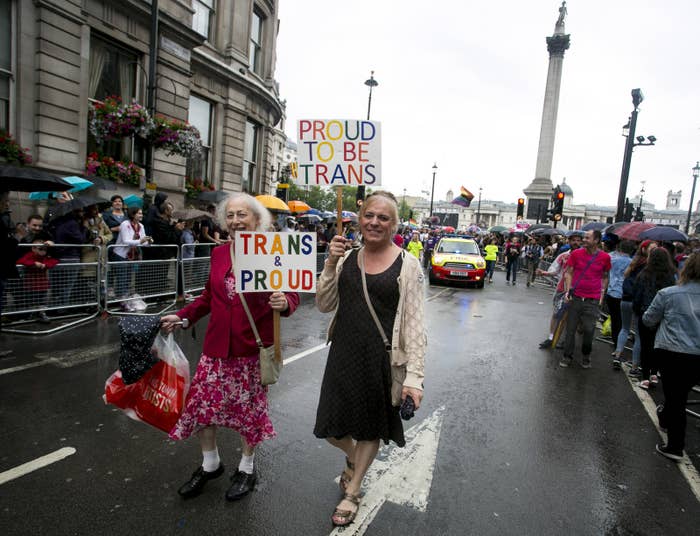 In Victoria, the Labor government is sticking to an election commitment to "remove barriers to new birth certificates for trans, gender diverse and intersex Victorians", attorney-general Martin Pakula told BuzzFeed News.
Morgan Carpenter, president of Organisation Intersex International Australia, told BuzzFeed News that a minority of intersex people wish to change their birth classification. However, the involuntary "normalising" surgery that many intersex people endure as infants puts them in a unique situation.
"We may have had medical treatment to remove sex characteristics we prefer, or to create secondary or even primary sex characteristics we don't identify with," Carpenter said.
In NSW and Victoria, intersex people can change the sex on their birth certificate via an 'administrative correction', where the state admits an error was made.
"[Administrative corrections] recognise the fact that we endure medical treatments and we should not have to endure more medical treatments," Carpenter said. "The fact there is an administrative correction process is helpful, but it's unhelpful that people have already endured medical procedures that don't fit their needs."
Along with ending involuntary coercive surgery, another goal of the global intersex movement is to remove sex and gender from birth classification documents entirely, treating it like religion, or race.
While progress in the ACT, SA and Victoria is tangible, other states have committed to at least reviewing the HRC report.

NSW attorney-general Gabrielle Upton recently told the parliament she would "review the report" and go forward from there. A spokesperson from the Queensland attorney-general's department told BuzzFeed News they were aware of the report, and the recommendations would be considered in an all-encompassing, ongoing review of the relevant act. The Northern Territory government has not yet formed a view on the recommendations, a spokeperson said.
A 2011 High Court case found Western Australian gender reassignment legislation did not require surgery, ruling in favour of two transgender men who had undergone mastectomies and hormone therapy, but not hysterectomies. The court found that "social recognition of a person's gender does not require knowledge of a person's remnant sexual organs".
In an ideal world, says Goldner, just a signature from the transgender person in question should be enough to affirm their identity. Medical requirements, surgical or otherwise, throw up barriers for many, and the presence of a statutory declaration "sort of implies there's some degree of fraud in gender identity," she said.
As a transgender woman who has chosen not to undergo surgery, Goldner is still marked as male on her birth certificate. She told BuzzFeed News it can affect transgender people applying for jobs, dealing with banks, undergoing background checks, and numerous other things.
"I've got to hand over a document that has 'Sally Lisa Goldner' on it, but also has male on it, to a total stranger," she says. "Why do they need to know?"
"It's the day-to-day situations that cisgender people [people who are not transgender] take for granted that become stressful and anxiety-provoking for transgender and gender diverse people."
The WA Gender Reassignment Board did not respond to a request for comment.