Senator Proposes Solution To Marriage Equality Vs. Religious Freedom Issue
The fix is a separate celebrant lists for gay and straight couples.
Liberal senator David Fawcett has floated the idea of a central authority for marriage celebrants as a solution to potential legal tension between same-sex marriage and religious freedom. The authority would supply same-sex couples with a list of celebrants who are happy to officiate same-sex weddings.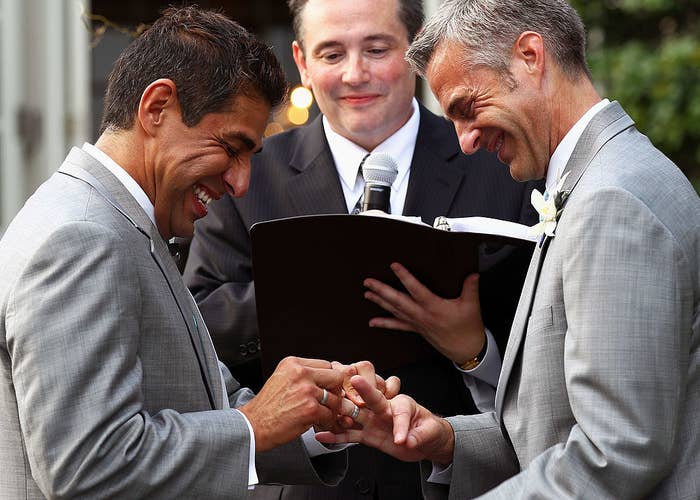 Fawcett described same-sex couples as being "perhaps inconvenienced" by being turned away by a celebrant, during a public hearing of the Senate inquiry into marriage equality. He is heading the inquiry.
In a draft bill released last year, the government proposed religious and conscientious exemptions for religious and civil celebrants in the event same-sex marriage was legalised in Australia.

Fiona McLeod, president of the Law Council of Australia, told the inquiry exemptions for civil celebrants or religious organisations went too far and were discriminatory.
Fawcett suggested to McLeod that the Law Council consider the "single entry point" solution from Saskatchewan, Canada, in which couples seeking a celebrant would go to a local authority instead of contacting individual celebrants.
The authority would then give the couple a list of available celebrants who would be happy to conduct the wedding, meaning same-sex couples would not have to approach a celebrant who would turn them away.
"So the person would never be offended or feel harmed because they would put in an application to the local authority. The authority would say, 'Here's a panel of four or five in your area who could fullfil that function'," said Fawcett.

He asked McLeod: "Do you see that's the kind of balance that may achieve both the freedom of the person's religion, but also not offending or harming the [same-sex couple which] wishes to marry?"
McLeod said she wanted to make "absolutely clear" that the Law Council considers freedom and expression of religion as crucially important values that must be balanced.
"I don't know how effective the single entry point has been or shown to be," she said. "But the international human rights law is that once you enter into the commercial arena offering good and services, that's the point at which you should be restrained if you're seeking to impose a discriminatory regime upon others."
Fawcett said that did not appear to apply in Australia.
"We've seen TV channels refuse to play advertisements on a commercial basis from the Australian Marriage Alliance; we've seen printers refuse to print books by people like Dr [David] van Gend because they don't agree with his position on traditional marriage," he said.
"There appears to be quite a disparity between that principle you espouse in your defence of one group, versus your defence of others who have a slightly different view."
The system Fawcett referred to was suggested in a 2011 decision from the Saskatchewan Court of Appeal, which found civil celebrants, known as "marriage commissioners" in Saskatchewan, should not be allowed to refuse service to same-sex couples.
The decision suggests the "single entry point" arrangement would consist of an authority "privately taking into account the religious beliefs of commissioners" and providing same-sex couples with a list of people who would be willing to officiate.
"The accommodation of commissioners who did not want to be involved in a same-sex ceremony would not be apparent to the couple proposing to wed and there would be no risk of the couple approaching a commissioner and being refused services because of their sexual orientation," the decision reads.

But the system was not adopted in the Canadian province and marriage commissioners are publicly listed on a government website where any couple can contact them.

The 2011 decision also slammed the notion that marriage commissioners should be allowed to discriminate against same-sex couples – a finding that, in principle, goes against what the Australian government is proposing.
"Marriage commissioners do not act as private citizens when they discharge their official duties," it reads. "Rather, they serve as agents of the Province and act on its behalf and its behalf only.
"Accordingly, a system that would make marriage services available according to the personal religious beliefs of commissioners is highly problematic. It would undercut the basic principle that governmental services must be provided on an impartial and non-discriminatory basis."