Over a quarter (26%) of students were sexually harassed in a university setting in 2016, according to a devastating Human Rights Commission report showing the extent to which sexual assault, rape, and harassment occur at university campuses across Australia.

The report found that women are at a disproportionate risk of being sexually assaulted and harassed on university campuses; that campus parties, public transport to and from university, and residential colleges are the most common sites for sexual assaults; and that postgraduate students are twice as likely as undergraduates to be harassed or assaulted by teaching staff.
The Australian Human Rights Commission report found that 1 in 4 students had been sexually harassed in a university setting in 2016, and 1.6% of students had been sexually assaulted in a university setting in 2015 or 2016.
A university setting was defined in the report as on campus, travelling to or from campus, at a university-run off-campus event, or at university employment.
The report also found that just over half of all university students were sexually harassed in 2016, both in and out of university settings.
Sex discrimination commissioner Kate Jenkins said the "unavoidable conclusion" of the data was that sexual assault and harassment at universities is happening at unacceptable rates in Australia.

"We know that sexual assault and sexual harassment have a devastating physical, emotional and psychological impact on individuals," she said.
"Almost a third of sexual harassment reported in the survey occurred on university grounds or in teaching spaces, while one in five of those who were sexually assaulted said that this occurred at a university or residence social event.
"We found that college settings are a particular area of concern, particularly for women who were four times as likely as men to have been sexually assaulted in this setting."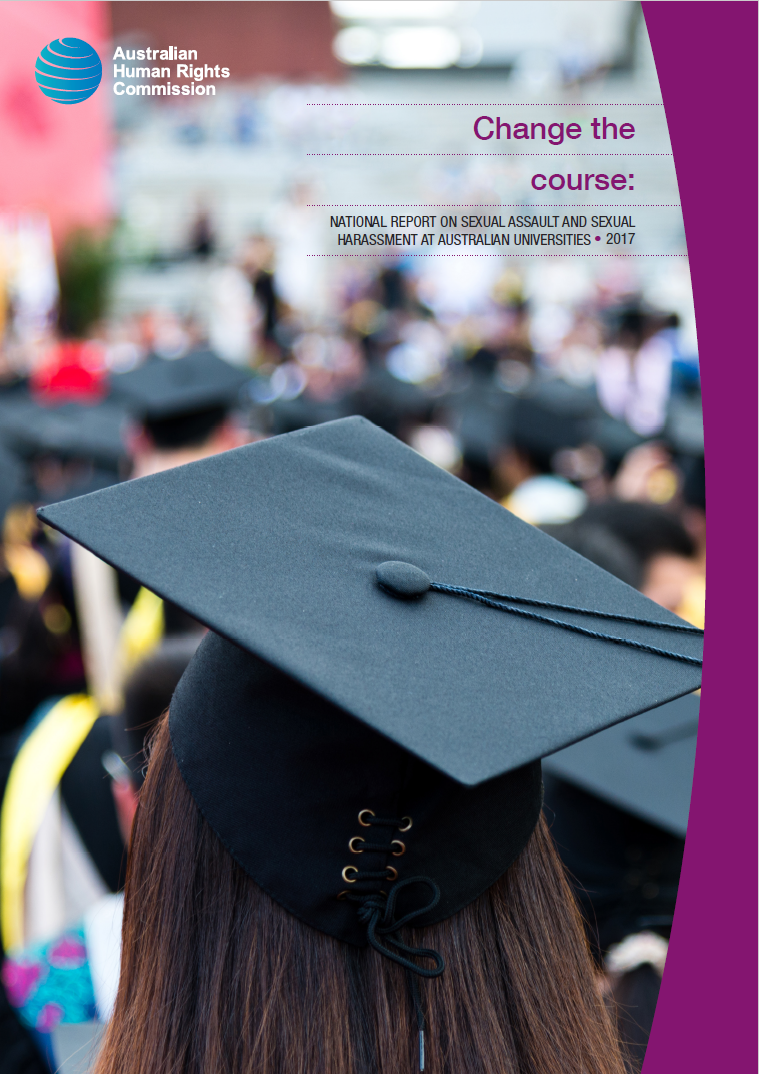 About 31,000 randomly selected students from across 39 universities took part in the survey from September to November in 2016. Another 1,846 made written submissions outlining their experiences of sexual assault.

The report found that women experience sexual harassment and assault at disproportionately higher rates than men. Transgender people are sexually harassed at a higher rate than women.
LGBT students, Aboriginal and Torres Strait Islander students, and students with a disability are more likely to be harassed than other students.
The report also found that sexual harassment and assault at universities was severely underreported, with 87% of sexual assault victims and 94% of harassment victims not making a formal complaint or report to the university.
The common reasons for not reporting given in the survey were students thinking their experience wasn't serious enough to make a report, or not knowing how or where to report.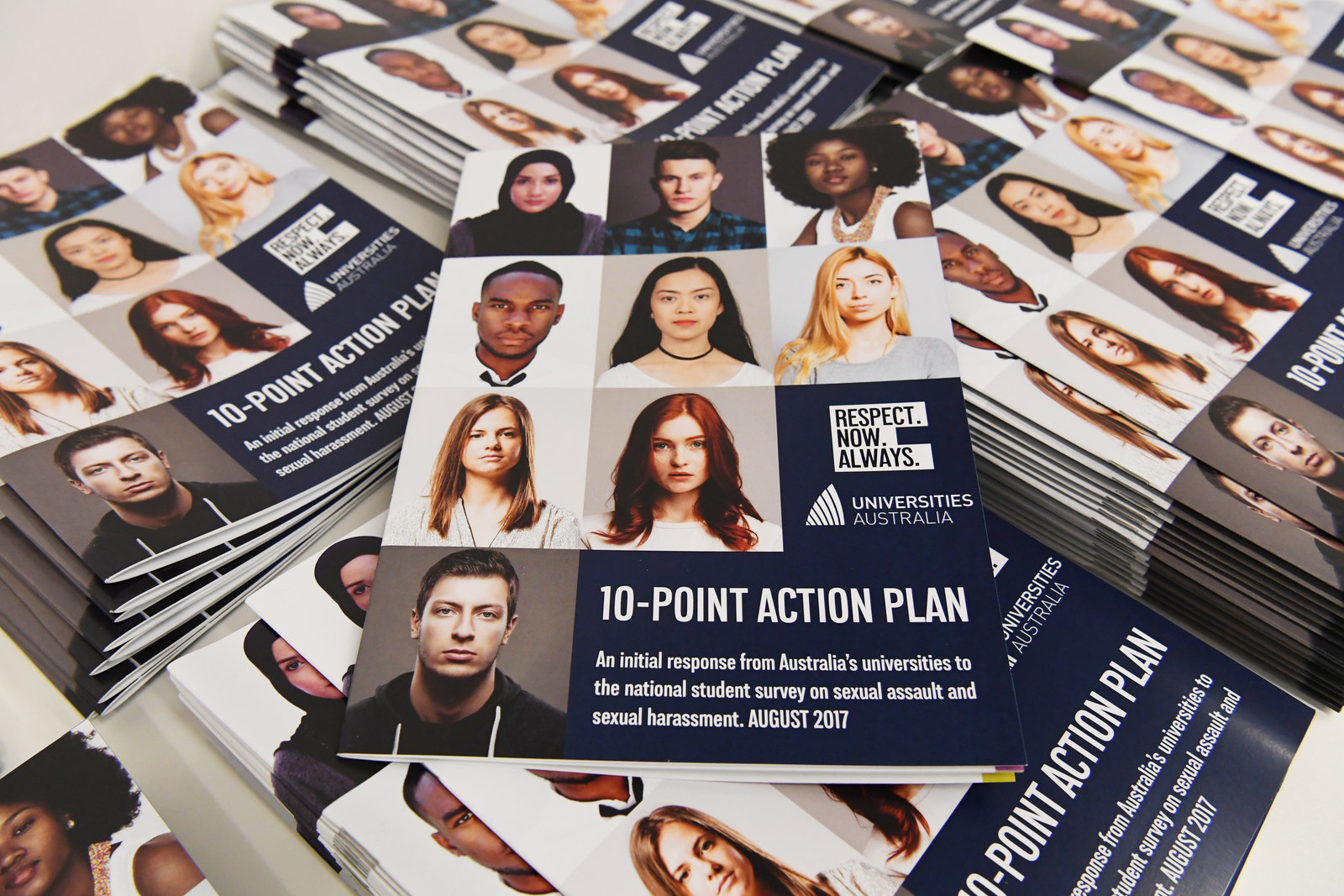 Ambassador for the advocacy group End Rape on Campus Nina Funnell told BuzzFeed News that the trauma inflicted by sexual assault leads survivors to experience "shock, disbelief, denial and minimisation" over what has happened to them.
"They will downplay their own experiences, say things like 'it doesn't matter anyway'," she said.
"They will also engage in post-assault rationalisation – say, 'maybe it's not that bad, maybe it's all in my head, maybe I led him on, it's not like he bashed me as well'."
Ahead of the report, End Rape on Campus released a public photo campaign aimed at reminding people of the students and sexual assault survivors behind the statistics in the report.
Universities Australia released a 10-point plan as part of its initial response to the report's findings:
1. Developing respectful relationships education for university students

2. Continuing the "Respect. Now. Always." initiative.

3. Developing principles to guide interactions between postgrad students and supervisors.

4. New training modules on sexual assault and sexual harassment for university leadership and staff.

5. Extending first responder training to more frontline university staff.

6. A new training module on supporting people affected by sexual assault and harassment for university counsellors.

7. Developing a set of best practice guidelines on how universities should respond to reports of sexual assault and harassment.

8. Establishing an interim telephone support service for sexual assault survivors in the months after the survey.

9. Conducting a follow-up national student survey in three years.

10. Providing resources and training to colleges and residential halls.
Funnell said she welcomed some of the reforms, but found it a "concerning oversight" that the plan did not rigorously address the issue of taking action on perpetrators of sexual assault.
"Universities are highly reluctant to take action when it comes to perpetrators, because they are worried about lawsuits from offenders," she said.
"Universities discipline for all sorts of things all the time. Plagiarism, destruction of property, theft, bullying – and, absolutely, sexual assault falls under the disciplinary code of conduct.
"You can implement the best reporting mechanism in the world, but if you're not willing to hand down any kind of punishment for offenders, where's the incentive for victims to report?"
Funnell added that it was important to remember that students and survivors had been campaigning on the issue of campus sexual assault for decades.
"While it's great that some action is being taken now, there is still a long way to go," she said.
Education minister Simon Birmingham said he had written to universities to seek their response to the report's findings.
If you or someone you know needs help or support, you can call the hotline set up by Universities Australia on 1800 572 224. You can also call the national sexual assault, domestic and family violence hotline on 1800 RESPECT or 1800 737 732.