Someone Stuck Needles In A Train Seat, And This Guy Unknowingly Sat On Them
When a reporter asked "Do you think this was deliberately done?", Anthony Artusa laughed and said: "Pretty lucky if all the needles sort of fell in the seat!"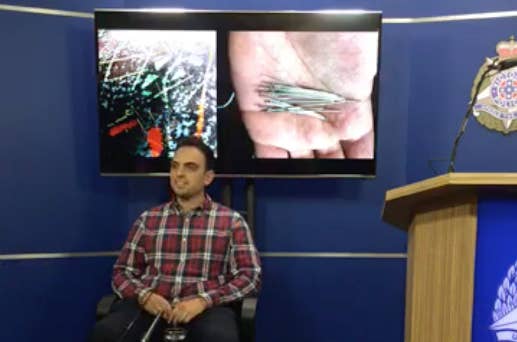 A man was pricked in the leg after he unknowingly sat down on a random train seat that had about 20 sewing needles discreetly buried in it, sharp side up, during the morning peak hour commute.
Police are investigating after Anthony Artusa made the uncomfortable discovery during his Tuesday morning train ride on the Watergardens line in Melbourne, Australia.

Artusa described what happened in a police press conference on Wednesday afternoon.

"I got on the train at five to eight [in the morning]. Obviously it was packed, so I was standing for the first little part of it and I noticed a spare seat roughly five minutes into the journey and decided to sit down," he said.
"Once I sat down I felt a little prick in my leg and checked the pockets of my pants to see if it was something in my pockets. When I realised there wasn't, I checked the seat and obviously noticed a couple of needles were visible."
The needles were buried with the sharp tip up, and were mostly hidden, he said.
(A photograph showing the needles sticking out the train seat was taken after Artusa pulled them out a bit, so they were clearly visible.)
"There might have been a little tip that was sticking up, but because of the pattern of the seat, you couldn't see it," he said. "But once I ran my hand over it, I could sort of feel where they were in the seat."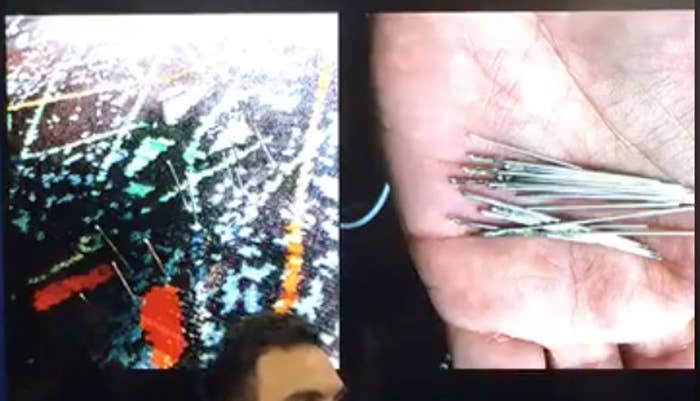 He pulled out the needles and threw them out at Flinders Street station in the Melbourne CBD. The prick did not draw blood, he said.

When a reporter asked "Do you think this was deliberately done?", Artusa laughed and said: "Pretty lucky if all the needles sort of fell in the seat!"

"What do I think of [the person who did this]? Yeah. Not sure. I'd prefer not to give a statement. Obviously it's not a great idea," he said.

Police said current lines of inquiry suggest the needles may have been put in place the night before, and only discovered during the busy morning commute on Tuesday.
CCTV footage showed another guy sitting down on the same seat as Anthony about half an hour earlier, but he appeared to get up quickly and move seats, telling nobody about the needles, detective inspector Andrew Gutske said.
"[He] obviously had stood up very quickly and gone to another seat. That is an unreported incident. We would ask if that person would come forward to us, we'd like to hear from him," Gutske said.

Police are also looking to speak to another witness – a woman who sat next to the seat with needles as she travelled between Watergardens and Flinders Street.
The incident comes after a spate of sewing needles were discovered in Australian strawberry punnets last year, causing widespread panic and numerous copy cat attacks.
Artusa said his train iteration of the now weirdly common sewing needle attack was "definitely shocking", but added he was fine and had been given the all clear by a doctor.
"Did you catch the train again this morning?" asked a reporter.
"I did yeah," Artusa said. "Definitely felt the seat before I got on, for sure."