1.
Dean Smith's speech – the first one to be heard on the bill.
2.
Murray Watt's description of the moment Penny Wong broke down after the "yes" vote was announced.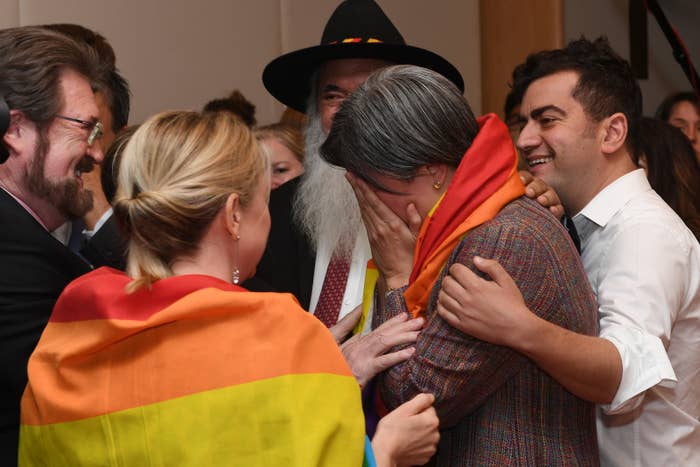 3.
A gracious-in-defeat Cory Bernardi.
"I want to extend my congratulations to the 'yes' campaign. What matters in the end is how the Australian people vote and you had an overwhelming victory," he told the Senate on November 16.
Bernardi said he stood by his argument that there are unintended consequences to same-sex marriage, and asked senators to be mindful of the concerns of "humble no voters", saying they are "not motivated by malice".
"For 10 years in this place, I've said that there are encroachments along the way and I've been trying to push back against some of them. I can't push back against this one.
"I can only say, 'Let's think of the principles, of the freedoms that have built our country and made it fantastic'.
"I have nothing but goodwill to you, to the same-sex couples who want to get married. Get married, have fun, do what you want to do; I hope you all have at least as happy a time as I've had in my 21 years of marriage."'
4.
This delightful clanger from Glenn Sterle.
5.
This rainbow shirt from Anne Urquhart.
6.
And Richard Di Natale's RAINBOW SHOES.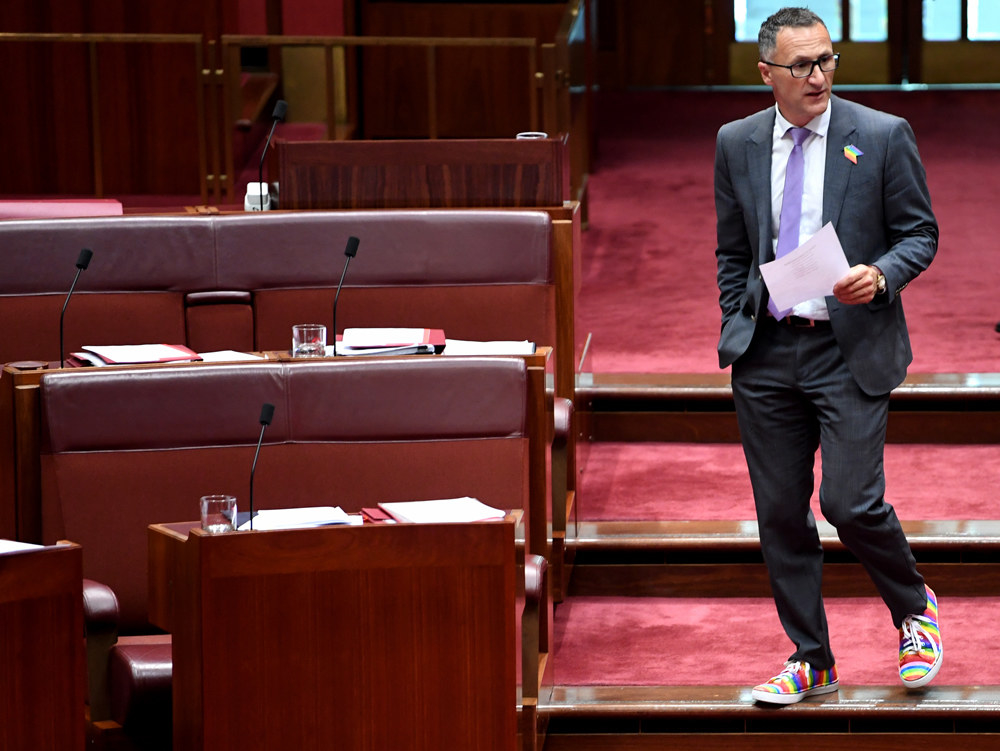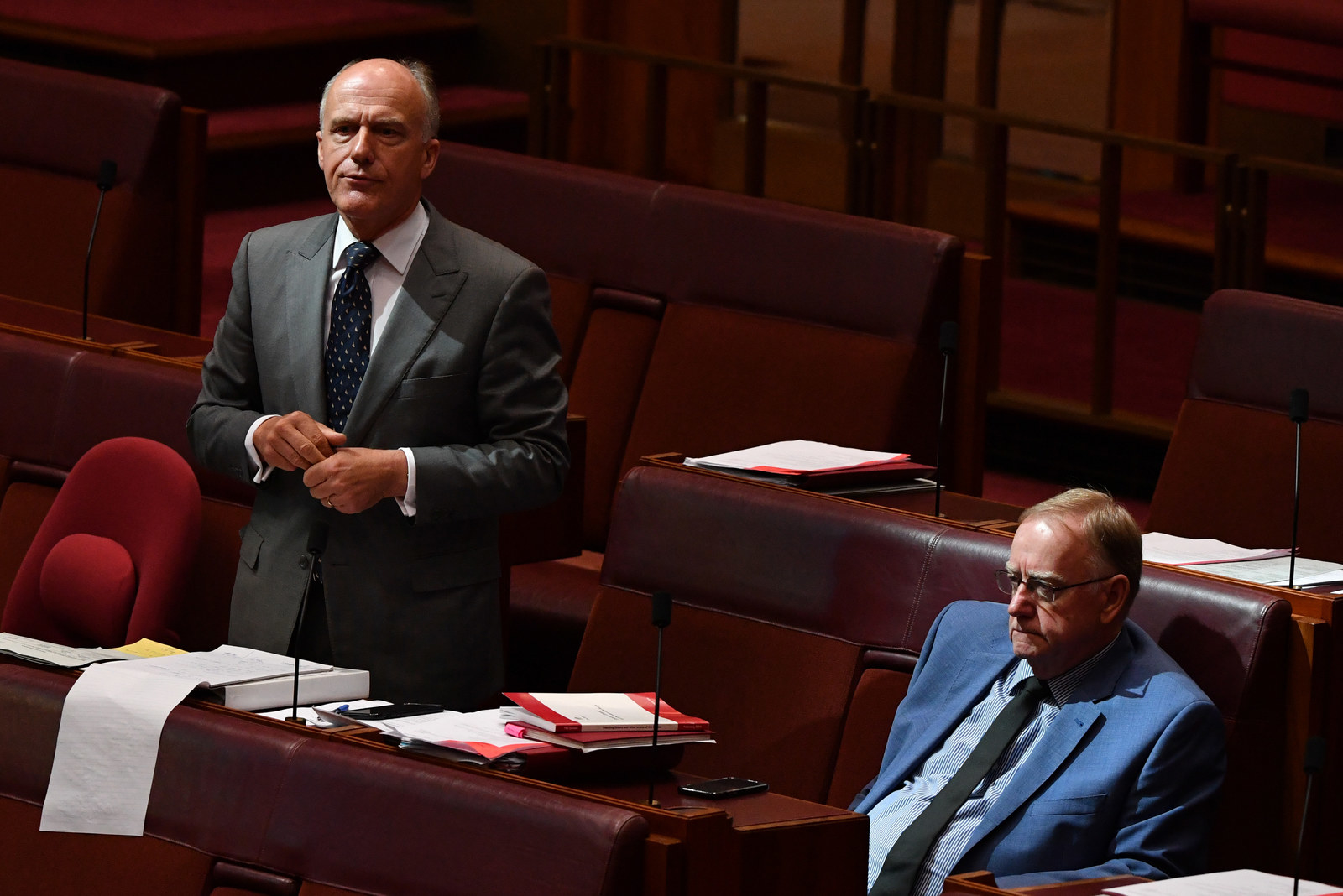 8.
Labor senator Jenny McAllister talking about the impact of the postal survey on the LGBTI community.
9.
Labor senator Helen Polley coming out and throwing her support behind the conservative amendments to the bill ... in principle.

10.
In principle being rather important – because the very next morning, shadow attorney general Mark Dreyfus said that no Labor senator actually wanted to vote for any of the amendments.
"No Labor senator, and I include in that senator Polley, has sought a conscience vote on any of the amendments," he said. "And I think if you look carefully at what senator Polley had to say, she and other senators – and that includes every member of the Labor Caucus – are concerned about religious freedoms. But we would say that the proper place and the proper time for considering those religious freedoms questions is in the process that has been set up by the prime minister, which is this panel to be chaired by Phillip Ruddock."
11.
Liberal senator David Bushby giving his blessing to unofficial gay weddings – but not to same-sex marriage.
"The bottom line is that the only so-called right that same-sex attracted couples do not currently have under Commonwealth law is to receive a piece of paper on Commonwealth letterhead. As such, there is nothing in the law now that stops them declaring their love for each other, holding a wedding, calling themselves married and living as a married couple. They just won't have a piece of paper saying so."
12.
Peter Whish-Wilson's incredibly deadpan recitation of the ENTIRE SONG "Under Pressure", by Queen and Bowie.
13.
Pauline Hanson's meandering speech in which she suggested children of gay parents call their parents exclusively by their first names.

14.
One Nation senator Brian Burston telling the Senate he never received his survey form, so didn't vote.
15.
Labor's Jacinta Collins contending it is "absolute poppycock!" that only the Coalition cares about religious freedom.

17.
This relatable content from Barry O'Sullivan.
18.
The moment it became clear the bill would likely pass with no amendments.
19.
And the subsequent tetchy exchanges in the chamber.

20.
Including Ian Macdonald making it very clear that he's not looking at ANYONE.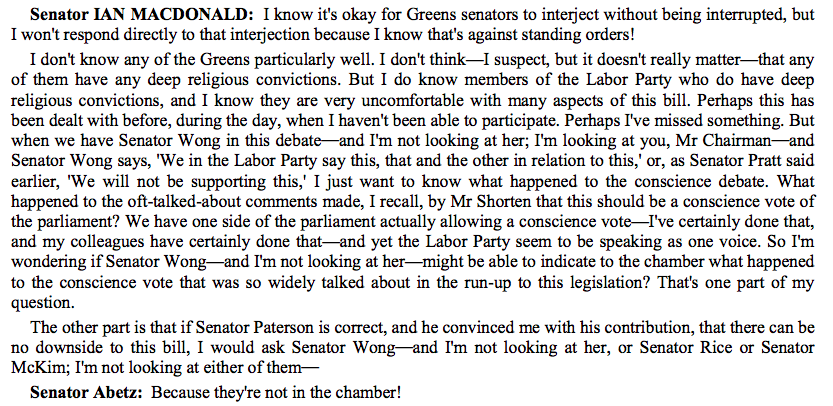 21.
Matthew Canavan actually calculating the probability that all Labor senators would agree on voting against the amendments.

22.
Abetz describing conservative senators as a "loose but quality" group, before dragging Derryn Hinch for "talking on behalf of gay people".
23.
A lengthy argument about Labor senators who don't say "The Lord's Prayer", and whether it's OK to sledge them for it (it is not).
24.
It went on.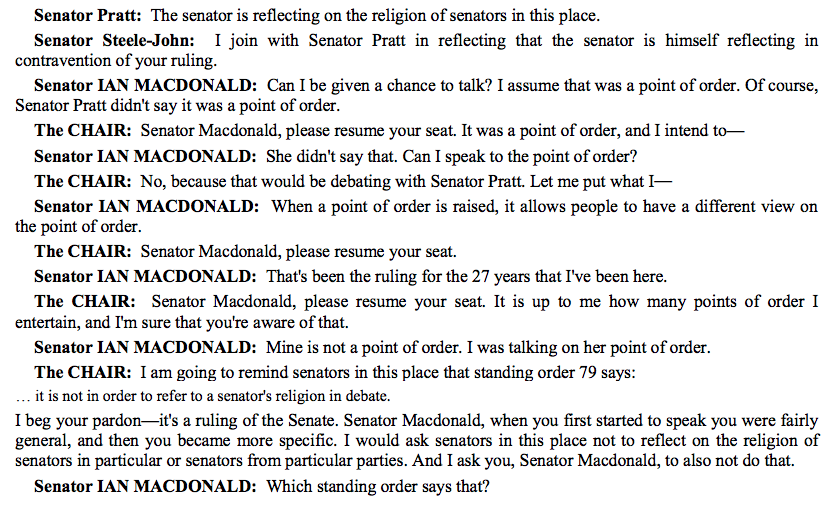 25.
And another lengthy argument over Derryn Hinch's rainbow scarf — and Peter Whish-Wilson's unhelpful, but very funny, interjection.

26.
Seriously guys Wednesday morning was so unproductive.
27.
Brandis sledging an amendment to allow bakers and florists to turn away gay couples, in the most Brandis way ever.

28.
Said amendment getting absolutely trounced when it came to a vote.
30.
Pauline Hanson coming out in favour of same-sex marriage, referring to her "homosexual friends", and then vowing to abstain...all in the same minute.

31.
Janet Rice's message to trans and gender diverse people.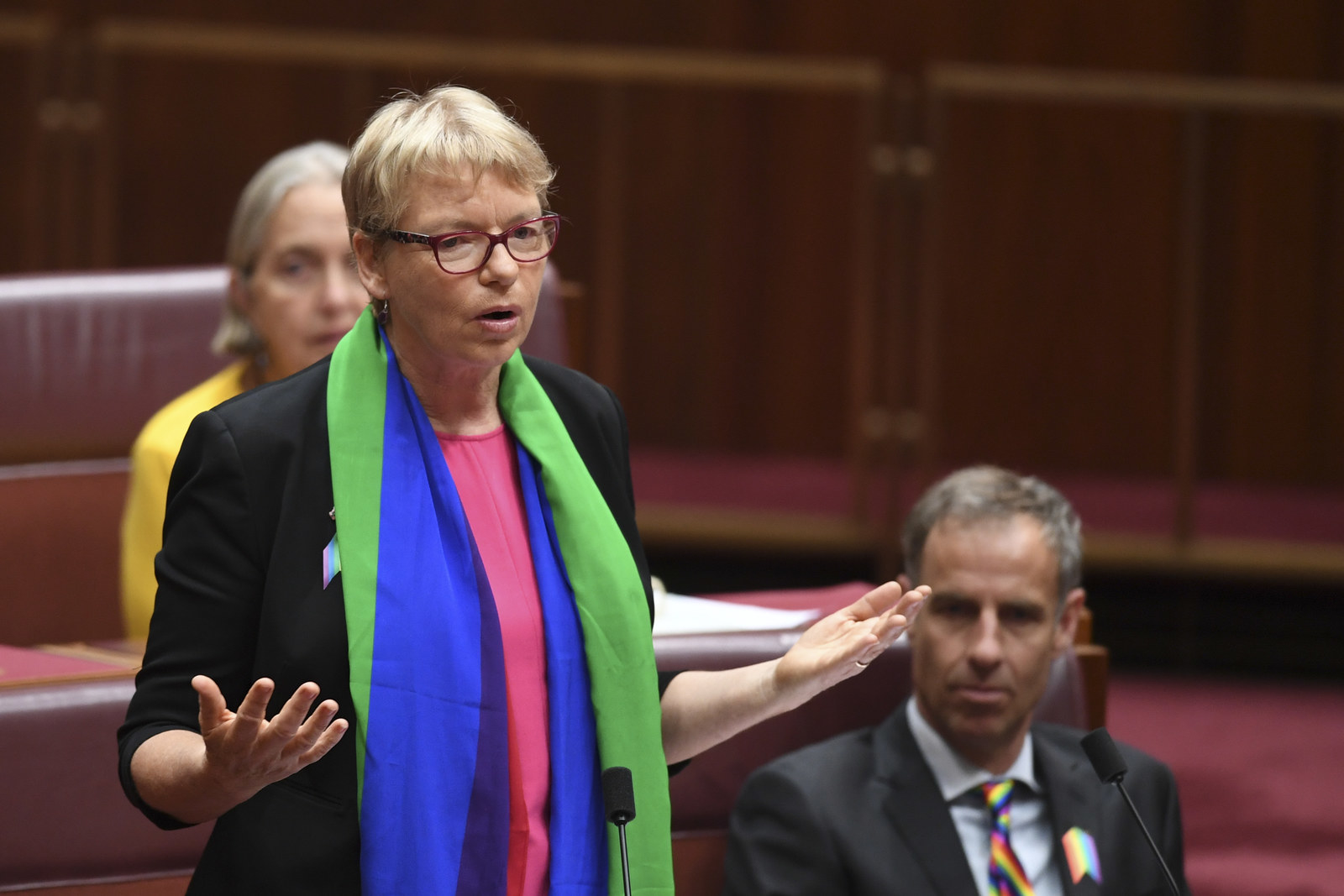 32.
The parliament house microphones encroaching on Liberal Democrat David Leyonhjelm's free speech.
33.
Senators and the public gallery applauding for various lesbian, gay, or bisexual politicians who spoke – Wong, Smith, Rice and Louise Pratt.
34.
This moment.
35.
Penny Wong and Dean Smith celebrating the second the vote was announced.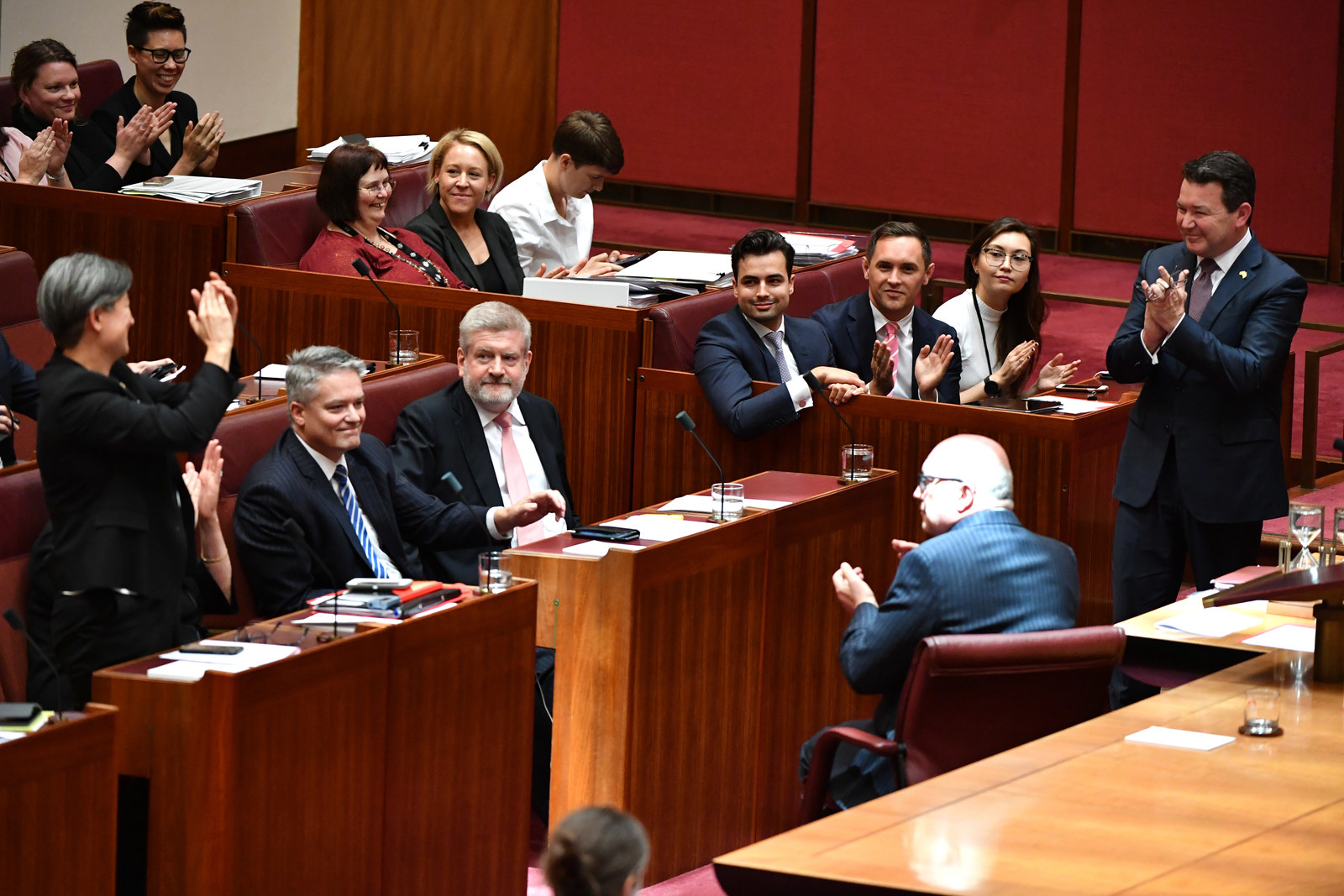 36.
And the hugs and cheers from rest of the supporters in the Senate too.
37.
The official record of a house in the Australian parliament voting in favour of same-sex marriage — for the very first time.
Next week, the bill will be debated in the House of Representatives. If you would like to read the Senate Hansard of this historical debate, here are the links: