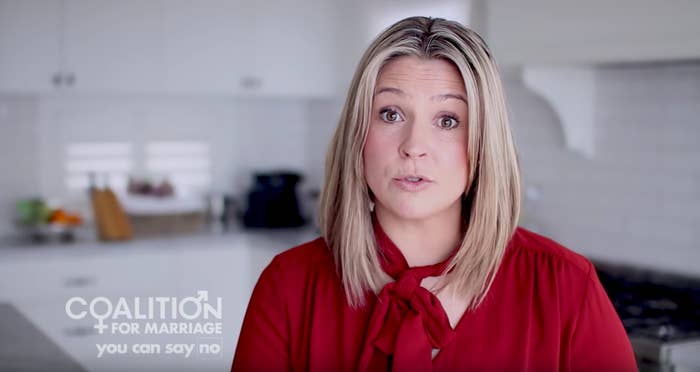 A prominent same-sex marriage "no" campaigner is being sued for defamation over a Facebook post that shared pictures of LGBTI youth leaders and said it was a "sneak peek" into a "rabbit hole that is pretty sick and twisted to your average Australian family".
Marijke Rancie is facing legal action in the Federal Court over a December 2017 post and comments on her "Political Posting Mumma" Facebook page, which is followed by more than 17,000 people.
The lawsuit was filed earlier this month by Adele Moleta, also known as "Delsi Cat", who runs the queer party organisation "Unicorns" and has previously worked as a schoolteacher and at LGBTI youth charity Minus18.
Rancie featured prominently in ads for the "no" campaign during Australia's same-sex marriage postal survey last year, including a full-page newspaper ad that declared LGBTI sex education would become compulsory in all schools if same-sex marriage was legalised, as this is "how the law works".
Rancie, who was elected as a Victorian Liberal party delegate in April, has also campaigned extensively against the Safe Schools LGBTI anti-bullying program.
Moleta held the role of Safe Schools representative at the school she taught at in 2016.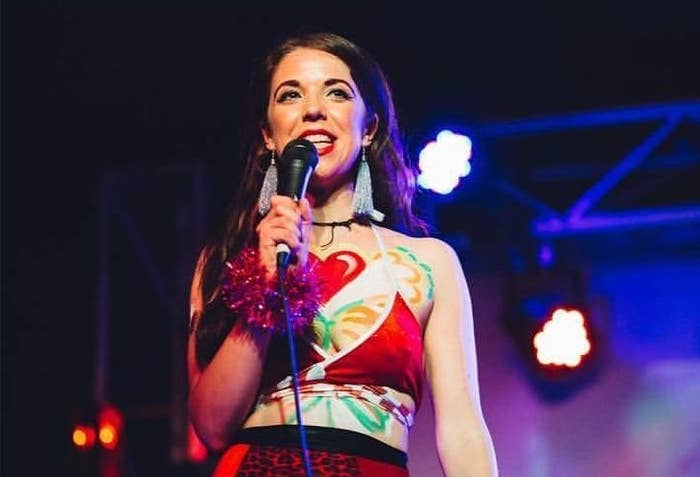 According to a statement of claim filed in the Federal Court, Moleta alleges Rancie's Facebook post was defamatory and that it has injured her reputation and held her up to hatred, ridicule and contempt.
Moleta alleges the post conveyed that she "is a sick and twisted person who organises events for high school aged children at which she engages in and condones sexually suggestive conduct while nude or semi-nude".
The post, which is still up as of Dec. 20, 2018, has three photos attached to it: one of Moleta with another person, one of Minus18 CEO Micah Scott, and one of Moleta sitting among a crowd of people as somebody seemingly performs a handstand while wearing fishnet stockings and underwear at the forefront of the photo.

The post names Moleta, who is in her early 30s, as "Delsi Cat" and says that she runs events for Minus18 that are advertised in Victorian high schools.

Minus18, which holds events and provides resources for LGBTI teenagers and youth, has come under intense fire from conservative groups, politicians and media in recent years – particularly in 2016 – as part of a campaign against the Safe Schools program.

"High school kiddies welcome. Gone are the days of the police supervised blue light discos. Welcome to 2017!!! This is how we roll now. Like soooo progressive," the post on Political Posting Mumma reads.

"I'll just leave this here as a sneak peek for you all. Hold on to your hats this is the start of a rabbit hole that is pretty sick and twisted to your average Australian family."
The post says the photos and information are being posted for "transparency".
"These are our kids. I couldn't care less what an individual chooses to do, but the moment they step into our kids world you can be damn sure we will be watching everything you do. If you don't understand that you are not a parent, not a decent one anyway," it reads.

It ends with the hashtag "#handsoffourkidssexualactivists".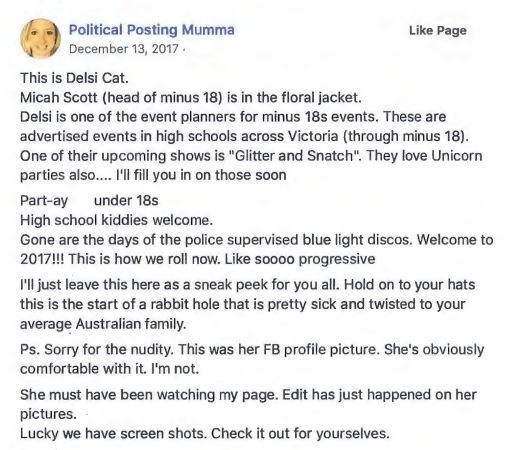 Moleta also alleges she was defamed by multiple comments on the post and argues that Rancie is, for legal purposes, the publisher of those comments.

Moleta alleges the comments defamed her by suggesting she is a paedophile; that she grooms high school aged children; that she is a shameful person who should not be allowed anywhere near children; and that she "abuses her position as a high school teacher by advancing an LGBTI agenda in order to prepare children for a life of debauchery".

The lawsuit also argues the comments suggested that, by organising events for high school students, Moleta "uses and abuses children to satisfy the lusts of adults" and "is a disgraceful person who has no self-respect or any sense of decency".
The original post also shared a photo that showed Moleta's nipple. Part of the post reads: "Ps. Sorry for the nudity. This was her FB profile picture. She's obviously comfortable with it. I'm not."

But that picture was taken down and the post edited to explain why — partly due to Facebook's community standards and partly due to complaints from Political Posting Mumma page followers about nudity.
"For those who haven't seen the photo it was displaying the nipple of the event planner and a school teacher for safe schools and minus 18. She has changed her FB profile pic to herself in her undies so far more appropriate for a youth worker..." the post says.
Moleta is seeking damages, an order for Rancie to permanently take down the Facebook post and comments, and costs.

She is also seeking aggravated damages, arguing that Rancie published either knowing the things she said about Moleta were not true or not caring if they were true, and that Rancie failed to take down the post and comments after being asked to by Moleta's solicitors in July 2018.
Moleta's claim was prepared by barristers Matthew Collins QC, who is the president of the Victorian Bar association, and Natalie Hickey.
Moleta declined to comment, citing legal reasons.
Rancie did not respond to requests for comment through Liberal Victoria head office or the Political Posting Mumma Facebook page.
The matter is listed for a first case management hearing in February 2019.